Milton L. Olive III came from humble beginnings, bouncing between Chicago and his grandparents' farm in Mississippi. Despite his ordinary upbringing, Olive would prove to be an extraordinary member of the US' military when he won the Medal of Honor, the first black soldier to receive the medal during the Vietnam War.
Milton L. Olive III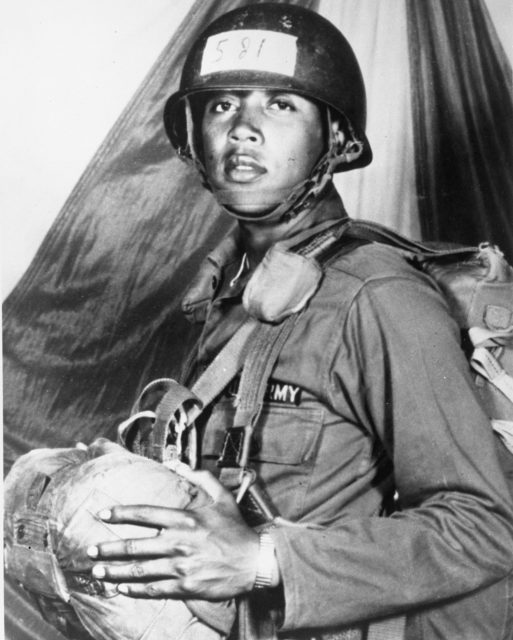 Olive was born shortly after WWII had ended, on November 7 1946 in Chicago, Illinois. His mother died just hours after his birth, leaving his father to care for him. He was raised by his father in Chicago while often staying at his grandparents' farm in Lexington, Mississippi. It was here that Olive attended an all-black school.
Olive was raised in the post-WWII US, which was a time of great social change with the civil rights movement. Schools and neighborhoods were still legally segregated even into the 1950s, while segregation was still effectively in place, although unenforced, into the late 1960s.
Olive was in his second year of high school in 1964 when the 24th Amendment was ratified. This removed poll taxes that made many black citizens unable to vote. This was a period of extreme turbulence in the US, with riots and violence a common occurrence in southern states. Olive's grandmother feared this violence, so she sent Olive back to Chicago.
While here, he realized he would have to repeat his sophomore year, so he attempted to get a job instead. When this didn't work, he joined the Army on his 18th birthday.
President Harry S. Truman signed Executive Order 9981 in 1948, which formally ordered the desegregation of the US military. Prior to this major civil rights breakthrough, black and white soldiers were placed into separate units, with black units often relegated to menial, labor-intensive roles.
Unfortunately, many leaders throughout the US chain of command were in no rush to enforce this order, so most units were still segregated when the Korean War began in 1950. The Vietnam War was to be the first fully integrated war.
Olive arrived in Vietnam with the 503rd Infantry Regiment, 173rd Airborne Brigade. His fellow soldiers quickly took note of Olive's quiet and reserved attitude. Rarely willing to curse, he earned the nickname "Preacher."
Conspicuous gallantry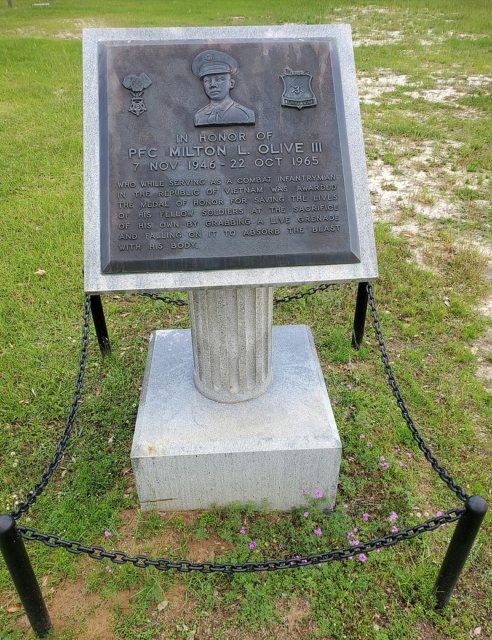 On October 22, 1965, Olive's unit was delivered by helicopter into the thick jungle near Saigon, but the men quickly came under fire. The US troops were significantly outnumbered but returned fire and forced the enemy to retreat, prompting the men to give chase. Throughout the battle, the 19-year-old Olive, now a battle-hardened soldier, positioned himself at the front of the unit.
Olive, his platoon commander, and three others were chasing down the retreating Viet Cong when they ran into an ambush.
A grenade suddenly landed amongst the men, to which Olive screamed "Look out, lieutenant, grenade." Olive picked it up, moved away from the rest of the men, and dropped to the floor. His body absorbed the full blast of the grenade, costing him his life.
His heroic act saved the men around him. "It was the most incredible display of selfless bravery I ever witnessed," his platoon commander later said.
For this action, Olive was posthumously awarded the nation's highest decoration; the Medal of Honor. His citation said, "Through his bravery, unhesitating actions, and complete disregard for his safety, he prevented additional loss of life or injury to the members of his platoon."
"Pfc. Olive's extraordinary heroism, at the risk of his life above and beyond the call of duty, are in the highest traditions of the U.S. Army."
His award was presented to his father, Milton Olive, and his wife, Antoinette, by President Lyndon B. Johnson at the White House on April 21, 1966. He was the first black soldier to receive the Medal of Honor during the Vietnam War.
More From Us: 22 Facts You May Not Know About the Medal of Honor
His platoon commander, who was initially uncomfortable serving in an integrated force, had his beliefs completely changed by Olive.
"A day doesn't go by that I don't think about him," his platoon commander said. "Milton Olive changed me. I made a vow never to forget him."