A slew of events in conjunction with Memorial Day Weekend, the debut of a new special exhibition featuring works of art by World War I soldiers and a pair of documentary screenings highlight offerings in May at the National WWI Museum and Memorial.
As the commemoration of the Centennial of World War I (2014-19) continues, the Museum and Memorial serves as a fitting place to honor and recognize the men and women who sacrificed their lives while serving their country during Memorial Day Weekend.
From Friday, May 25 through Monday, May 28, admission to the Museum and Memorial is free for veterans and active duty military personnel, while general admission for the public is half-price.The Museum and Memorial offers several events for people of all ages and interests, including a formal public program at 10 a.m. on Memorial Day with remarks from dignitaries including Congressman Emanuel Cleaver, II, Kansas City Mayor Sly James (a former U.S. Marine), a keynote address from former astronaut/space shuttle commander Jon McBride and musical performances from the USAF of Mid-America Hot Brass Band, operatic baritone John Brancy and pianist Peter Dugan.
More than 20 vintage military vehicles and an iconic helicopter will be featured Saturday and Sunday of Memorial Day Weekend from the Military Vehicle Preservation Association. This includes vehicles from World War I, World War II, the Korean War and Operation Desert Storm and MVPA members will be available to answer questions about their collection. The Vietnam Veterans of America Chapter #243 will provide a Bell UH-1 Iroquois "Huey" helicopter for display from Friday to Monday. People of all walks of life are invited and encouraged to show their support for military families by signing a mobility-equipped 2018 Ford F-150 Raptor truck that will eventually be donated to a veteran courtesy of Wounded Warrior Family Support.
Additionally, the Museum invites the public to "find your World War I connection" and discover how the Great War affected their families through records, photographs and more with a variety of programs throughout Memorial Day Weekend. With access to multiple databases including, Fold3.com, Ancestry.com, the Museum and Memorial's online collections database, the American Battlefield Monuments Commission and the National Archives, visitors can discover their families' connections to the Great War. This is presented in partnership with the Midwest Genealogy Center of Mid-Continent Public Library. For a complete list of Memorial Day Weekend activities, visit Memorial Day Weekend.
On Tuesday, May 22, the Museum and Memorial debuts its latest special exhibition War Around Us: Soldier Artist Impressions. Creating art when surrounded by war seems contradictory. However, inspiration can take many forms, providing us a glimpse into a world that would otherwise be unfamiliar. This exhibition features more than 30 works from artists of several different styles and subject choices, including Jean Lefort, Curtiney George Foote, Charles Thatcher Shellabarger, Myron Chapin, and Jean Berne-Bellecour. Using the fields, villages, and people who witnessed the devastation of World War I, the artists convey a shared understanding of the importance in depicting the look and feel of war. A century after the Great War, these works retain their power as a testament to the experiences of those who lived it.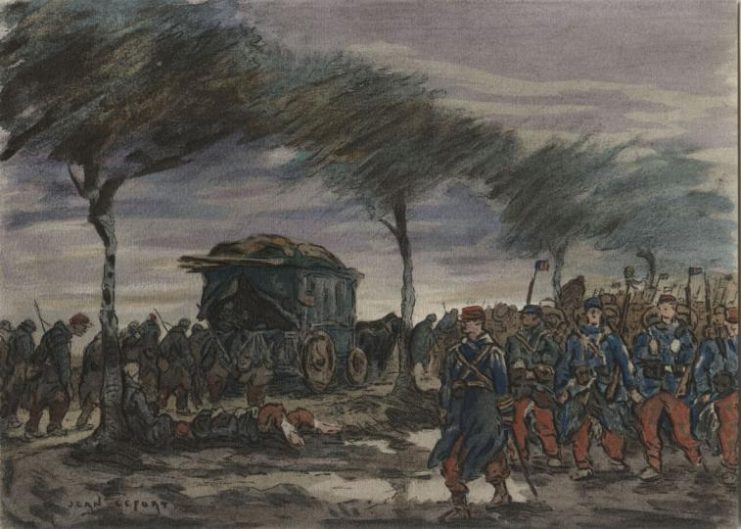 The Museum and Memorial will feature two documentary screenings in May. At 6:30 p.m. on Wednesday, May 16, Kansas City PBS and the National Archives of Kansas City will co-host the free screening of a new documentary, Served Like a Girl, which chronicles the lives of female veterans as they harness humor to adapt to the emotional, social and economic challenges of transitioning from soldier to civilian and compete for the crown of Ms. Veteran America. A local veterans' panel will address the contemporary issues in the film for our community and how women's service has changed since WWI. Additionally, at 6:30 p.m. on Tuesday, May 8, the Museum and Memorial will show The American in Paris. This new documentary is centered on the American Hospital of Paris, showing how thousands of doctors, nurses and ambulance drivers helped in France and, in doing so, strengthened the historic ties between the two countries. The screening is followed by a conversation with the architect of the film, John Crawford, Vice Chairman of the Board of Governors of the American Hospital of Paris.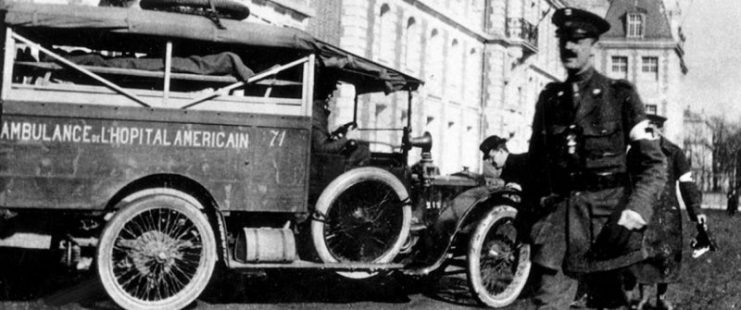 At 6:30 p.m. on Tuesday, May 22, the Museum and Memorial hosts five local leaders who are deeply involved with criminal justice issues during a program entitled One Community. Museum and Memorial President and CEO Dr. Matthew Naylor leads a moderated discussion on continuing to build "a just and lasting peace;" the phrase appears on the on the Great Frieze. Participants include Rosilyn Temple of KC Mothers in Charge, Jackson County Missouri Judge Jalilah Otto, Wyandotte County District Attorney Mark Dupree, Missouri State Highway Patrol Capt. Ron Johnson and Sgt. Everett Babcock from the Kansas City Missouri Police Dept. Homicide Unit.
Shortly after World War I, a white marble sarcophagus was erected in Arlington Cemetery where an unknown American soldier was laid to rest, representing all who not only gave their lives, but also their identities, for their nation. At 6:30 p.m. on Tuesday, May 29, the Museum and Memorial welcomes Gavin McIlvenna, former tomb guard and President of the Society of the Honor Guard for the Tomb of the Unknown Soldier, for a special program about the memorial.
Other events occurring in May include: the monthly Story Time program about the decorated WWI pigeon Cher Ami (May 5, 10:30 a.m.), a children/adult friendly art program called Sketch Like Sargent (May 12, 1 p.m.), the WW1USA Amateur Radio Station (May 12-13, All Day), Pershing Lecture Series: Great War in the Middle East (6:30 p.m., May 23), Hands-on History (11 a.m., every Saturday) and a special edition of Hands-on History focused on the painting Gassed (1 p.m., every Saturday).
The National WWI Museum and Memorial holds the most comprehensive collection of World War I objects and documents in the world and is the second-oldest public museum dedicated to preserving the objects, history and personal experiences of the war.
May National WWI Museum and Memorial Events
Every

Wednesday

: World War Wednesdays (all tickets $8)
Every

Thursday

,

2:30 p.m.

: Complimentary Tour (FREE with paid admission)
Every

Saturday

,

11 a.m.

: Hands-on History (FREE)
Every

Saturday

,

1 p.m.

: Gassed Hands-on History (Complimentary with special exhibition admission)

Saturday, May 5, 10:30 a.m.

: Story Time: Fly, Cher Ami, Fly!: The Pigeon Who Saved the Lost Battalion (FREE with RSVP)

Tuesday, May 8, 6:30 p.m.

: The American in Paris: The True Story of the American Hospital of Paris (FREE with RSVP)

Saturday, May 12, 1 p.m.

: Sketch Like Sargent ($20, includes supplies)

Saturday

-Sunday, May 12-13, 10 a.m. –

5 p.m.

: WW1USA Amateur Radio Station (FREE)

Wednesday, May 16, 6:30 p.m.

: Women at War: Served Like a Girl (FREE with RSVP)

Tuesday, May 22, 6:30 p.m.

: One Community (FREE with RSVP)

Wednesday, May 23, 6:30 p.m.

: Pershing Lecture Series: Great War in the Middle East, 1916-18 (FREE with RSVP)

Friday

– Monday, May 25-28: Memorial Day Weekend events

Tuesday, May 29, 6:30 p.m.

, Tomb of the Unknown Soldier (FREE with RSVP)