Oscar-winning director and actor Mel Gibson will reportedly work with The Amazing Spiderman actor Andrew Garfield on upcoming WWII film about war vet Desmond T. Doss, the first ever conscientious objector and one of the only three to win the Medal of Honor for his bravery during the Second World War.
Mel Gibson, whose most recent movie was The Expendables 3, is billed to direct the said war film while Andrew Garfield, who became recently popular due to his role as Spiderman, is said to portray Desmond Doss' character in the movie. The project has the working title Hacksaw Ridge.
Desmond Doss' Story
The story of Desmond Doss certainly has a unique ring to it.
Doss was drafted way back in April of 1942 but due to his religious convictions [he was a Seventh Day Adventist], he refused to carry any firearms nor kill a person. Eventually, he served in WWII's Pacific Theater as a medic.
It was through his responsibility as a medic that Doss showed he could be brave and be hero just like the other soldiers who bore arms.
He was able to save 75 comrades during the Battle of Okinawa. he did not fear going near the enemy lines to save the wounded. He braved crossfires just so he could tend to those who were harmed in the front lines of WWII. In doing his job, he put his life on the line.
Doss got wounded in an overnight battle when he got hit by a grenade and later on, while saving grunts, was hit by a sniper.
When he left the army in 1946, he was diagnosed with tuberculosis [the illness cost him one lung] and had to spend five years recuperating from it along with the injuries he sustained during the war.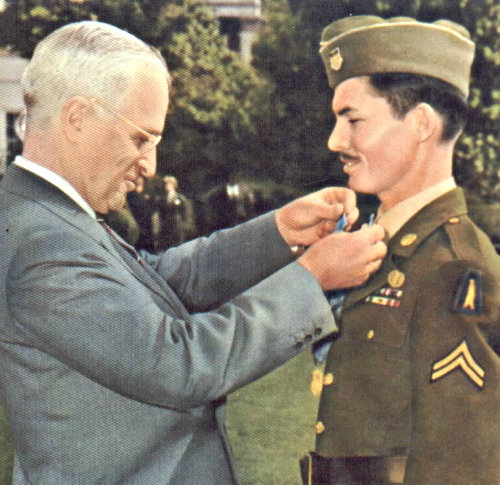 Aside from being a Medal of Honor recipient, Desmond Thomas Doss was also given two Bronze Stars and three Purple Hearts, all in recognition of the heroic feats he did even though he never carried any gun or participated in battles.
Knowing Hacksaw Ridge
The slated project for the Mel Gibson and Andrew Garfield team up is already over 13 years in the making. It was initially set up with Disney. According to reports, the script was written by Robert Schenkkan and Randall Wallace. The latter, coincidentally, was also the one who wrote the script for Mel Gibson's Braveheart movie some years back.
Mel Gibson had kept a low profile these recent years and had not directed any movie since his 2006 blockbuster Apocalypto. Andrew Garfield, on the other hand, are getting strong reviews for his recent film 99 Homes.
Hacksaw Ridge is set to start shooting some time next year.