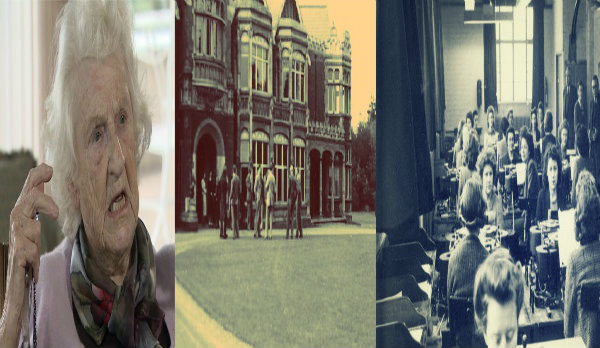 Olive Bailey was only a young woman when she worked in Bletchley Park during the Second World War but at 94, she remembers it all like it was only yesterday.
The now resident of Victoria, British Columbia is one of the last survivors of the WWII team that pulled off one of the greatest actions during the Second World War — breaking the, what was once believed to be unbreakable, Enigma Codes of the Germans. She worked with the British math genius Alan Turing himself whose amazing feats during the war were made into a now Oscar-contending film, The Imitation Game.
It was way back in 1940 when Olive Bailey got recruited to work in the British intelligence hub during WWII, Bletchley Park.
According to her, she was the one responsible for taking the de-crypts from the machines and take them to Hut Number Three where Bletchley's higher-ups and big brains were.
The group Olive Bailey worked with during the war is now the center of the plot of the Alan Turing movie The Imitation Game. And the former Bletchley Park worker remembers him well.
Olive Bailey remembered Turing as someone who had the inclination to talk in bursts but had a wonderful sense of humor. That made both of them get along so well. Olive added that she even got to work with the massive device Turing created which is considered one of the world's first computers.
Olive Bailey also remembers Joan Clark who is portrayed in The Imitation Game by Keira Knightley. The one thing she recalled about Clark was when Turing gave her an elongated box which contained a pen and pencil set.
When WWII ended, Olive Bailey migrated to Canada. She never did tell anyone her Bletchley Park experiences until recently since the operations made inside the walls of the intelligence hub were cloaked in secrecy for years.
Only until recently that Olive Bailey felt free to share her WWII experiences and is even thinking of writing a book based upon them with the help of her husband, Norman.
She said that her lasting memory of Turing was that he was a misunderstood man. For one, she recounted how Turing would chain his cup of coffee to the radiator and everyone looked at him like he had gone crazy or something. But looking at the odd behavior of the math genius, Olive Bailey believes that he had a reason for his every action like chaining his cup of coffee to the radiator as his table had always been piled up with papers, documents and such.
Olive Bailey had also went to see The Imitation Game and expresses that the movie isn't something to her liking. However, considering that those who made it were not actually in Bletchley Park and had not witnessed how everything went on in there, she granted that the movie's creators did a good job.