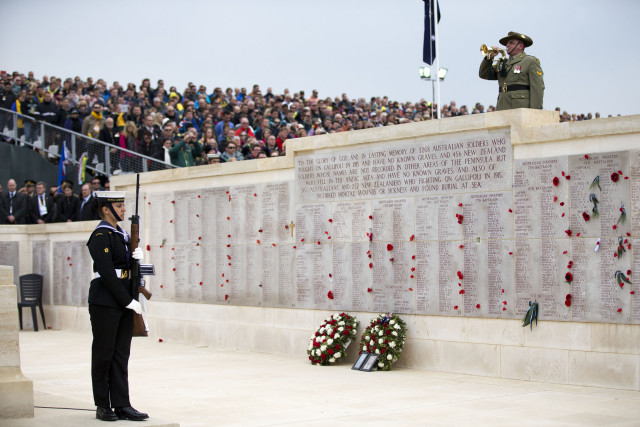 Lone Pine was one of the most famous battles  of the Gallipoli Campaign fought by Australian and New Zealand troops. The battle was named for the single Turkish Pine that stood in the battlefield.
The battle was designed as a diversionary tactic whilst the majority of the troops were used to break out from the ANZAC perimeter by capturing high ground at Chunuk Bair and Hill 971. On 6th August 1915, the Australian artillery barrage stopped and 1st Australian Brigade rushed the trenches occupied by the Turkish forces, from hidden trenches dug in no man's land.
When they arrived at the Turkish trenches they were surprised to find that a lot of the trenches had been roofed, with timber making it difficult to get inside but after a furious battle lasting nearly half an hour the Australians were in command of the trenches. The Australian engineers cut trenches through the old no man's land back to the original Australian trenches so that reinforcements could be brought up safely from below ground level.
The capture of the Turkish positions infuriated the Turks and they threw most everything they had at their old trenches trying to dislodge the Australians, who fought tooth and nail to retain the trenches. From nightfall on the 6th August 1915 through to nightfall on the 9th August, ferocious hand-to-hand fighting took place throughout the position as the Turks attempted to wrest the trenches away from the Australians.
This battle drew the entire Turkish reserve Force into the battle and the Australians used six battalions. In the course of the battle the Australians casualties amounted to over 2,300 dead and wounded and the Turkish casualties amounted to some 7,000 dead or wounded.  The bravery of the Australian troops was rewarded with seven Victoria Crosses, the highest number ever awarded to an Australian division for action during one battle.
After the war, a cemetery was built on the site of the battle and a 'Memorial to the Missing' was built on the ground captured by the Australians. It is dedicated to the Australian dead who have no known grave.
Every year, on Anzac Day, a Memorial Service was held at the site but this year, for security reasons and due to the location's isolated location, the service was cancelled by the, then Australian Veterans' Affairs Minister, Stuart Robert, in conjunction with the Turkish authorities. The cancellation of the service caused a huge public outcry and the newly appointed minister, Dan Tehan, has agreed on a compromise solution.
Australians will be invited to a wreath laying ceremony on the day before Anzac Day and on the day itself, the cemetery and memorial will be open to the public for quiet contemplation. The official and formal Memorial Service will be moved to 6th August, the anniversary of the battle.
Dan Tehan agreed that it was important that people reflected on the service to their country given by the troops and remember the men that were killed or wounded. He said, "Holding the service on the appropriate anniversary gives it proper recognition and ensures the wider public has a greater understanding and acknowledgment of the importance of this battle."