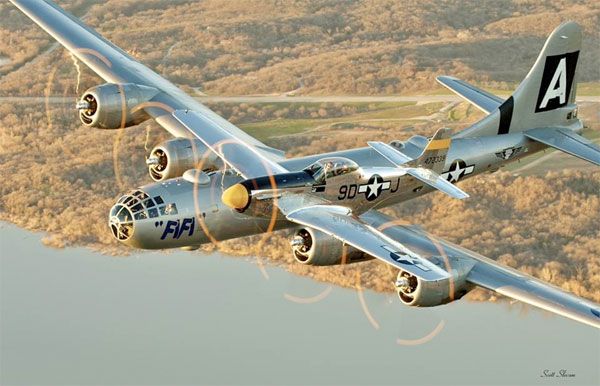 The Commemorative Air Force's iconic aircraft will land at 10 Florida airports, along with P-51 Mustang The Brat III and other Second World War planes, including the T-6 Texan, Fairchild PT-19, C-45 Expeditor Bucket of Bolts. At every landing, the planes can be seen on display or, for the more adventurous ones, you can go on a ride on one of the aircraft.
Pilots and crews from over 70 CAF units from all over the country will gather to celebrate and to create an interesting experience of the touring military aircraft. For them, the planes awake the Second World War memories, sights, sounds and smells, things that normally people wouldn't recognize. But, they say, the aircraft are real history lessons for both the young and old.  In Florida, the tour stops will be in: Pensacola, Leesburg, Clearwater, Sarasota, Naples, Ft. Myers, Lakeland, Vero Beach, Orlando, Deland and Jacksonville. Visitors who just want to see the planes and eventually get a ride with the B-29 cockpit, will pay a nominal admission before they enter the exhibition. For those who are up for a ride, you should be ready to pay between $65 to $1995 for your flight, the Digital Journal reports.
The CAF honors the men and women who built, cared for the planes and flew them during the Second World War and that is why they believe the planes should be kept in flying condition and people should be able to experience flying the aircraft.
The Boeing B-29 Superfortress served from 1944, in the Second World War and later on in the 1950s, in the Korean War. It was first flown in 1942 and it came as a replacement for B-17s and B-24s. CAF acquired FIFI in the 1970s and until 2006, it flew for over 30 years. In 2006, FIFI's pilot decided she had to go through a complete power re-fit so all her four engines were replaced, bringing FIFI back in the skies in 2010.
The P-51 is considered one of the best fighters of the Second World War and probably the best aircraft ever designed. It served from 1944 and escorted B-29s on long range missions to Japan. In the 1950s, the U.S. Air Force built and flew over 13,500 P-51s.
No wonder why the Commemorative Air Force is considered one of the biggest private air forces in the world, with over 8,000 members, 150 aircraft, which fly to over 70 units in 27 states.