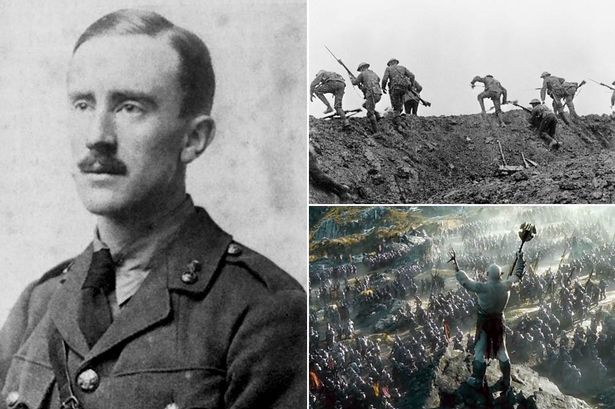 It is little known that the battles of Middle Earth are in fact based and inspired by JRR Tolkien's own World War One experiences and observations. The final film version of his book series is being released in cinemas this week, The Battle of the Five Armies.
JRR Tolkien fought on the front line during the First World War at the Battle of the Somme, as a signals officer in the 11th Battalion Lancashire Fusiliers. His gun used in service is still on display at the Imperial War Museum in London.
Pre- and post-war, Tolkien was an Oxford academic, and his biographer says that Tolkien had made a point of passing on his war time experiences to his children, including being gassed and life in the trenches. In general though, it is said he rarely talked about the war – a normal reaction from veterans who have been through severe wartime experiences. His writing was probably a way of dealing with what he had been through.
Spectacular battles are the pinpoints of each book in the Lord of the Rings series. And the latest movie features a 45 minute battle scene with all manner of Tolkien characters battling for survival. Of course the books are fantasy, but his knowledge of battle and experience of war is evident.
The Lord of the Rings' Dead Marshes is where dead warriors stare upwards, no doubt a memory of Tolkien's from the front line.
Tolkien admitted he had an active imaginationand twinned with his life during the war, he was able to conjure up ordinary characters who took pride and fought for justice, their way of life and survival.
Brave characters are probably based on the officers and soldiers he met during his service. Tolkien's childhood friends also fought in World War One, two died in the Battle of the Somme, one died from a shrapnel wound and Tolkien only survived because he arrived days after the battle and so missed the heaviest fighting.
Three months into his service, Tolkien got a fever from lice bites and returned to Britain. He did not return to duty because after recovering from the fever, he also got gastritis. It was during his recovery in hospital that he started conceptualising and writing the Middle Earth stories, the Mirror reports.
He remembers his wartime friends and heroes in the foreword of The Lord of the Rings second edition and was keen for people not to forget the anguish and horrors of World War One that he had experienced.
JRR Tolkien's biography, 'Tolkien and the Great War' by John Garth, tells the full story of his World War One experiences.