Californian Marine Pfc. John Franklin Middleswart has been identified and buried with full military honors 80 years after he died during the attack on Pearl Harbor. His identification has come thanks to the USS Oklahoma Project, a program dedicated to identifying 394 unknown servicemembers from the USS Oklahoma, a U.S. battleship that was sunk at Pearl Harbor.
Middleswart was just 19 years old when he was killed aboard the USS Oklahoma on December 7th, 1941. The Oklahoma was docked at Ford Island, Pearl Harbor, when the Japanese attacked, and she received multiple torpedo hits while she and the rest of the military installation tried desperately to defend against the assault. She rolled over in the harbor and claimed the lives of over 429 sailors and Marines.
The ship was eventually righted and sold off for scrap once reusable fittings were removed. Over the next few years, the U.S. worked to recover her crew and buried them in the Halawa and Nu'uanu cemeteries.
In 1947, the American Graves Registration Service (AGRS) arrived to identify the fallen men but were only able to confirm the identities of 35. The remaining 394 were buried at the National Memorial Cemetery of the Pacific, also known as the Punchbowl.
Middleswart's identification
Middleswart was among the 394 unknowns. In 2015, the Defense POW/MIA Accounting Agency (DPAA), an agency that is dedicated to recovering U.S. servicemembers from the nation's conflicts, began the aforementioned Oklahoma Project.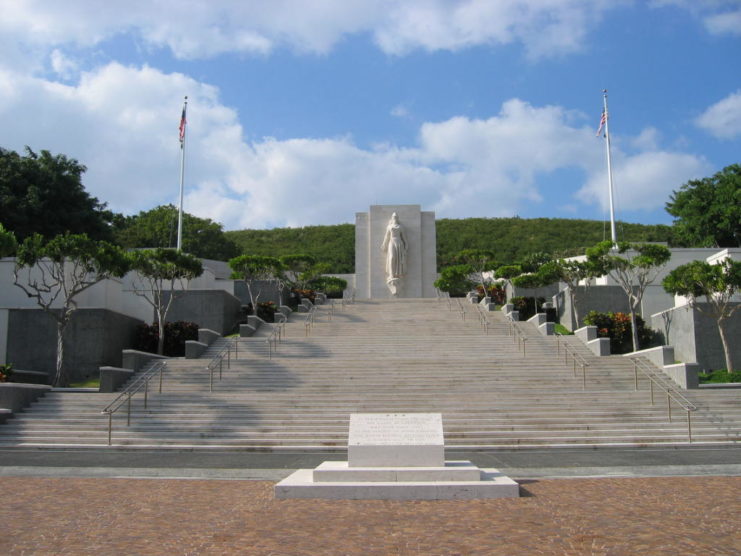 The DPAA disinterred the USS Oklahoma's unknowns for analysis. Middleswart was identified by comparing mitochondrial DNA extracted from his bones with that of his sister and two nephews. Y chromosome DNA (Y-STR), and autosomal DNA (auSTR) analysis were also used in the process. He was officially accounted for on the 28th of January 2021, the 300th identification from the USS Oklahoma.
Middleswart's ceremony was attended by 50 people, where he was buried with full military honors this month at the Fort Rosecrans National Cemetery in San Diego, his hometown. Marines performed "Taps" on a bugle and gave a rifle salute in Middleswart's honor.
Navy Chaplain Robert LeCompte said. "What an amazing miracle it is to have John with us today."
"It's the end of a journey," said James Brown, one of the Middleswart's nephews. "We couldn't be happier."
"We were always hoping one day they would identify him and bring him home," James Brown said.
His death had a profound impact on his family, who received a Purple Heart and an American flag from the government. As he was listed as missing in action, his family wasn't able to visit his resting place. Middleswart's sister, Lauretta Brown, named one of her sons after her missing brother.
More from us: Families Aren't Happy With Plans Not To Identify 85 USS Arizona Crewmen
Because Middleswart has been recorded as missing since WWII, his name is listed on the Courts of the Missing at the Punchbowl. Now he has finally been identified, a rosette will be put next to his name to indicate that he has been found.