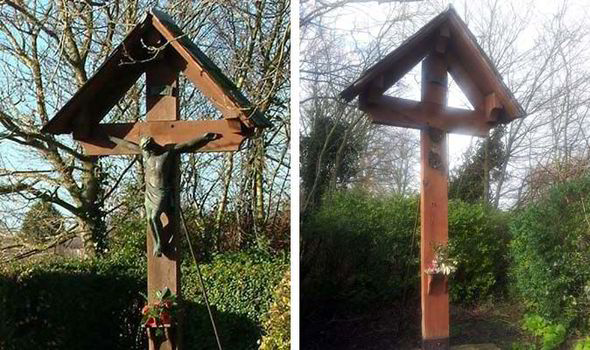 Villagers are outraged after a 40 inch high bronze figure of a crucified Jesus has been stolen from the memorial in the run up to the centenary anniversary of the First World War. The memorial has been there for 93 years without incident…until now.
One villager wished to be unidentified said: "They are the scum of the earth.
"That statue was on a memorial which honored brave lads from the village who went away to war and never came back.
"They gave their lives for us – and that includes the evil people who have stooped low enough to steal a statue of Jesus."
The figure in the village of Wingfield, Wiltshire was commissioned by the great-grandfather of the parish council chairman, Michael Copland-Griffiths and was designed by his great-aunt.
Mr. Griffiths said: "There is a lot of amazement and horror. It's a feature of the village that will be sadly missed.
"It was reported missing by a councilor – the three bolts holding it on had been removed, so rather than tear it off it has been carefully unwound.
"To me that doesn't sound quite so desperate, and like they knew what they were doing.
"It's quite a spread-out village, so it's one thing that unites us together.
"It's a tragedy that in this centenary year something so important to the nation has been lost to the village."
Express reports the sculpture had been removed from the wooden memorial at the village crossroads where A366 crosses the B3109 which links Trowbridge, Frome, and Bradford on Avon.
The memorial was donated to the village 20 years ago and it was going to be restored this year as a part of the centenary commemorations of the start of the First World War.
PC Richard Gardener stated: "This isn't simply the theft of valuable metal, this is the theft of something symbolic to a community.
"It remembers those who have paid the ultimate price to protect our way of life which is particularly poignant in this the 100th year of the commencement of hostilities."
PC Mark Hough added: "We are appealing for witnesses. This was on the junction of Wingfield crossroads and would have taken some time to remove.
"The local community and parish council are greatly distressed and are appealing for anyone with any information to get in touch."
Anyone with any information can contact PC Gardner on 101 or Crimestoppers on 0800 555 111, where information can be left anonymously if they wish.