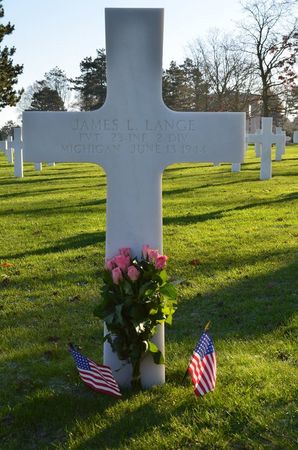 The family of James Lange has never had a chance to lay flowers at the grave of the departed soldier. The 19 year old soldier arrived in Normandy, France shortly after D-Day, June 6, 1944—he never returned home to Flint, MI.
Lange was killed in action. He is one of 10,000 other American soldiers who were buried at the Normandy American Cemetery and Memorial.
Every month, a woman unrelated to Lange, Katell Pape, lays flowers at the soldier's grave. The French woman is a member of an organization called "Les Fleurs de la Mémoire," whose members adopt graves of American soldiers and puts flowers on them.
Pape is also a tour guide in Normandy. She often wondered about the man she adopted and leaves flowers for. She has contacted the Flint Journal, hoping to learn more.
"He arrived in France on June 6, 1944, on Omaha Beach," Pape said. "And he was killed in action on June 13, 1944. He has the Purple Heart and the Bronze Star Medal."
Pape said she knows little else about him.
"I just know that he lived in the Michigan, near Flint," she said. "Most of the military archives burnt.
Lange's name is inscribed on the local veteran's memorial in Flint.
Tina Burton is a relative of Lange who lives in Flint. Unfortunately, she said she has never heard the name, James Lange. That is, until she asked her grandmother about him when she was contacted by the Journal. Burton's grandmother, Mary Lange, was married to a man named Rudolph Lange—a man who has died over 20 years ago.
Mary Langue had heard her husband mention a relative named James Lange, but they didn't talk much about him.
Burton told M Live that there were no other members of the family left from that generation.
A photo of Lange's grave shows a clean, white cross with the name "James L. Lange" carved into it and "PVT 23 INF 2 DIV" and "MICHIGAN JUNE 13 1944."
Warren Jackson, a 90-year-old Flint man and one of the few remaining WWII veterans in Flint, said he has not heard the man's name before.