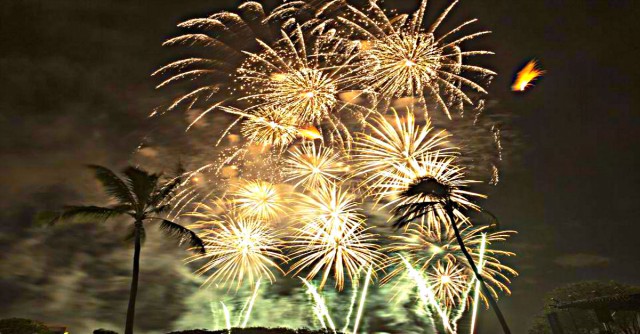 The mayors of US city Honolulu, Hawaii and Japanese city Nagaoka held a joint celebration of the 70th anniversary of VJ Day [Victory over Japan] – which also marks WWII's end – Saturday night. The celebration was symbolic for the friendship existing between the two cities which shared a rather grim past during the Second World War.
Nagaoka is the hometown of Isoroku Yamamoto, the Japanese admiral who orchestrated the Pearl Harbor attack which prompted the United States to join World War Two way back in 1941. In return, the city became a target for US bomber planes during the last weeks of the conflict resulting to about 2,000 casualties.
Today, Nagaoka is one of the sister cities of Honolulu. It is also very well-known for its impressive fireworks.
For the 70th year commemoration of VJ Day celebrated last Saturday night, a part of Pearl Harbor – which remains an active naval base up to this day – was opened to the public for the fireworks display courtesy of Nagaoka City. The amazing pyrotechnic show was witnessed by Honolulu Mayor Kirk Caldwell and Nagoaka Mayor Tamio Mori along with hundreds of spectators.
Accordingly, the event was not only to honor those who have fallen because of the Second World War but also to celebrate 70 years of peace and friendship between the two cities.
A day prior to the fireworks display event, the two city mayors, along with several of their council members, joined the US Pacific Fleet commander in paying wreaths at Pearl Harbor.
WWII ended when Japan surrendered on August 15, 1945. However, it was still August 14 in Hawaii as well as in other parts of the United States.
https://youtube.com/watch?v=toJJfeFe5aU