A 20-year-old Hubert Rothove left his father's farm near the Osage County community of Folk to travel to the county seat of Westphalia on June 30, 1942, registering with his local draft board.
After doing so, he returned to his work on the family farm and continued dating the former Regina Brendel, a friend of his sister that he had met when attending a picnic in nearby Rich Fountain.
Like many a young man, he carried in his mind plans for the future; but as the months passed and he busied himself tending livestock and assisting in the cultivation of crops, any ideas he possessed were placed on hold when he received his notice to report to Jefferson Barracks for his pre-induction physical.
"When World War II erupted, his life changed forever when he was inducted into active service with the U.S. Army on January 4, 1943," stated his daughter, Marla Markway.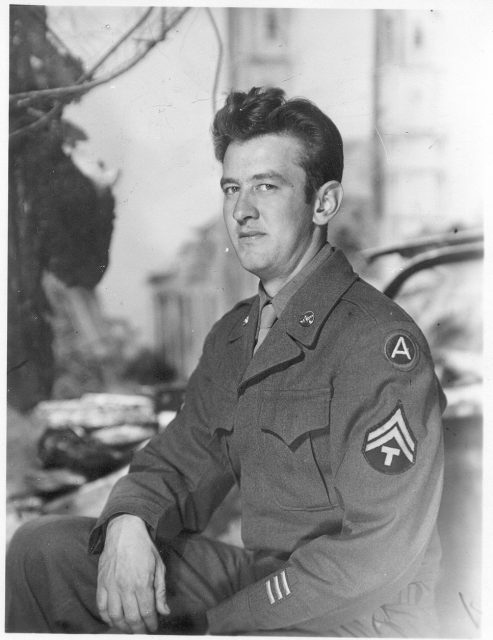 Although much of the veteran's experiences remain something of a mystery since he is now deceased, Rothove's family has pieced together sections of his military experience using notes from soldiers who served in the same battalion as their father in addition to brief conversations he shared with his children decades ago.
Following his induction, the first several weeks of Rothove's military service were spent at Ft. Eustis, Virginia, for basic training with an anti-aircraft battalion. From there, he went on to complete several weeks of instruction as a cannoneer at Camp Stewart, Georgia, learning to operate a halftrack and other military vehicles under combat conditions.
"When he finished his training and just before he deployed overseas, they gave him a little bit of leave and he returned home and married our mother on July 27, 1943, at Holy Family Church in Freeburg," explained Marla Markway.
Assigned to Battery B, 467th Anti-Aircraft Artillery (AAA) Automatic Weapons Battalion, Rothove returned to Camp Stewart following his wedding, where his battalion loaded their halftracks on railcars. Traveling to the Desert Training Center in California, it was here they underwent several months of training with the 9th Armored Division.
"Records we've found show they were sent to Camp Pickett, Virginia, for amphibious training, said Paul Rothove, one of the veteran's sons. "Then they were sent to Ft. Dix, New Jersey, to prepare for their shipment overseas aboard the Esperance Bay (an English freighter built in Scotland in 1922)," he added.
Discharge papers reveal Rothove arrived in England on January 31, 1944 and, for the next few months, conducted amphibious training and target practice in locations throughout the English countryside. On June 1, 1944, they left their marshalling area and boarded landing craft in preparation to cross the English Channel for most famed beach landing of the war.
"We couldn't estimate how far from shore we were, but at 07:00 a.m. (on June 6, 1944, D-Day) a boat pulled near and again a man with a megaphone yelled at us: Go on in, good luck," wrote Hyman Haas, a sergeant with Battery A, 467th AAA. "Well that started us off," he added. "We began our run onto Omaha Beach."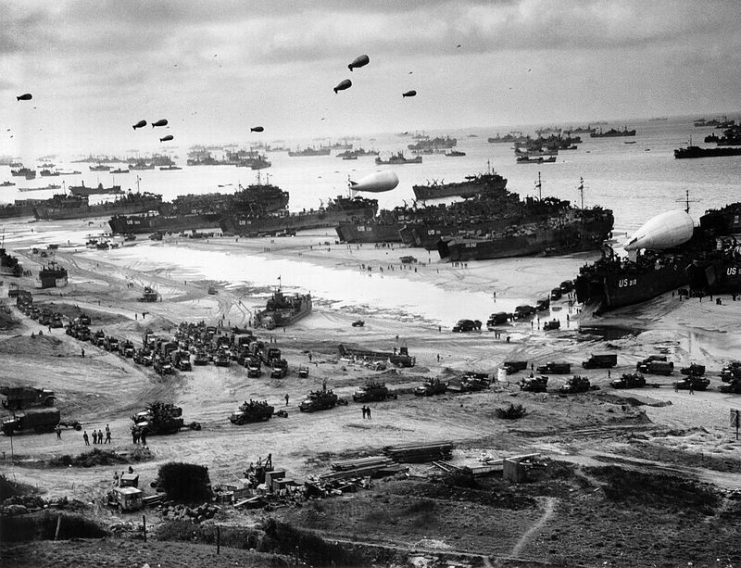 Paul Rothove recalled, "Many years ago, when I was around 10 or 12 years old, it was the anniversary of D-Day and my father came home early from work and mentioned that back during the war, his halftrack took a shell during the landing and because of the damage, he received a new halftrack the next day. That was about the only time I recall him speaking to us about his service."
The chaos and the carnage of the D-Day landings soon behind them, the battalion began a determined advance toward Germany, functioning primarily as mechanized infantry. They eventually broke out of Normandy but continued to encounter fierce resistance. When the Battle of the Bulge unfolded a few months later, they helped in the defense of the city of Luxembourg and later Bastogne.
"His unit was essentially converted to infantry during the Bulge and after it was over, they returned to an anti-aircraft capacity," said Paul Rothove.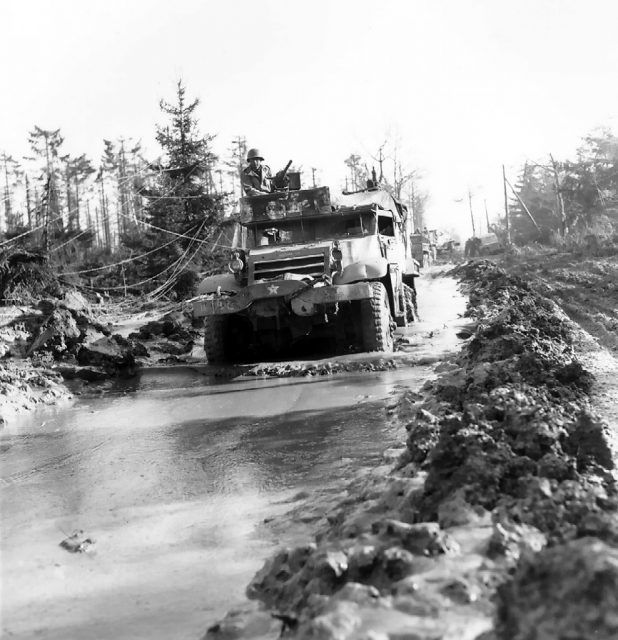 The battalion's half-tracks provided anti-aircraft defenses for several river crossings, including the capture of a critical bridge at Remagen, Germany, in mid-March 1945. Later the same month, the battalion helped liberate U.S. prisoners held at an airport in Frankfurt, Germany, and shortly thereafter witnessed more devastation when U.S. forces liberated Dachau concentration camp.
When the war ended in May 1945, Rothove's battalion remained in Europe for several months, performing occupational duties such as border patrols. On December 23, 1945, the 23-year-old veteran received his discharge and reunited with his wife in Osage County. He and his wife moved to St. Louis where he graduated from Ranken Institute of Technology before moving to Jefferson City.
"My father was the sole owner of Rothove Construction Company and built houses for about ten years," said his daughter, Marla Markway. "He later became a journeyman electrician and worked for Capital City Electric Company," she added.
The father of four sons and two daughters, Rothove passed away from a massive heart attack in 1983 when only 60 years old and was laid to rest in Resurrection Cemetery in Jefferson City.
When asked of the significance of her father's World War II service to their family, Marla Markway explained, "He rarely mentioned his experiences in the Army but he experienced a deep camaraderie with his fellow soldiers—it was a bond that was meaningful and they continued to support one another in the decades after the war."
Rothove's son, Paul, added, "If you don't write things down, such as our father's military experiences, the living memory disappears with the person. That's why it is important to keep records because it is the only way we can understand their sacrifices and learn from history."
Jeremy P. Ämick writes on behalf of the Silver Star Families of America.
Another Article From Us: Drunk Man Joyrides in a T-55 Through a Polish Town