Beyond appearing as the villain in The Expendables 3 and working on 2012's critically panned Get the Gringo, Mel Gibson's Hollywood career has been fairly quiet in recent years. However, his directorial project this year, the WWII action-drama Hacksaw Ridge, could be a game changer.
The film has reportedly "tested through the roof" during early screenings, and the release date is for November 4th 2016, quite close to the Oscars.
However well the final feature is received, of course, Mel Gibson wouldn't be making Hacksaw Ridge if not for the WWII hero behind it – Desmond T. Doss. This hero was the first conscientious objector to ever be awarded the Medal of Honor, America's most prestigious military decoration. Doss chose to go through the many battles of WWII's South Pacific theater – particularly Guam and Okinawa – completely unarmed.
The hero of Hacksaw Ridge put himself at risk time and time again, saving numerous lives even as he put his own on the line.
Knowing the Hacksaw Ridge Hero
Doss was born in Virginia, and grew up as a devout Christian. The man was deeply patriotic, but he just couldn't reconcile the role of a soldier to the Biblical command "thou shall not kill". In the end, he was classified as a conscientious objector and joined the US Army as a medic. Unlike his comrades, he refused to take any form of weapon with him into action, even for his own protection. He was quite determined  that whatever circumstances he got himself into, he would never kill another human being.
Instead of taking lives, he saved them.
Ironically, his role as a medic placed him in more dangerous situations than some of his comrades faced. The Japanese in particular targeted their enemy's medics, who were identifiable by the Medical Corps emblem emblazoned on their helmets.
"To them, the most hated men in our army were the medics," Doss explained in one interview. "They would let anybody get by just to pick us off. They were taught to kill the medics for the reason that it broke down the morale of the men, because if the medic was gone they had no one to take care of them… All the medics were armed, except me."
It was in Guam, in 1944, that the hero of Hacksaw Ridge began earning a name for himself. He braved enemy fire, torrential rain and thick mud to rescue his wounded comrades. His deeds earned him two Bronze Star medals.
After his selfless work at Guam, he was present in Okinawa the following year. His efforts on this Japanese island made Doss a Medal of Honor awardee.
The medal's official citation noted that Doss had saved 75 wounded soldiers, while under heavy fire from the Japanese, during an assault on a high summit of Okinawa.
The citation stated:
"Pfc. Doss refused to seek cover and remained in the fire-swept area with the many stricken, carrying all 75 casualties one-by-one to the edge of the escarpment and there lowering them on a rope-supported litter down the face of a cliff to friendly hands."
Initially, the estimated number of wounded soldiers Doss saved was placed at 100. However, he contested the number himself, insisting that it "couldn't have been more than 50". So, a compromise was reached and the figure 75 decided upon.
Another extraordinary feat by Doss took place in May 1945. Doss suffered injuries to his legs after a grenade exploded nearby. Yet, even after being hurt, he refused to call a stretcher, since he felt the other wounded soldiers on the battlefield needed help more.
On the journey back to safety, the Hacksaw Ridge hero saw a severely wounded soldier. He decided the man needed immediate medical attention more than he did so he gave up his place on the stretcher for him.
While waiting for his saviors to come back and get him, he was hit by a sniper. The bullet shattered the bone in his arm, but he didn't give up. Instead, he fashioned a crude splint and crawled roughly 300 yards across rugged terrain to an aid station.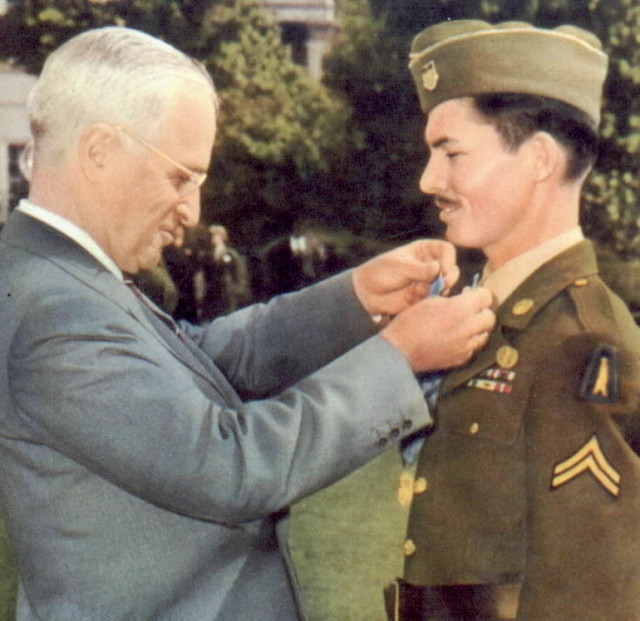 First Time Motion Picture
Though Doss' amazing war story became the subject of a documentary, Hacksaw Ridge is the first feature film to tackle the man's incredible story.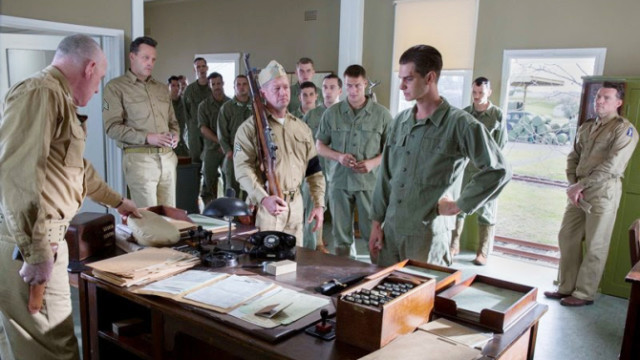 Mel Gibson's film will star Andrew Garfield in the lead role, alongside Vince Vaughn, Sam Worthington and Hugo Weaving – among others. Hacksaw Ridge is reportedly a very large production; on-set pictures taken last year show hundreds of extras clad in WWII uniforms, and a detailed recreation of a muddy battlefield.
Whether or not the film does Desmond T. Doss's story justice remains to be seen. That the man's life is worthy of commemoration, however, is beyond any doubt.
Catch Hacksaw Ridge in theaters on November 4th 2016.