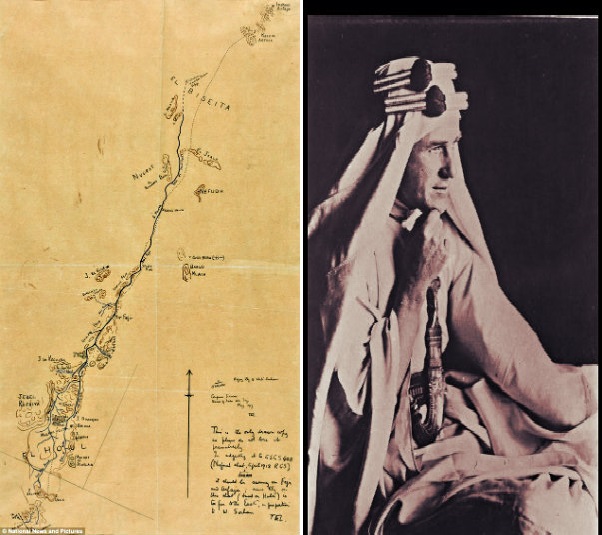 The only guide map, which according to experts, that Lawrence of Arabia sketched himself and depicted his famous journey in the Arabian desert between the years 1918 to 1922 is set to be auctioned next month. The guide map is expected to fetch a whopping price of £100,000.
The guide map, made by the famous adventurer/military commander Lawrence of Arabia, is of the northern area of Arabia. It was believed to have been drawn as he chronicled his battle experiences in fighting alongside the Arabs.
Moreover, the said guide map shows one major turning point in the Arab Revolt against the Ottoman Empire, the result being the capture of the port town of Aqaba, situated on the Red Sea, way back in 1917. The sketch shows the course Lawrence of Arabia followed along with the Arab troops he was with at that time and followed through on how the band reached the Hejaz railway right from leaving port al Wejh.
As the Sotheby's spokesman, the auction house being the one to handle the selling of the guide map, recounted, from al Wejh, Lawrence and his Arab band trekked the empty lands going to Wadi Sirhan, the historic landmark sited on the guide map. This journey lasted for five days and proved to be the most dangerous of expeditions the adventurer had taken throughout his lifetime.
On the other hand, the guide map was sketched by Lawrence of Arabia for his friend, cartographer and explorer Douglas Carruthers. The former befriended the latter as the First World War was already winding down.
Lawrence must have known that the route he took may be a thing of interest for cartographers so he carefully drew one for his friend who was involved in the same business. The guide map even bore his sign along with a note saying this is the only drawn copy so please, do not use it!
The now yellowed guide map is listed to go under the gavel on November 4 with Sotheby as the auction in-charge.