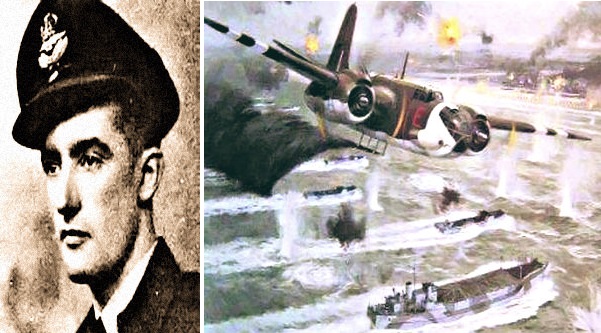 Leslie Valentine, believed to be the last surviving D-Day light bomber pilot, passed away last April 21, exactly 27 days short of his 96th birthday.
Born during the height of the Great War in the East End of Glasgow, Leslie Valentine initially joined HLI which was dubbed the Glesga Keelies. He fought with the 2nd battalion in France right until the Dunkirk evacuation.
When Leslie Valentine had a realization that he can better defeat Hitler's army up in the air, he joined RAF. he then went on to train first at the Medicine Hat in Alberta, Canada. He also took training in at RAF Bicester and RAF Finmere in Blenheim and Boston bombers. The preparation was part of hi being in the RAF 13 Operational Unit.
Leslie Valentine was 24 years old when he became part of the dozen RAF light-bomber pilots who swooped so low, about only 50 feet, above Normandy beaches just so they could drop smoke canisters to cover up invading Allied forces. In doing the mission, Leslie Valentine became open to firing from both sides – his and the enemy's. There was much confusion during the beach landings on D-Day that Leslie Valentine, a Flying Officer at that time, and his navigator John McKenzie, were shoot at not just by the Germans' small arms, artillery and anti-craft weapons but also of the Allied soldiers on the beach and the big guns of the British and American warships which were stationed just offshore.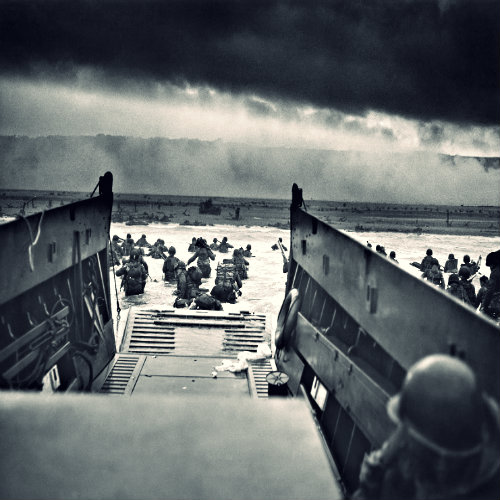 Flight Officer Leslie Valentine and his navigator managed to worm their way out of that unscathed and was able to fly back safely to RAF Hartford Bridge, the home base. Unfortunately, two others from the team were shot down.
Later on, the air moves Leslie Valentine executed during D-Day were painted by aviation artist Michael Turner. The painting was named Friendly Smoke. Turner's painting were both signed by Leslie Valentine himself and his navigator John McKenzie.
Valentine together with his USA-built Douglas Boston 111A light-bomber – part of RAF 88 Squadron, 2nd Tactical Air Force, Bomber Command – flew 60 combat missions in all. Most of the missions assigned to Leslie Valentine were directed towards the disruption of German supply lines as well as destroying roads, bridges and railway marshaling yards. There were also orders for blowing up submarine bases and V1 rocket launching sites which endangered southern UK cities.
Like many WWII veterans, his son Dudley, 71, said Leslie Valentine kept his silence about his war experiences. Leslie picked up his life's pieces right where he left them after WWII ended. He went back to studying in the university. he initially wanted to follow his father's footsteps as a doctor before WWII broke out but after, he pursued physiotherapy. He then went on to work as a physiotherapist for ten years before he was employed by the pharmaceutical company Abbott Laboratories. he became a salesman for the firm and later was promoted as a sales manager. leslie Valentine also went on to work for GD Searle, now Monsato, until his retirement at the age of 65.
Leslie Valentine was a recipient of the Croix de Guerre (Cross of War) given by the French government in recognition for his part in the liberation of France. He wasn't able to receive his Defense Medal as a WWII infantryman since he left HLI to train as a RAF pilot. However, after a radio program broadcast-ed the his part in HLI, the overlook was remedied by the British Prime Minister himself in 2012. Leslie Valentine received his medal personally from PM David Cameron November 22, 2012. The WWII vet was already 94 at that time.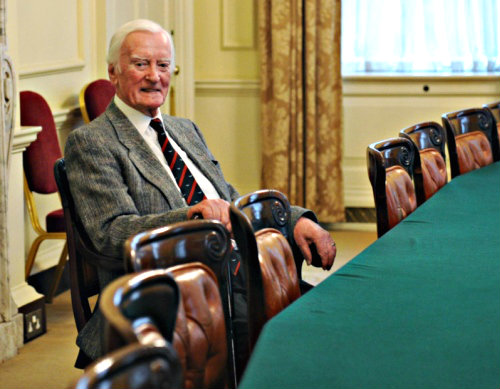 According to his son Dudley, their 2012 visit to the Normandy beaches when he took his father there after the death of his mother Vera was the most he saw Leslie Valentine relived the war. His usual line every time he was asked about his role during the Second World War was "I did what I had to do". But in their Normandy visit, Leslie Valentine was feted by fellow WWII veterans and the locals for his short yet important role in France's liberation.
Leslie Valentine spent the final four months of his life in Fewcott House Nursing Home in Fewcott, Oxfordshire, This Is Oxfordshire and The Scotsman report. He is survived by his son Dudley, daughter Una and two grandchildren David and Alistair. His wife of 74 years, Vera, died in 2012.
Our final salute to you, Leslie Valentine, sir!