Cinematic Titans Godzilla and Kong to Fight for Supremacy in World of Warships
Godzilla vs. Kong Movie-Inspired Naval Camouflages, Commanders, Patches and More Coming to Popular Multiplayer Online Game
AUSTIN, TX (April 1, 2021) – On the heels of the debut of Warner Bros. Pictures and Legendary Pictures' epic action adventure movie Godzilla vs. Kong, the infamous foes will take their battle to the high seas in World of Warships and World of Warships: Legends as part of an exclusive, time-limited collaboration between Wargaming, Legendary Entertainment and Toho Co, Ltd. These massive, iconic Titans will be featured onboard their individual ships, as well as available as playable commanders. Additionally, movie-themed camouflages, patches, flags and more will be available in game during the promotion, which will start later in May. Godzilla vs. Kong is in theaters internationally and, as of March 31, in U.S. theaters and on HBO Max for 31 days from theatrical release.
To watch the trailer for World of Warships click here.
To watch the trailer for World of Warships: Legends click here.
To watch the trailer for Godzilla vs. Kong click here.
For assets from the press site click here.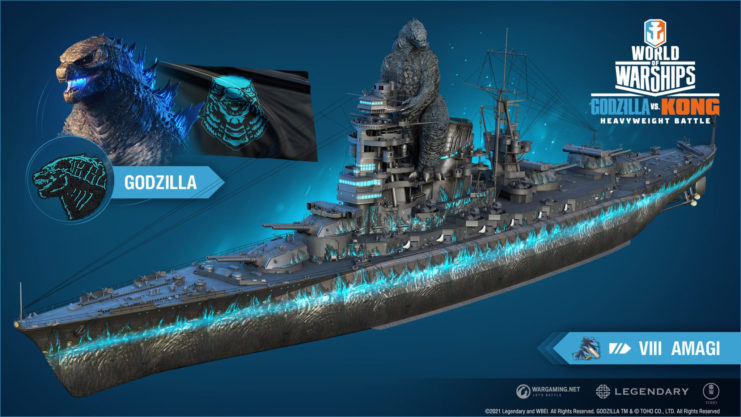 In this ultimate heavyweight battle, there can be only one winner. Representing Team Godzilla, wearing blue and weighing 41,217 tons is the Japanese battleship Amagi. In the orange corner, representing Team Kong and weighing 37,484 tons is USS North Carolina battleship. Both teams will come with unique movie-inspired permanent camouflages, but also with their own consumable camouflages, patches, flags, and more. On the console side, World of Warship: Legends players who choose Godzilla will have a unique battleship by the name of Heat Ray while the Kong fans will have a great counterpart in Primal, a battleship representing the creature's might. All that will be offered together with the accompanying commanders, consumable camouflages, patches, flags and more.
"Nearly 60 years ago, King Kong and Godzilla first faced each other on the big screen in Japan, and since then the rivalry of these mythical creatures has captured the imagination of millions around the world," said Aleksandr Nikolaev, Senior Publishing Producer from Wargaming. "World of Warships is always searching for new and exciting content our players would appreciate and we are delighted to share with them our vision of this legendary titans clash."
"Wargaming is the perfect partner to allow fans to jump into the action and take part in the long-awaited showdown between these two massive Titans," said Sam Rappaport, Director of Interactive Media at Legendary Entertainment. "Through this collaboration, fans will be able to experience the immense size and scale of the movie through this epic clash of Team Godzilla and Team Kong battleships."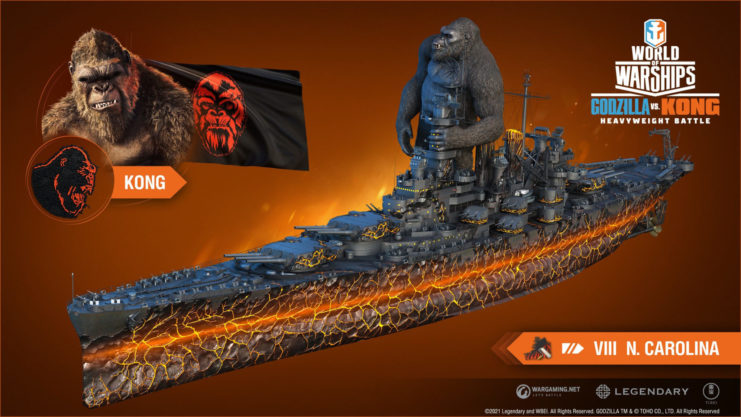 About World of Warships
World of Warships is a free, historical, online combat PC game from Wargaming. With its massive fleet of most iconic war vessels, including four different ship classes and strategically designed environment, World of Warships provides the ultimate naval warfare gaming experience, suitable for everyone. Thanks to its largest collection of historically accurate ships available to play, World of Warships prides itself as a digital ship museum and a focal point for naval history enthusiasts.
Official website: www.worldofwarships.com
New thematic content and innovative game modes are being added on a regular basis, providing a diverse and exciting gameplay to its broad player base.
One franchise – multiple platforms
After the successful launch of World of Warships on PC, its unique gameplay and design has been adapted to bring free massive naval battles to other platforms with World of Warships: Legends available on PlayStation and Xbox and World of Warships Blitz on iOS and Android mobile devices.
About World of Warships: Legends
Experience epic naval action in World of Warships: Legends, a massively multiplayer online game where you can master the seas in history's greatest warships! Recruit legendary commanders from maritime history, upgrade your vessels and stake your claim to naval supremacy with or against players around the world in thrilling and immersive battles.
World of Warships: Legends brings the online naval action loved by millions to home consoles for the very first time, alongside a host of content and features exclusive to the console experience.
Official website: www.wowslegends.com
About Wargaming
Wargaming is an award-winning online game developer and publisher headquartered in Nicosia, Cyprus. Operating since 1998, Wargaming has grown to become one of the leaders in the gaming industry with 4500+ employees and offices spread all over the world. Over 200 million players enjoy Wargaming's titles across all major gaming platforms. Their flagship products include the massively popular free-to-play hit World of Tanks and the strategic naval action game World of Warships.
Official website: www.wargaming.com
About Godzilla vs. Kong
On March 31, 2021 from Warner Bros. Pictures and Legendary Pictures comes the long-awaited showdown between two icons in the epic adventure Godzilla vs. Kong, starring Alexander Skarsgård, Millie Bobby Brown, Rebecca Hall, Brian Tyree Henry, Shun Oguri, Eiza González, Julian Dennison, with Kyle Chandler and Demián Bichir, under the direction of Adam Wingard, from a screenplay by Eric Pearson and Max Borenstein, story by Terry Rossio and Michael Dougherty & Zach Shields, based on the character "Godzilla" owned and created by TOHO CO., LTD.. Legends collide in Godzilla vs. Kong as these mythic adversaries meet in a spectacular battle for the ages, with the fate of the world hanging in the balance. Kong and his protectors undertake a perilous journey to find his true home, and with them is Jia, a young, orphaned girl with whom he has formed a unique and powerful bond. But they unexpectedly find themselves in the path of an enraged Godzilla, cutting a swath of destruction across the globe. The epic clash between the two titans—instigated by unseen forces—is only the beginning of the mystery that lies deep within the core of the Earth. Warner Bros. Pictures and Legendary Pictures Present a Legendary Pictures Production, A Film By Adam Wingard, Godzilla vs. Kong.
About Legendary Entertainment
Legendary Entertainment is a leading media company with film (Legendary Pictures), television, (Legendary Television), comics (Legendary Comics) and digital media (Legendary Digital Networks) divisions dedicated to owning, producing and delivering content to worldwide audiences. Legendary has built a library of marquee media properties and has established itself as a trusted brand which consistently delivers high-quality, commercial entertainment including some of the world's most popular intellectual property. In aggregate, Legendary Pictures-associated productions have realized grosses of more than $17 billion worldwide at the box office. To learn more visit: www.legendary.com
About Toho Co, Ltd.
Toho Company, Limited, is a Japanese entertainment studio focused on the development, production, exhibition, and distribution of powerful content for motion pictures, television and theater. Founded in 1932, it remains a prominent force in bringing brands and original storytelling with versatile talents to audiences worldwide. Its subsidiaries include Toho Cinemas, the highest grossing exhibition company in Japan. To learn more, visit: www.toho.co.jp/en/.