On the 70th anniversary of the end of World War Two, one of the major parts of the German surrender was the Nazi U-boat fleet.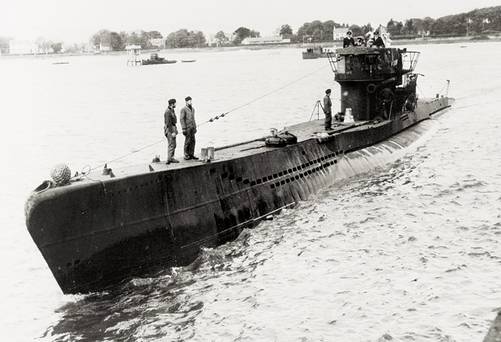 [Via]
German U-boat surrender took place at the end of May 1945 near Londonderry in Northern Ireland at Lisahally. The U-boats were the Allies' greatest fear during the war, since their attacks stopped food, equipment and goods getting to Great Britain, and nearly ended the war because of that.
One of the most famous moments of the German surrender was of the German senior officers signing the surrender documents with Field Marshal Montgomery.
But the surrender of the German U-boats is less well-known. In the middle of May 1945, the German E-boats, or fast torpedo boats, surrendered to the Allies at Felixstowe in the south of England.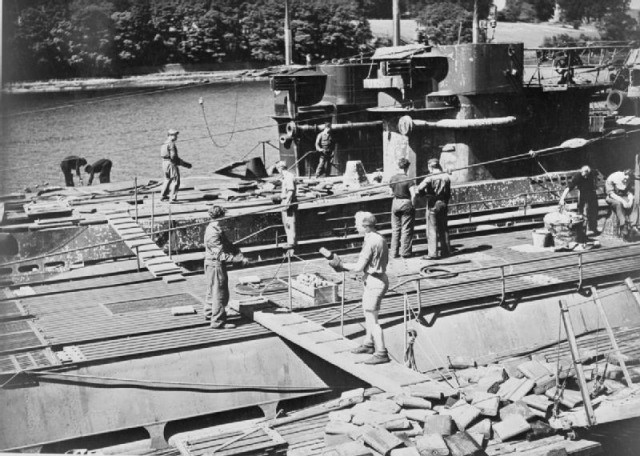 [Via]
Meanwhile the week before, the German U-boat fleet surrendered in Northern Ireland. The location was a surprise since the headquarters of the Allied Atlantic war front was based at Liverpool. But Admiral Sir Max Horton ordered the German U-boats to surrender at Londonderry, since it had played such an important role in Allied operations against the U-boats.
It was Monday, 14th May 1945 when eight German U-boats with white surrender flags flying at full mast and teams of Royal Navy crew helping to man them, made their way up the River Foyle and moored at Lisahally.
The Royal Navy's HMS Hesperus, the Royal Canadian Navy's HMCS Thetford Mines and the US Navy's USS Paine escorted the flotilla of U-boats into port. All three of the warships had operated from Lisahally at points during the battle of the Atlantic.
It was the Royal Navy that suffered the most defeats in the Atlantic. The Canadians had joined the sea battle fairly late in 1943, while the US Navy contributed around two in every 100 warships, The Belfast Telegraph reports.
Londonderry had become a central port of focus early on in the war in 1940. The Germans had just taken France and their U-boats had begun to operate from French ports on the Atlantic coastline.
Prior to that the U-boats had been making their way around the north coast of Scotland or along the south west of Ireland. But when the U-boats were able to use France as a launching point, the Royal Navy Admiralty turned its focus to the most westerly point in the British Isles which was Londonderry.
They re-opened an old shipyard which was used for repairs and re-fuelling and the dry dock became fully operational.