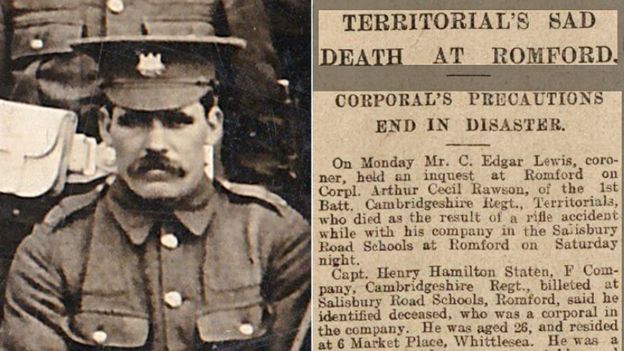 Sometimes we discover things in the most unexpected of places. Located within a visitors' book from a tea room in Peterborough is the extraordinary story of what appears to be the first  soldier killed accidentally killed by one of his fellow men in WW I and possibly the first fatality of that conflict.
The big, solid-jawed soldier in the F Company photo is Cpl Arthur Cecil Rawson of the 1st Cambridgeshire Regiment. It was taken back in 1909, the summer Rawson joined the newly formed Territorial Army unit. All of the men from F Company were originally from the market town of Whittlesey and knew one another quite well. Arthur was the son of a local grocer who had been a volunteer in the Cambridgeshire Battalion.
In 1914, Rawson was 25 and had been promoted to corporal. He had a leader-like way about him, and wanted to make a good  impression on some of the younger men. One friend was 18-year old Pte Alfred Davis.
As the summer of 1914 approached, tensions in Europe were coming to a head. German troops were on the march and threatening countries with invasion. On the night of August 4th, 1914, the United Kingdom officially declared war on Germany. The F Company was mobilized immediately, and rushed off to Romford in Essex to be billeted in a local school.
These men were excited and full of anticipation of what was in store for them. At the school they were issued ammunition, and Cpl Rawson was assigned with the task of establishing an organized schedule for guard duty. It was a Saturday evening on August 8th after several hours of patrolling (around 23:00) when the six men were getting ready for some rest and recovery.
The military are taught to be aware of the dangers that come from  being around loaded weapons. Tragically, Rawson, despite this training, did something careless. Before turning in for the night, Cpl Rawson personally watched the patrol group unload their magazines from their rifles. When it was Pte Davis's turn, Rawson for some reason felt he needed to intervene. Witnesses reported that Rawson requested Davis to turn over his rifle so that he could unload it instead.
Afterwards, the men settled down in the hallway of the school. Pte Davis was on his way to falling asleep (his rifle by his side) when he was startled by the sound of a loud crack of gunfire. Dazed and confused he quickly ran outside under the assumption that his group was under attack. Back inside the school it was dark, and the men heard Rawson yell out "Turn out the guard. I'm shot."
Gas lights were lit, but what the men found was not good. Cpl Rawson was badly bleeding from a serious wound to the thigh. The men rushed him to the local cottage hospital, but not in time to save his leg. His leg was amputated, and one hour after the operation Cpl Arthur Rawson was dead.
It was only five days after war had been declared on Germany. The early hours of August 9th approached and not a single British soldier had even deployed out of the country. It is likely that the trigger was caught by part of Pte Davis's greatcoat, but it was a bit perplexing to figure out how the weapon came to be loaded with the safety catch off. The only explanation was Cpl Rawson must have left a bullet in the breech by mistake when he unloaded the magazine.
Contemporary reports of the inquest are very complimentary of the type of person Rawson had been. Lt-Col Louis Tebbutt of the 1st Cambridgeshire Regiment described Rawson as a great fellow and very loyal comrade. He along with many others deeply regretted the event of that night; it was such an unnecessary loss of a young man embarking on what was sure to be a promising career. Pte Davis was exonerated by a not guilty verdict.
The story unfolded after archivists from Peterborough Central Library found two old visitors' books in a tea room. It was run by women from the local Temperance Movement at the Peterborough East railway station. The women encouraged the many thousands of soldiers who passed through to spend some time in the tea room instead of getting drunk at the local pubs.
These books have been uploaded online, and the library is working on a database of information related to the hundreds of soldiers who wrote in them. Some of the men opted to write poetry, draw pictures, or even write emotional messages about their personal wartime experiences.
David whose gun caused the death of Cpl. Rawson continued to serve in the army. In March 1917, Alf Davis signed the book and gave a brief account of his army career. He had been sent to Belgium in February 1915, where he became a stretcher bearer. In May during the Battle of Fosse Woodhe sustained injuries so severe it cost him his leg. He was the recipient of the DCM (Distinguished Conduct Medal) for his heroic efforts. The citation written on his behalf praised his conspicuous gallantry as a stretcher bearer in his attempt to bring in a wounded man during heavy fire.
After the war ended Davis worked as a railway clerk, got married, and had 3 children. His youngest daughter, Margery Harrison is still alive. At 92-years old she arrived at the Central Library in Peterborough to witness firsthand her father's entry into the book. Davis (like so many other soldiers) rarely spoke of his time in war. Therefore, it was quite a revelation to learn of her father's involvement in the accidental shooting of Arthur Rawson.
Mrs. Harrison said she knew something had happened, but never the specifics. When asked about her reaction to his role in the incident, she admitted it shook her up a bit. It is upsetting to know those sort of things really did happen.
This was certainly not the only incident of friendly fire. A historian named Felix Jackson conducted a special study on the 1st Cambridgeshire Regiment. He identified 5 other fatal shootings and 3 serious injuries during the same month (August, 1914). Each incident happened at the beginning of the war and each one involved Territorial Army soldiers from other regiments.
Three additional killings were soldiers shot by mistake, and two soldiers shot themselves accidentally while cleaning their weapons. Many accounts list Pte John Parr as the first British soldier to die in the Great War, but Cpl Rawson died 12 days beforehand. The historian reckons Rawson's death was somewhat forgotten because he died on British soil and not in a combat zone.
Matt Bronson, a historian from the Imperial War Museum, noted that friendly-fire casualties increased dramatically as the war raged on. A major cause of this was the new tactic of  the 'creeping barrage'. Artillery shells were fired slightly ahead of advancing troops, but often missed the intended targets and killed friendly forces. Many soldiers were killed as a result, especially on the Western Front, where artillery was the commonly used weapon of choice. Cpl Rawson's tragic death by 'friendly fire' was repeated many times during that horrific war.