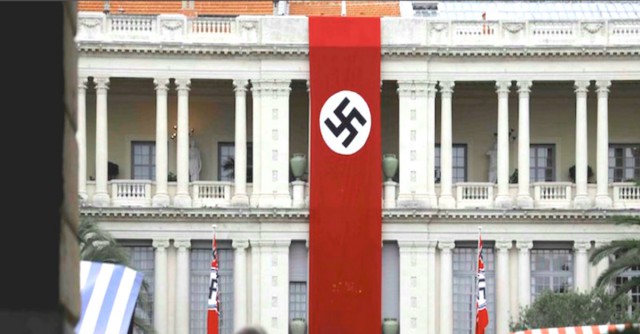 Nice, France – Locals of the city were outraged to see a Nazi banner displayed outside Nice's Palais de la Prefecture, a government building. The huge red flag emblazoned with the Nazi swastika was said to be part of a pre-filming exercise conducted for an upcoming WWII film.
But while the gigantic Nazi banner earned the outrage of the city's citizens, its tourists just took selfies with it in the background.
Reportedly, the French city's Palais de la Prefecture will be one of the settings of the in-the-works WWII film said to be based from the memoir of French author Joseph Joffo – A Bag of Marbles. Its story will focus on how it was growing up during the Holocaust. The prefecture will be used to portray the city's Excelsior Hotel which the Nazis used during their occupation in the city sometime in 1943.
According to a tourist, the city's citizens got agitated and started screaming when two men unfurled the Nazi banner on the government edifice. However, the Palais defended its decision to allow the putting up of the Nazi banner saying that the community was already informed way before the unfurling happened.
In its statement, the Palais declared that they already contacted the old French city's Jewish community long before the big Nazi banner was put up. Besides, it added, "there was a duty to remember the horrors brought about by the Nazis' rule". 
It can be remembered that the notorious SS captain and one of the most wanted Nazi war criminals in the world – Alois Brunner – converted the above-mentioned hotel as his headquarters  after Italy signed an unconditional armistice with the Allies.
Nice was a to-go-to city by Jewish refugees during the Second World War as it was a safe haven . However, thousands of the refugees who resided in the city were eventually rounded up later on and shipped off to death camps.