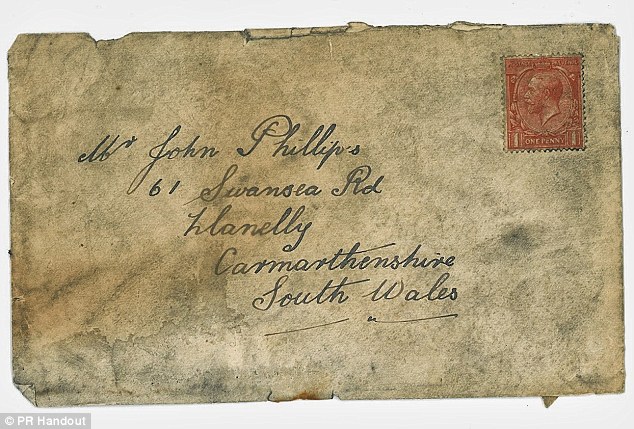 The forgotten letter, signed "Your Blue Jacket Boy," was dated 1916, and was found behind a fireplace in Kirkwall, Orkney. It was addressed to the sailor's family in Wales and although it was sealed and stamped, it never got posted.
As they tried to identify the sailor, the staff at Orkney Library posted information on their blog, this way successfully reaching a distant relative, who said the author of the letter was David John Phillips from Llanelli. The same person was able to get in touch with Mary Hodge in Chester, who is the granddaughter of David John Philips.
Her plan is to visit Orkney and pick up the 98 years old letter written by her grandfather. She said she has a relative in Canada who is interested in family history so he always keeps an eye on the Orkney Library and Archive's blog. He called her about a week ago saying that she should contact the archive staff at the Orkney Library because he has seen a post on the blog and he is quite sure that the lost letter belonged to her grandfather.
Ms Hodge insisted that she knew straight away it was about her grandfather, as she recognized his name and address noted on the picture of the letter. She said she felt "a mixture of high emotion, shock and disbelief," and that it is truly overwhelming to have something of her grandfather after almost a hundred years.
David John Phillips, better known as Dai, served on HMS Cyclops and was stationed in Orkney, during World War I. In 1919, he married  Orcadian Catherine Isabella Coghill Johnston and they had two children together. The letter was found behind a fireplace in 1980, in the house where Catherine's family lived in Bridge Street. The letter was only handed over to Orkney Library last year, the Herald Scotland reports.
It is believed that the letter may have been put aside for posting, but slipped behind the fireplace without being noticed, therefore, was never posted. In the letter he wrote, David John Phillips asks his family to remember him and says he will be sending a handkerchief with a photograph of a sailor on it. "We posted it last year and asked our followers to help us find out the author's real name, and if he had any descendants," said Lucy Gibbon, an assistant archivist, who was excited to see how many people engaged in the searching and how "it certainly captured the imagination of our blog followers."
//