The German Flak (aka Ground Anti-Aircraft) guns were most effective weapons, with the legendary Flak 88 mm as the standard version (which was also a formidable anti-tank gun). Later came the 108 mm Flak 38/39 and the 128 mm Flak 40.
In total, over 26,000 of the AA-Guns in all their versions were built, but even with that huge number, Germans were only capable to inflict limited damage to the endless swarms of Bombers that came over their Heimat during night and day operations.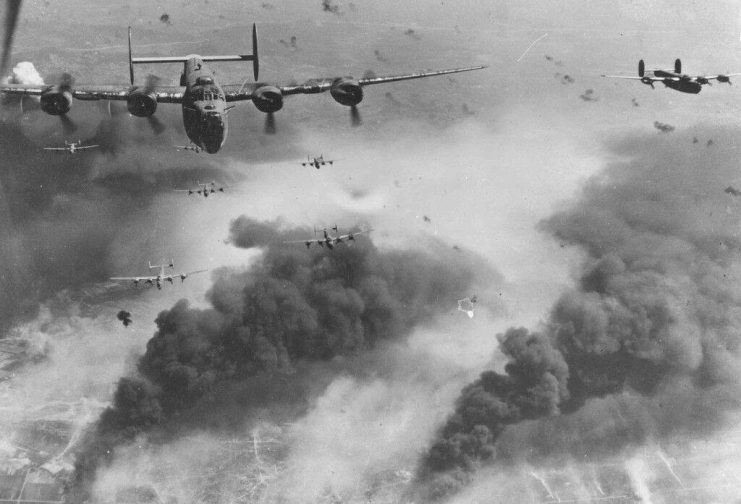 We see the flak explode in the shape of black puffs of smoke but the Bombers seems not too much distracted by it.
There were simply too many of them coming in around the clock to make an impact, even with belts of Flak guns packed around the big cities. The Luftwaffe had very capable fighters but there were simply no sufficient numbers of experienced pilots left to make a serious threat against the Allied "Aluminium Overcast".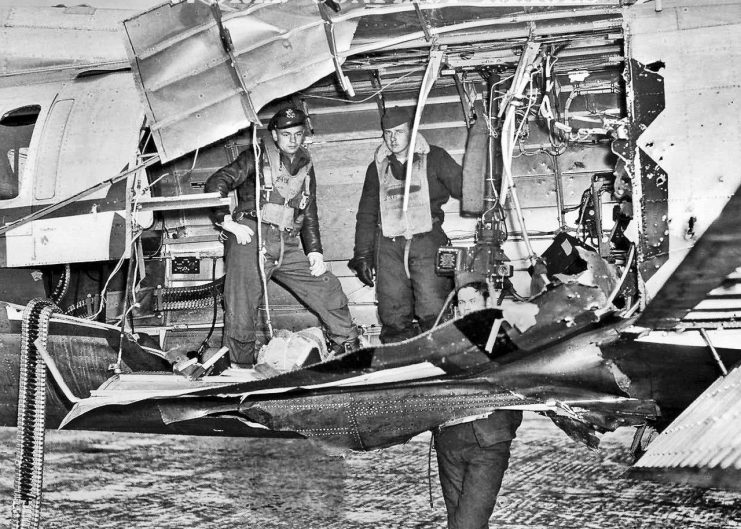 In the process, the flak explosion had completely ripped off the lower belly Gun Position. That Ball Gun turret was right there where the third dude stands in the hole with his feet on the ground but is no longer there.
The arrival back of this Bomber on Terra Firma is a God Gift by itself and proof of the incredible structural strength of this construction of all-aluminium aircraft, that started to become mainstream manufacturing in the early-mid 1930s at the Boeing, Lockheed, and Douglas factories. The latter with their iconic Douglas DC series, of which their DC-3/ C-47/ Dakotas are still flying in numbers until today!
The Germans had radar directed flak batteries and searchlights to direct their fire. They also had superior Flak Binoculars for early detection and accurate gunfire control (see my photo 6 with more info about those Binoculars).
Yet it took allegedly an average 3,300 shells to bring down a single Bomber. That was a high price for all ammo and the precious 88 mm guns that otherwise could be used to shoot at the invading Allied troops and tanks (with maybe more effect?)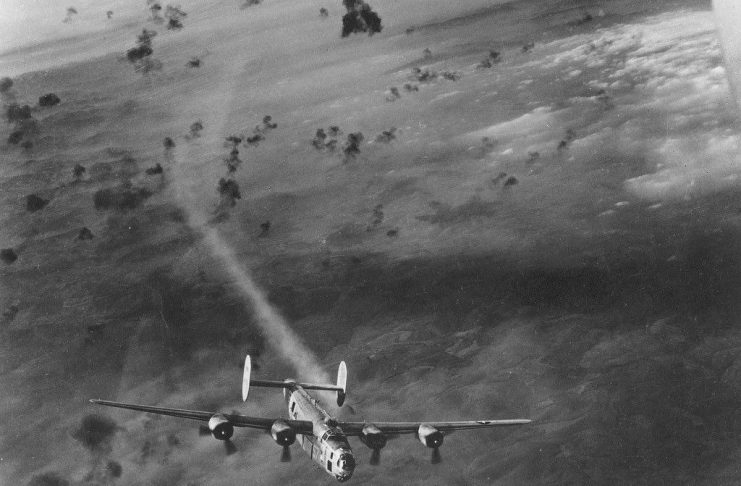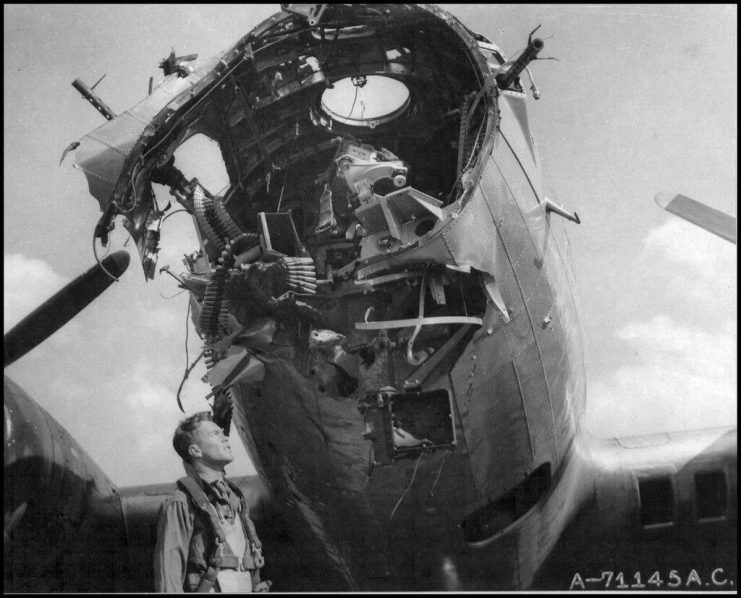 Impossible for a vintage Jeep to make that speed, yes, but imagine what happened inside this B-17 as the flak came in. The next moment the pilots were exposed to a mind-boggling blast of wind that must almost have torn their uniforms off. Flying this wrecked aircraft home must have been a challenge!
In 1944, Flak accounted for some 3,500 American planes being destroyed, while German fighters shot down 2,900 aircraft in the same year.
German Flak accounted for 50 of the 72 RAF bombers lost over Berlin on the night of March 24th, 1944. Top-scoring for Flak: 56 bombers were destroyed or crippled by flak during a B-17 raid on Merseburg in November of 1944.
But I could not find any reliable percentages of Flak-hits, how many took they out of the air per hundred Allied Bombers? If you have any clue in this, let us know, please.
Click on each individual picture and take a closer look at what I found. Remarkable flak damage which in many cases led to injured crew members, fatalities or the crashing of the aircraft. Some bombers were lucky and were able to limp home, in spite of devastating destruction done to the airframes.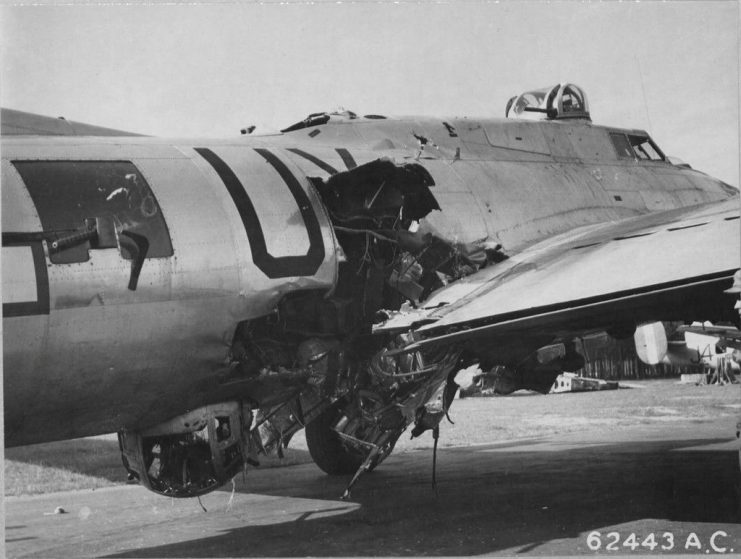 Serious structural damage on the airframe, the B-17 was legendary for taking a serious pounding and still limping home with a crew that must have counted the minutes as hours from fear of breaking up in the air while flying low over the North Sea.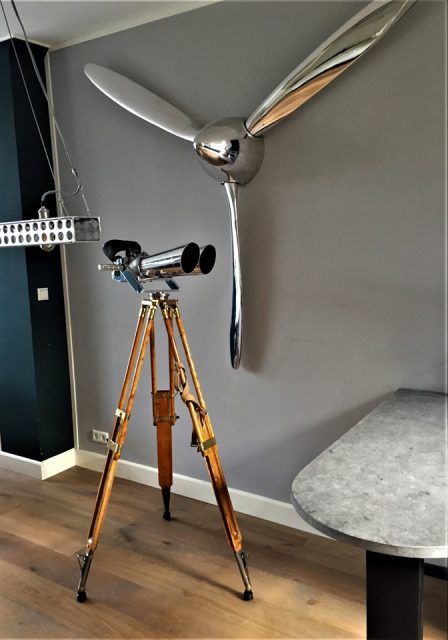 It is the legendary WWII German Flak Binoculars 10 x 80, that I found in Normandy on a Military Fair and upgraded her with a WWII tripod, made of wood with brass elements.
The Binocular plus Tripod plus the 3-blade Propeller as wall decoration will be shipped next week for a longtime customer of mine to the UK.
If interested, I have more of the same type Binoculars and Props soon available again, you can contact me via my Facebook Messenger for more information about prices and delivery time. Also on request, I can send first more photos and the Certification of Authenticity that I supply on each object sold with the name of Manufacturer, serial number and estimated year of (war-) production.
German War Relics and US-made Propellors both from the DC-3/ C-47 and from the Twin Beech C-45 (see that 3-blade Prop behind the German Binoculars on the photo).
They both make the "Piece the resistance", a fantastic Interior decoration object in your Office, Terrace, Living Room, Garage, or Hangar. that surely will attract all attention.
For more such War/ vintage Aviation related stories, please come to my website, where you find more photographs and info about my Books and Blogs.
www.dc3dakotahunter.com
www.catalinabook.com or to the Amazon order page with 30+ superb reviews as rarely seen about Vintage Aviation Books:
My books are the ultimate Christmas/ B-Day gifts for your family, friends or yourself, loaded with hundreds of unique photos and stories.