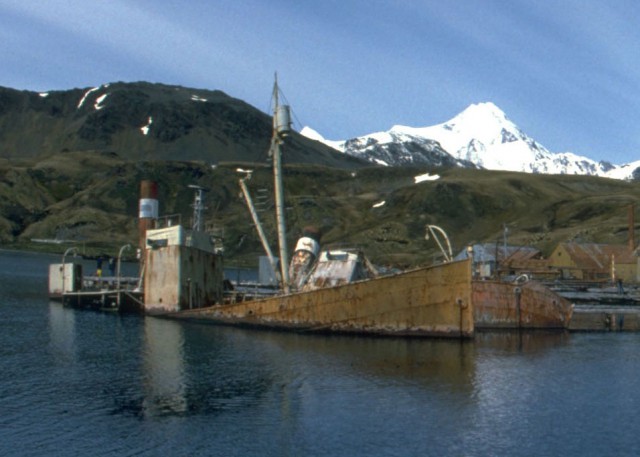 She was named for Shakespeare's deceptive protagonist in The Twelfth Night, and she proved that looks can be deceiving when it comes to fishing trawlers as well as to women.  The trawler was built in 1906 to be a part of the Hellyer Steam Fishing Company's North Sea fleet; she plied the North Sea fishing grounds for more than 300 days per year.
When World War One began, Viola was fitted with a three pound gun and a radically new mission.  The Kaiser's submarine attacks were squeezing the lifeline supplying Britain.  For the Royal Navy, it made sense to use private vessels and their civilian crews to wage war against German submarines — saving Navy warships for bigger battles to come.
Skipper Charles Allum and his skilled crew were able to keep the Viola safely in the hunt, even with its more limited armaments and speed.  They were looking for and occasionally firing on enemy submarines throughout the North Sea off the coast of northern England and Scotland.  The Viola was one of the first trawlers to be fitted with the new hydrophone technology designed to locate depth charges and sink submarines.  As the war wore on, there was occasion to use the new technology.  Patrolling off the town of Whitby in northern England on August 13, 1918 with a group of trawlers, Viola spotted a periscope belonging to UB-30, a German submarine captained by Rudolf Stier.  UB-30 had been responsible for damaging or sinking eighteen ships carrying over 30,000 tons of cargo.
Depth charges were dropped where the periscope was seen and after two hours, the Viola saw the submarine trying to re-surface.  The Viola and another trawler fired on the damaged submarine and dropped further depth charges, sinking UB-30 and killing all twenty-three on board.
One month later, in the last days of the war and some seventy miles up the coast, an airplane spotted UB-115 which was captained by Reinhold Thomsen.  The Viola joined in the attack with other trawlers, Royal Navy ships, and aircraft, sinking the submarine with depth charges and an aerial bombardment.  All thirty-nine crew members went down with their submarine, which now lies in two pieces on the sea bottom near Newton-by-the-Sea, The Telegraph reports.
Viola's remarkable war record is not without its own tragedies. A deck hand, Thomas Craven, was drowned in a storm in November of 1914, and the skipper's wife, Mary Allum, died of chemical poisoning from materials used for field dressings for the Western Front.
Once the war was over Viola went back to its career as a fishing vessel.  It was sold off to a Norwegian company that used it for catching whales off the African coast.  Eventually the ship found its way to Grytviken, South Georgia in the south Atlantic, where it was part of the region's elephant seal industry.  From its extreme southern port, Viola supported various explorations and meteorological expeditions in Antarctica.  When the whaling station at Grykviken was shut down in 1964, Viola's seagoing career was over.
She did experience one last wartime adventure during the Falklands War in 1982 when British forces used helicopters to sink the Argentine submarine Santa Fe in waters just beside the Viola. While in a much dilapidated state, she remains one of very few existing ships to have experienced the fierce submarine battles of World War One.