On June 18th, U.S. Representative Ed Perlmutter and retired U.S. Army Major General Steven Best arrived at the home of 102-year-old veteran, chaplain, educator, and pastoral assistant Father Ed Flaherty to present him with a collection of medals that should have been awarded long ago.
Flaherty served as a medic in the U.S. Army's 131st Engineer Regiment Medical Detachment during WWII, evacuating and treating troops in the Pacific Theater for three years.
The ceremony was a surprise and took place outside Flaherty's home. "It is a great privilege and honor to recognize Father Flaherty for his service to our country during World War II," Perlmutter said at the event. "We are proud to have Father Flaherty call Colorado home for so many years, and forever indebted to him for his service to our community and sacrifice on behalf of our country."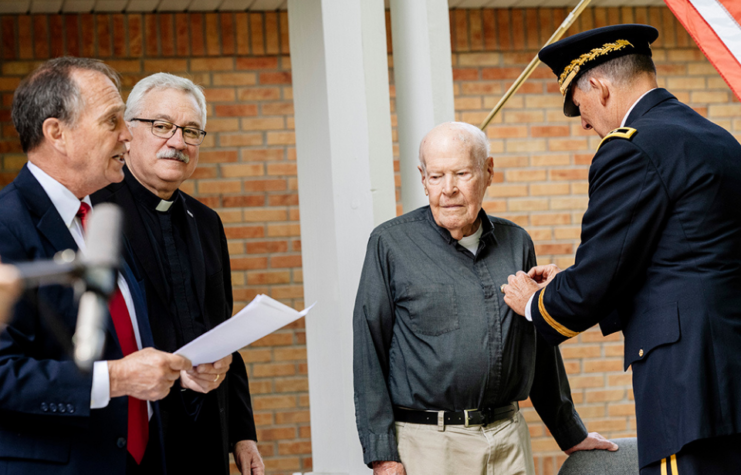 "His service in the Pacific Theater of Operations was in places most of us only know about from what we've read in the history books, or seen in movies," Perlmutter added. "While we are recognizing his service in uniform, what is perhaps even more remarkable is his lifetime of service after he took off his Army uniform, in exchange for another type of 'uniform.'
"This is indeed a special day for both a servant to his nation in its time of need, and a servant of God."
Flaherty's military career began in early 1941, before the U.S. had even entered WWII in response to the attack on Pearl Harbor. Just 22 at the time, he left behind his job as a bookkeeper and joined the Army as part of America's first peacetime draft.
Although he was now part of the military, Flaherty wanted no part of the killing. "I could not conceive of myself killing another human being, so I applied for transfer to the medical detachment," Flaherty said. "I chose the medics because I still, of course, had to be in the service to help win the war."
At first, he was locked into a year of service with the Army, but he ended up seeing the war all the way through to its end in 1945. Upon leaving the military, Flaherty returned to bookkeeping and accounting for the Folgers coffee company in Kansas City. However, this lifestyle was unfulfilling for Flaherty, who wanted to help people instead.
Flaherty was educated by Jesuits in high school and college and had admired their faith and good will. "They just impressed me as good men," he said.
This inspired him to become a priest.
"In the back of my mind, even in grade school, I thought of being a Catholic priest. Finally, I guess the Holy Spirit took hold of me," Flaherty recalled. He entered the Jesuit order in 1959.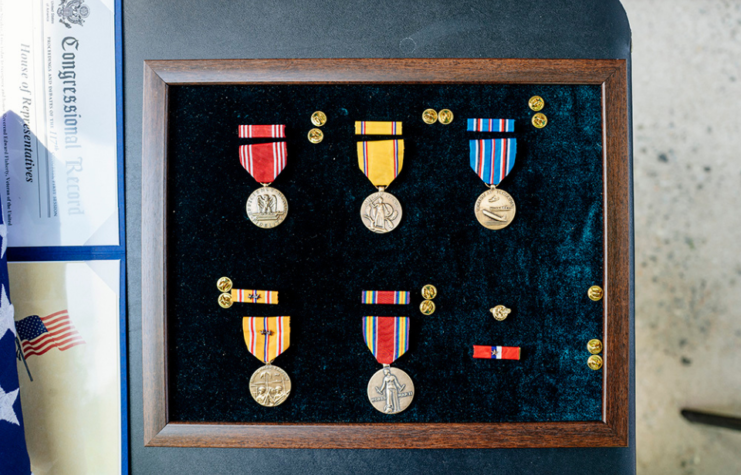 Since then, Flaherty became a priest, taught theology, and served as a chaplain. He would continue his religious work for over 50 years. "I finally decided (in 2013) at the age of 95 to retire," Flaherty said.
Over 75 years after his military service ended, Flaherty has finally received thanks from his country at the ceremony. A fellow Jesuit was responsible for bringing the lack of medals to Perlmutter's attention. At the ceremony, he was awarded the Army Good Conduct Medal; American Defense Service Medal; American Campaign Medal; Asiatic-Pacific Campaign Medal with two Bronze Service Stars; World War II Victory Medal; Honorable Service Lapel Button – WWII; and Philippine Liberation Ribbon with one Bronze Service Star.
More from us: USS Midway Museum Takes Delivery Of Its Freshly Restored A-7 Corsair II
Despite the large array of medals and the grateful comments from a number of high-profile figures, Flaherty remained as humble as ever. "I was quite honored in having a major general pin the medals on me. I was as surprised as anybody in the world may have been."