Radio propaganda was a prominent part of World War II and perhaps no on-air propagandist was more well-known than Iva Toguri, also known as "Tokyo Rose." Toguri was trapped in Japan when the war started and convinced to get behind the microphone to read scripts meant to lower the morale of American soldiers in the Pacific. Toguri has always said that she was a loyal American citizen who was forced onto the radio. After the war, though, she was convicted of treason and put in jail for several years. Even with a lack of evidence, it was still almost thirty years before she received a presidential pardon.
American servicemen gathered around radios to listen to "Zero Hour," a program produced by the Japanese to serve propaganda to the American troops. GIs saw the show as a welcome distraction from their duties and developed a fascination with the husky-voiced female host and her taunts and jokes set between pop records. In one broadcast in 1944, she started with, "Greetings everybody! This is your little playmate – I mean your bitter enemy – Ann, with a program of dangerous and wicked propaganda for my victims in Australia and the South Pacific. Stand by, you unlucky creatures, here I go!"
GIs created scores of backstories for the enigmatic radio voice they called Tokyo Rose. The truth was stranger still. Toguri was an American citizen who almost accidentally found herself on the radio. She always maintained that she remained loyal to the US by actively undermining the propaganda messages of her program.
Toguri was born on July 4, 1916, to Japanese immigrants who ran an import business in Los Angeles. She was a member of the Girl Scouts, played on her school tennis team and eventually graduated from UCLA with a degree in zoology. In 1941, her parents sent her to Japan to care for an aunt in poor health. It was the first time the 25-year-old Toguri had ever been overseas, and she soon became homesick. However, in December, her situation took a dramatic turn when a problem with her paperwork prevented her from taking a ship home. A few days later, the Japanese bombed Pearl Harbor.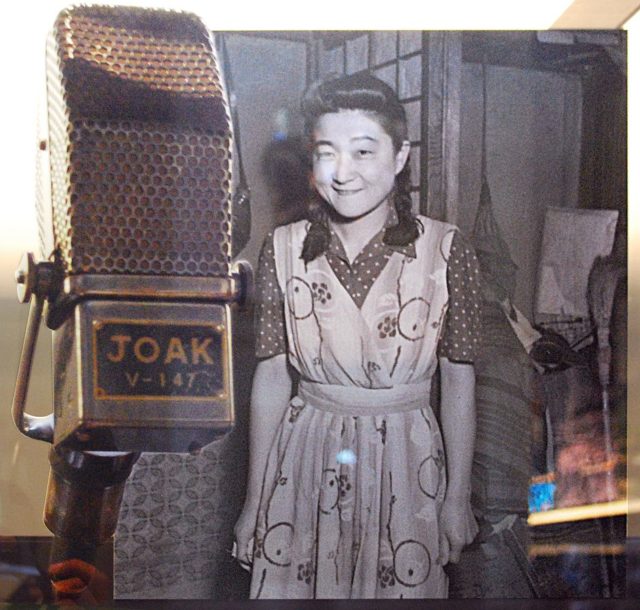 Trapped in Japan, the authorities tried to get her to renounce her US citizenship and swear her allegiance to Japan. She refused, unlike many other Americans in Japan at the time. She was then classified as an enemy alien and kept under close observation. After several months of harassment by her neighbors and the authorities, she moved to Tokyo and took a secretarial job. In August of 1943, she was a typist at Radio Tokyo.
While there, she met Major Charles Cousens. Cousens was an officer in the Australian military who had been captured by the Japanese. Having been a successful radio announcer before the war, he was conscripted to produce the "Zero Hour" propaganda show. He and the other POWs working on the show defied the Japanese by making the show as harmless as possible. Cousens had the idea that Toguri would be perfect as a radio announcer. Toguri's voice was rough and masculine, the opposite of the sultry, seductive voice typically used in propaganda.
Starting in November of 1943, Toguri became a recurring feature on "Zero Hour." She took on the name "Orphan Ann" and read the scripts from Cousens in a joking manner, occasionally warning the listeners that the show was propaganda.
Surviving recordings and scripts show that Toguri never threatened bombings or hinted that the US servicemen's wives were being unfaithful back home which were two of the common tactics of wartime propaganda. Other Japanese announcers were more sinister in their approach. The US servicemen began calling all of the Japanese announcers by the same name, "Tokyo Rose." None of the announcers ever used the name, but the character became as familiar to American GIs as Emperor Hirohito.
Toguri announced on the Zero Hour for a year and a half. By August 1945, she had married a Filipino man and was looking for a way home. When two reporters from the US offered her $2,000 for an interview, she told her story. Once the story was published, she became the face of Japan's propaganda efforts and arrested for treason. She was in jail for over a year until a government investigation determined that the program was simple entertainment and she was released.
She tried to return to the US, but a lobby group convinced the government to reopen her case. In 1948, she was arrested again and charged with treason. She was convicted, her citizenship was removed, she was fined $10,000, and she was sentenced to ten years in jail, History reported.
It wasn't until she was 60 years old that President Gerald Ford granted her a presidential pardon, restored her citizenship and cleared her of treason. She returned to Chicago and eventually died in 2006.