A B-29 Superfortress bomber, first flown in 1945, has been renovated and recently made a tour of the US, landing at Van Nuys airport in California.
This particular B-29 bomber wasn't used during World War Two, since it was delivered right at the end of the war. However the same type of plane was used extensively in the bombing campaign against Japan and was used to drop the atomic bombs on Hiroshima and Nagasaki.The B-29 remained in service until the early 1960s.
The B-29, which made its recent tour of the US, was found at a US Navy base in California and was being used for target practice by the Navy. It was rescued in the early 1970s by a group of aviation and war enthusiasts of the Commemorative Air Force.
The aircraft took part in a publicity tour across the US so that fans across the country could get to see the renovated plane in its original glory. Fans have been allowed to take a look inside the aircraft, as well as take a short flight in it for a fee.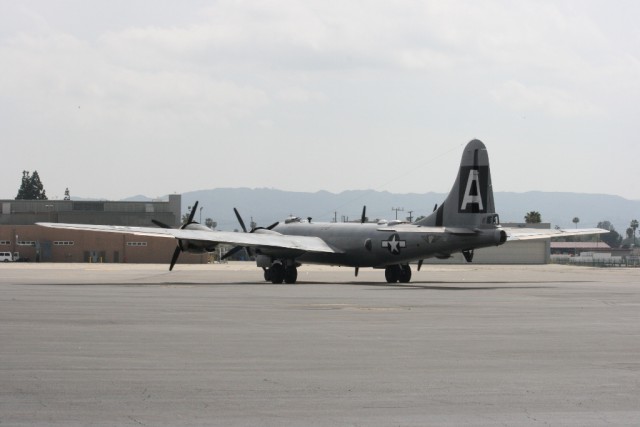 [Via]
The original engines worked all the way up until 2006, when finally they had to be replaced by specially built engines, tailored to the B-29's needs.
The B-29 was originally built by Boeing and had begun to be designed in the late 1930s in response to the Air Force's need for a long range bomber with four engines.
Boeing created the B-29 with the first pressurised cabin and also had remote controlled guns.
Because of its late production in the war, it was mainly used in the Pacific theatre of the war against the Japanese. The bombers took part in more than 1000 raids on the Japanese mainland, followed by the dropping of the atomic bombs that ensured the Japanese surrender.
The B-29 went on to serve in the Korean War during the 1950s, and helped to monitor enemy submarines in the Pacific, and take part in rescue missions, the Mail Online reports.
The Imperial War Museum at Duxford in England has a full scale B-29.