The venerable F-4 Phantom, the workhorse for the U.S. military for over 50 years, could be described as one those aircraft that was a jack of all trades, but master of none.
The 'Final Flight' retirement ceremony for the F-4 occurred December 21 at Holloman Air Force Base in New Mexico.  It memorialized the versatile airplane, which was prominent during the Vietnam War and was employed for decades for anti-missile electronic jamming and reconnaissance.
The Phantom wasn't the best at anything, but it could take on multiple roles, said retired Air Force colonel, Craig Schorzman, a resident of Tucson, Arizona.  He trained there to pilot the F-4 in the 1960s while stationed at Davis-Monthan Air Force Base before shipping off to Europe and then Southeast Asia.
It wasn't the best in air-to-air combat, but it could be done. The Phantom could provide air support for ground troops. It could bomb. It could execute any role including deploying nukes, he explained.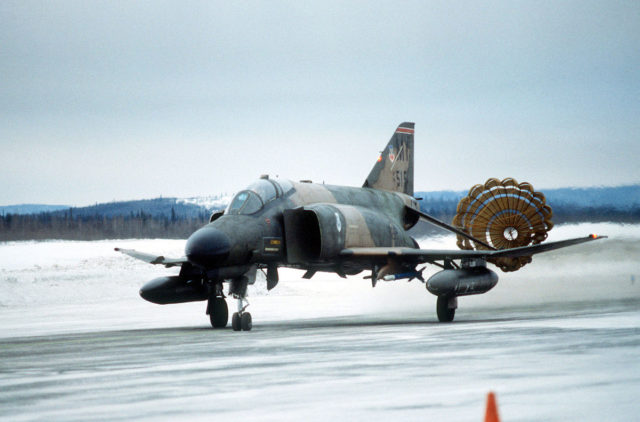 The remaining F-4s still active in the U.S military took on a different persona, acting as test aircraft and serving as aerial targets during training in New Mexico. They are either flown remotely as drones by ground controllers or flown by pilots. They've been used as target practice for missiles in addition to testing new radars and other assignments. After the ceremony in December, the warbirds will be used exclusively as ground targets.
McDonnell Douglas, absorbed into Boeing Co., assembled over 5,000 of the airplanes for the Navy, Marine Corps., and Air Force. Production ended in 1985, approximately 35 years after it first flew in the late 1950s.
Because of its powerful engines, two-man crew, and large size, that is a testament to its range of roles and longevity, explained Jeff Duford, a research curator at the National Museum of the Air Force. While other aircraft could accomplish some of the same missions, none were as flexible as the Phantom.
In a dogfight, the Phantom wasn't spectacular but could contest North Vietnam's agile Mig fighters by using its powerful engines to gain altitude, Schorzman said.
While other aircraft such as the F-15 took the F-4's fighter-bomber place, it still flew for years as a camera-carrying reconnaissance vehicle,  in addition to electronic warfare variants that blinded an opponent's guidance systems to anti-aircraft systems, Military Times reported.
The remaining dozen QF-4s at Holloman are piloted by a section of a squadron at Tyndall Air Force Base in Florida.  Dozens of the target planes have been shot down either over the Gulf of Mexico or the White Sands Missile Range near Holloman.