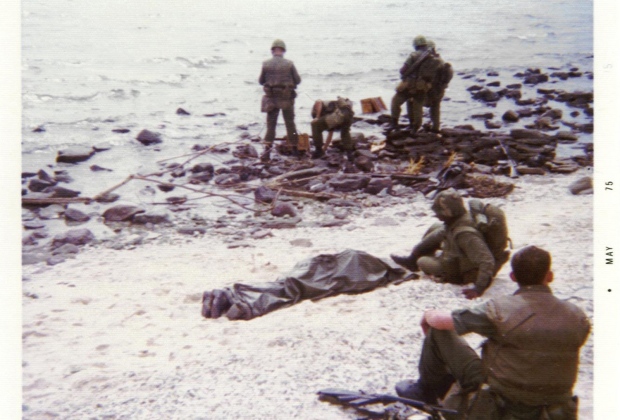 Suspicions by JPAC (the Joint POW/MIA Accounting Command) that missing American soldiers from the Vietnam War may be buried at the island of Koh Tang may result in an excavation of numerous sites there. JPAC sent a team of seven to check out some of the sites where the battles saw their most numerous casualties, and at least one site on Koh Tang is especially being considered for excavation.
JPAC does not generally present evidence to their administration for consideration unless they are confident that doing so will yield results. Although they have been relatively silent as to what they found at Koh Tang, their confidence in the impending excavation has the missing soldiers' loved ones looking forward to closure. One corporal's family had given up hope that anyone really cared that he had gone missing in the first place, the Stars and Stripes reports.
After interviewing witnesses of the Koh Tang battles and investigating sites on two different beaches, it is still unlikely that JPAC would consider excavating one of the sites unless they had found some sort of material evidence warranting such a decision. Some families are still worried, however, for not only is the excavation not yet certain, but neither is the date on which it will be decided upon.
The battles on Koh Tang were an example of true bravery, fought to rescue a single hostage crew from a captured merchant ship. Soldiers fought for fourteen hours, seeing 28 American casualties and 3 Marines who never escaped and were later killed. Only five of the 31 lost were ever found; the rest remain missing. Despite the historical significance of this battle, excavation plans might be endangered by plans to turn the site into a resort location.
Ashton Loney, a Marine Lance Corporal who lost his life there at only 20 years of age, is among those JPAC is hoping to recover. The commander of the Cambodian Khmer Rouge forces, Em Son, has reported to have found a buried Loney's body; however, many of the battle's living participants believe in the wake of the tribunal regarding war atrocities of the time that Son may have been less than forward about where many American bodies have been buried, or if they were discovered at all.
JPAC has been accused of dragging their heels on potential discoveries at Koh Tang, reportedly having found remains already yet neglecting to have them tested for their origin. They have denied these claims with some vehemence, but speculation still remains. Still, many retain hope that the excavation will happen and will yield results. Corporal Loney's sister, Daphne, wants nothing more than her brother's remains to be buried in the soil of his home and native land. No doubt many loved ones of the missing soldiers can relate with her sentiments.
//