A History Hit documentary has managed to "conclusively prove" that two wrecks at Poole Harbour, Dorset, are actually veterans of D-Day. The wrecks are in terrible condition, having been eaten away by the sea for over 70 years, but they have been identified as landing craft.
Historian and host of History Hit Dan Snow said, "The discovery and identification of this wreck is a triumph of historical research and a good dose of luck."
Identifying the LCTs
The documentary worked with archaeologist and historian Stephen Fisher, an expert in 20th-century maritime warfare. With his help, the team undertook a lengthy research process that involved referencing any clues available. One of the most useful clues came from a 1950s aerial photo of the harbor on a postcard. The team managed to successfully identify the vessels using these tools.
The landing craft in Poole Harbour are Mark 4 landing craft, tanks, more commonly known as LCTs. These were much larger than the better-known landing craft, vehicle, personnel (LCVP), or Higgins boats.
They were designed to carry and deliver tanks directly onto beaches, with a ramp at the front that lowers and allows the tanks to drive off. As these particular types are Mark 4 variants, they were able to carry 350 tons of cargo, which was enough for nine Sherman tanks or six Churchill tanks.
Only 865 Mark 4s were built, meaning they are likely the last remaining LCTs of this type in the world. The LCTs were placed in their current position in the post-war period of the 1950s, to serve as breakwaters for the harbor. They have sat there since then, rotting away as the harbor was expanded around them. They are missing their engines and most other fittings, and are due to be removed in the near future.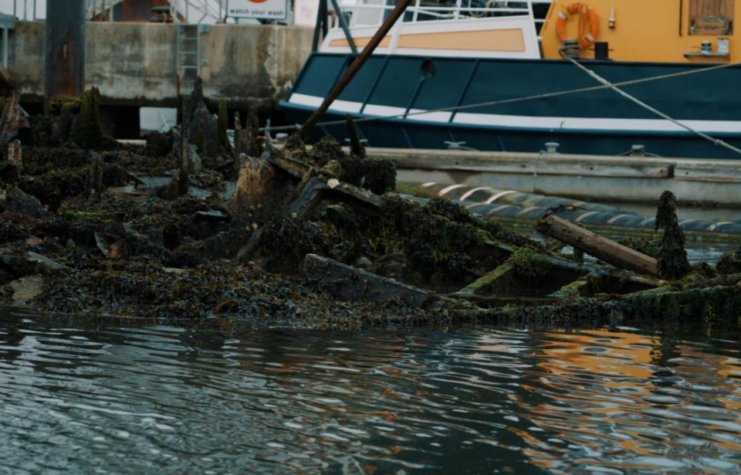 Dan Snow said the following about the meticulously researched landing craft:
"Stephen Fisher has scoured the archives for any aerial pictures of this area and found a postcard from the 1950s showing the D-Day landing craft in position as a breakwater.
"It shows just how many landing crafts were left over after the war. They were sold as scrap or to be used as jetties or breakwaters.
"But despite all his research, there was still a question as to exactly which vessels were the ones whose wrecks now lay on the bed of Poole Harbour.
"The breakthrough came when Stephen stumbled across an out-of-print, privately published memoir in a second-hand book shop.
"It was written by a veteran called John Baker. He served on LCT 940, a landing craft with carried tanks to the Normandy beaches on D-Day.
"In this memoir, he reports on the last page that he has heard that his landing craft is now a breakwater in Poole Harbour.
"Movingly, the last sentence of the book says, 'I hope my book does justice to her life and will keep her memory alive for a few more years.'
"The good news is that his book has done exactly that. A rotting wreck, ignored for decades, now has its wartime identity restored, thanks to his book."
The History Hit documentary aired on June 4th.
D-Day Story museum LCT
Interestingly, the identification of these two aging vessels comes soon after a Mark 3 LCT has become a central display at The D-Day Story museum in Portsmouth.
This landing craft was also involved with D-Day, ferrying men and equipment over the English Channel to Europe. After the war's end, this LCT (LCT 7074) became a floating nightclub before being moored up in Birkenhead in the 1990s for restoration.
More from us: The Mulberry Harbor Paved The Way For Victory On D-Day
Unfortunately, funds for the restoration quickly dried up and the ship was abandoned, left to survive against the elements. By 2010, she had sunk. In 2014, LCT 7074 was re-floated and moved to Portsmouth for restoration.
Today, she sits in a sheltered display with a Churchill and a Sherman tank in her hold. It is a sad fact that the two LCTs in Poole cannot be saved, but their identification means they will be preserved in records.