Many African Americans fought for their freedom during the Civil War. The Buffalo Soldiers earned fame during the Indian and Spanish-American Wars. Plenty more African-American soldiers distinguished themselves during World War I. Still, Blacks were discriminated against during World War II. That didn't stop people like Doris 'Dori'e Miller from becoming legendary heroes.
Upbringing and Early Navy Days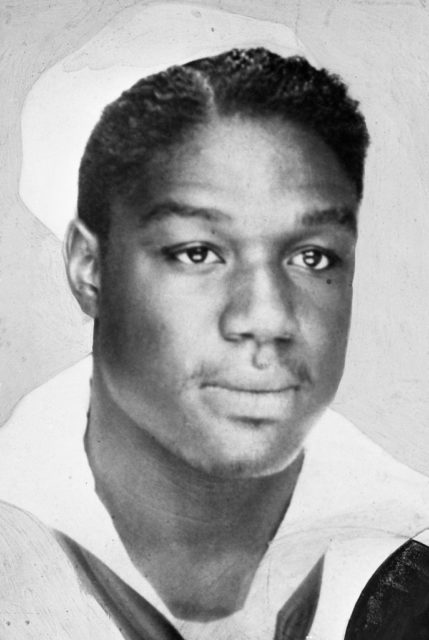 Dorie Miller was born in Waco, Texas, in 1919. He received his unusual nickname before he was born as the midwife delivering him was so sure that he would be a girl. Miller was always big for his age and played fullback for Alexander James Moore High School. He was an avid hunter and taxidermist who became adept with a .22 rifle.
Miller attempted to join the Civilian Conservation Corps after dropping out of school, but he was not accepted. By the time he had turned 20 years old, the Texan stood at 6-3 and weighed more than 200 pounds.
In 1939, Miller joined the Navy, enlisting for six years. Like many black Americans joining the military at the time, he was restricted in rank. Miller started as a mess attendant third class, one of the few ratings available to African Americans at the time. In January of 1940, Miller was assigned to the battleship West Virginia. He began boxing on the ship and soon became the boat's heavyweight champion. In February of 1941, Miller's rating was advanced to mess attendant 2nd class.
The Day of the Attack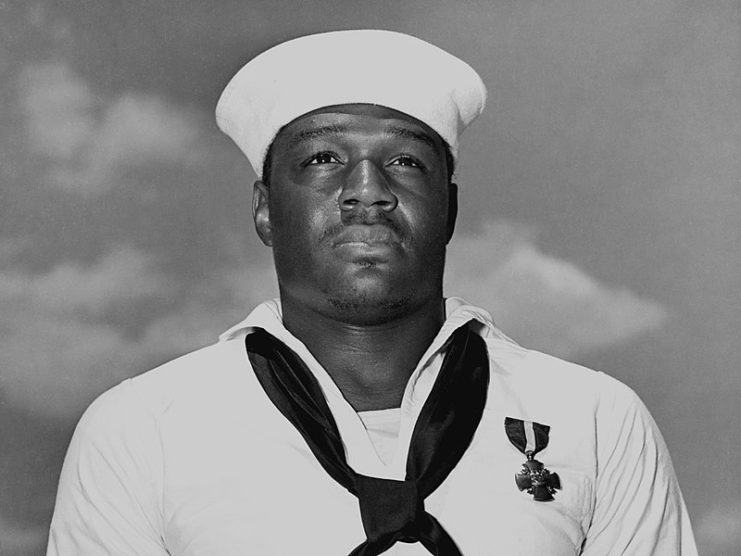 Miller had just served breakfast before the Japanese attack began. The mess attendant reported to his battle station, but a torpedo had destroyed it. Miller was then ordered by Lt. Frederic H. White and Ensign Victor Delano to use a Browning .50 caliber anti-aircraft gun. While he had not been trained on the weapon, Delano and White quickly showed him how to use it.
The mess attendant, who had been a keen hunter growing up, proved to be adept with the weapon. He was later officially credited with shooting down two enemy planes. Miller kept firing until he ran out of ammunition. When the enemy attack had dissipated, the mess attendant helped to move injured soldiers to the quarterback. Witnesses note that he saved several other lives by doing so.
Aftermath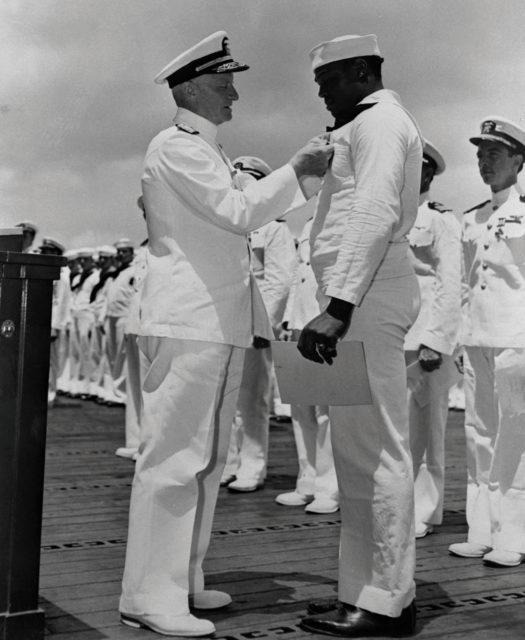 Dorie Miller's actions on December 7th might have been forgotten about if it wasn't for the Black press. The Pittsburgh Courier, aware of the story, requested the name of the soldier from the Navy who initially refused. The paper pressed on, though, and eventually, Miller was identified as the brave mess attendant.
At first, the hero was only given a letter of commendation from the Navy. But again, as the Pittsburgh Courier pressed on, public support for Miller grew. Eventually, the Navy decided to upgrade their recognition of the mess attendant from a letter of commendation to the Navy Cross.
Miller's actions also had a profound impact on Black American pride. His bravery opened doors within the military for African Americans that had previously been closed. Legendary Harlem Renaissance poet Langston Hughes immortalized Miller, writing:
When Dorie Miller took gun in hand —
Jim Crow started his last stand.
Our battle yet is far from won
But when it is, Jim Crow'll be done.
We gonna bury that son-of-a-gun!
In 1948, President Harry S. Truman signed an executive order desegregating the military. Baylor University history professor Michael Parrish who co-authored the book Dorie Miller, Pearl Harbor, and the Birth of the Civil Rights Movement, credits Miller with having a profound impact on that decision.
Legacy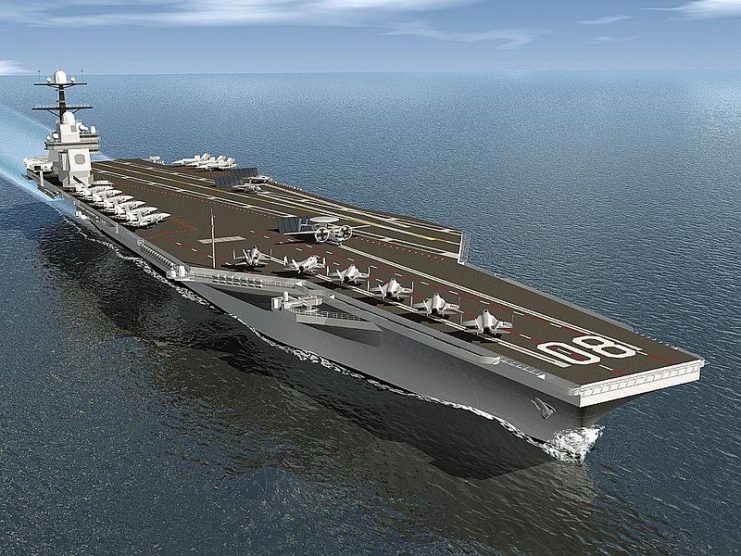 Over time, Miller's story has continued to be told. He was played by Elven Havard in the 1970 film Tora! Tora! Tora! and was portrayed by Cuba Gooding Jr. in the 2001 movie Pearl Harbor. Several schools in Miller's home state of Texas are named in his honor. The military has also kept the hero's story alive with American Legion posts, dining halls, and housing communities named after him.
On Martin Luther King Day of 2019, the Navy officially named a Ford-class aircraft carrier, CVN-81 (shown above), after Miller. Former acting Navy Secretary Thomas Modley said during the ceremony, "Dorie Miller stood for everything that is good about our nation. His story deserves to be remembered and repeated wherever our people continue to stand the watch today. He's not just the story of one sailor. It is the story of our Navy, of our nation and our ongoing struggle to form — in the words of our Constitution — a more perfect union."