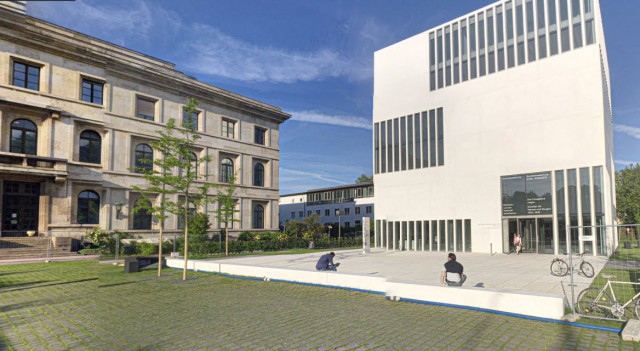 The new documentation center, on the left is the "Fuhrerbau" where the Munich agreement was signed in 1938, via Google streetview
A new Documentation Center for the History of National Socialism has opened in Munich and is solely dedicated to Hitler and the Nazi party.
The museum is located at the same location where the Nazis first established their party's headquarters at the Brown House in central Munich. It is next to Hitler's Führer Building where, in 1938 the Munich Pact was signed.
The museum has several floors all containing documents, artefacts and memorabilia from the Nazi-era. It also looks at the local Munich and southern German support of the party during the 1920s, which contributed to its rise and success. Munich eventually became the epicentre of the Nazi party.
Since the end of World War Two, Munich has tried to distance itself from its Nazi party connections. The city was rebuilt with little left to indicate that it was the headquarters of the Third Reich.
It wasn't until the 1980s that some kind of museum of documentation centre was considered by Munich's council and it has taken 30 years to come to fruition.
The museum has already received thousands of visitors since its first month of opening. However some suggest it might have been more appropriate to open the museum during the 1990s, when Germany was in a huge transition merging east and west. All other major German cities including Berlin, Cologne and Nuremberg built museums at this time.
Part of the museum's main purpose is to educate the younger generation and generations to come about how the Nazis came to power and to warn against intolerance of minorities. This comes at a poignant time as a growing PEGIDA party promotes intolerance of immigration.
Most recently Germany has come under fire for its dominance in the negotiations over the Greek debt deal and has even been referred to by some as the 'Fourth Reich'.
Movies continue to be made about the Third Reich and one newcomer is 'Elser'. Directed by the same director of the widely acclaimed film 'Downfall', the movie tells the story of one of the assassination attempts on Hitler by Johann Georg Elser, the Forward reports.
Elser had hidden a bomb in a hall where Hitler was due to give a speech. Unfortunately Hitler gave the speech and left the hall 13 minutes before the bomb had been timed to detonate.
Many see Munich's new museum as a way of reminding people of the past, just like the movies continue to do so.