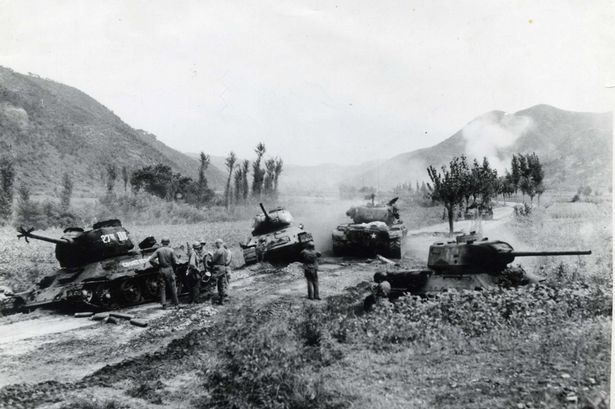 On Tuesday night on S4C, a documentary came up about the Welsh soldiers who went through the tremendous tortures during the Korean War. More than 60 years ago when Korean War broke out, thousands of soldiers from Wales participated in the war. This documentary was presented by journalist John Hardy who belongs to Bangor. At the time of the war, his father, Dr. Ken Hardy was a medical officer. This documentary covers the emotional experiences of many Korean War veterans.
80-year-old Warren Martin from Llanfairfechan, Conwy worked in the Royal Artillery in the Korean War from 1953-1954. When he was a teenager, he was interested in joining the army, but his parents were not in favour of his interest, and therefore his dream to directly participate in the war could not be fulfilled.
Here in the programme, Mr. Martin said, "Four years ago, I got the chance to go to South Korea with a group of war veterans – the South Korean government paid for us to go there. The people were so welcoming there, and the vice president of the country said 'I've only got one thing to say, we owe our freedom to people like you. They were really grateful. I've been to many places but I've never come across people that are so welcoming."
For the time in December 2014, British soldiers who fought in the Korean War were honoured with an official Korean War Memorial in U.K. Mr. Martin said that for creating this war memorial, the whole credit goes to the South Korean government.
Mr. Martin said: "Things have moved on. But recently with the memorial, the South Koreans paid for it all and paid for the official opening. That's what happens in history, it's the forgotten war."
He added:  "Even though the war at times was bloody, what I feared most was haemorrhagic fever – a pandemic that spread through rats and fleas to the human race. It was devastating."
Four years ago when Mr. Martin went to South Korea, he was very much surprised with the ways the country had changed since 1950s.
He said: "There was more growth on the mountains – when I was there the mountains were bare because of all of the fighting. It was easy to see where we had been."
Another incident of torture came up in case of veteran Meirion Davies of Carmarthen. Meirion Davies was captured by the Chinese, along with an American soldier. The tortures Meirion faced were so brutal that he is still troubled by them in his nightmares and flashbacks, the Wales Online reports.
For more shocking experiences faced by Korean War veterans,tune in to S4C every Tuesday at 9.30pm.