Renowned WWII photojournalist W. Eugene Smith once snapped a photo of a WWII soldier that for many had become the iconic image of WWII – that "alert soldier" was Greek immigrant Angelo Klonis.
The picture of a bearded man in uniform wearing a helmet with a carbine slung on his shoulder and a lighted cigarette clinched between his lips has appeared in the front covers of magazines like Life. The photo, taken by the famous American photojournalist W. Eugene Smith, was simply captioned: Alert Soldier, Saipan with an additional paragraph on how this unnamed soldier who was only about a 100 feet from the front lines dabbled close to death with the surrounding enemy firing bullets at every direction one cracking agonizingly close.
The added caption further said that the picture was taken right on the famous Saipan breakthrough and this alert soldier had a hand at driving Japanese soldiers from their pillboxes with more than 2,000 of them killed during the Allies' drive to the sea.
Earlier publications wrongly identified the soldier in the image as a Marine but the alert soldier in W. Eugene Smith's photo was none other than Angelo Klonis, a Greek stowaway who entered the war for American citizenship. W. Eugene Smith made Angelo's face into a Second World War icon.
The photos of Angelo Klonis featured in book covers, magazines and even on a certain postage stamp in honor of W. Eugene Smith just told a small part of his military career. According to his three sons, Papa – as they and the patrons of the bar he established call him – was very secretive of the experiences he went through during WWII. No one in his family knew the exact details of his soldiering days.
But new information on the photo as well as on other things have surfaced that shed light more into the years Angelo Klonis spent as a soldier of America. His middle child and the family's researcher, Nick Klonis, now believes his father had been into at least 13 secret WWII missions which included taking images of a German operation close to Norway where the Nazis were rumored to have been dabbling on atomic weaponry making.
As his son puts it, there was something deeper in his father's tough shell and those were kindness and love. He wanted to discover that.
Knowing Angelo Klonis
Angelo Klonis, a native of the Greek island Kefalonia, stowed away into America at 16. He moved into Santa Fe in the 1930s and worked at the Plaza's Mayflower Café where he became known as a good-looking and dashing dresses as well as a hard worker.
When the Japanese went again US by attacking Pearl Harbor, the country officially entered war and with it came the promise that immigrant volunteers would get American citizenship. So, Angelo Klonis signed up for the Army in 1942 and, after a training stint, was assigned in the Ranger battalion.
Little is known in the years he served in the war.
After his Army service, he went home to Santa Fe on December of 1945 with a serious injury in his back. His discharge papers simply stated that he served in mainly in Normandy and was stationed in Germany, Belgium and France as well.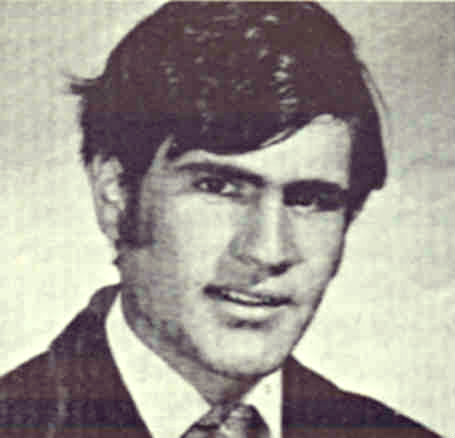 Angelo Klonis, though, did tell Nick how a man working in Life magazine photographed him. He even egged his son into finding that said magazine and his photograph in the local library but since Nick had only knew limited English, he didn't find it.
He did found it but it was already two years too late; his father had already died. Nick saw the photograph on a book cover displayed on a window in a store at Villa Linda Mall.
He was walking with his mother at that time who was shopping when he came across the face of Angelo Klonis on display. Tears welled up in his eyes and he was all choked up remembering the time when his father nagged him about getting a copy of it. He eventually called his father's brother who also slept that night with the copy of that said book nestled in his arms.
However, the picture presented another mystery to the family of Angelo Klonis. As far as they knew, he was never assigned in Saipan as what W. Eugene Smith wrote in his caption.
And so, Nick started on his "discoveries" going to local photo galleries to study the life and work of the famous American photojournalist.
Nick stated that the more he delved deeper into Smith's life, the more he could find parallels between the journalist and his father's personalities. He said that these "attraction of strong minds" met somewhere for the photo to captured. He also divulged that his father once talked about the man who took his picture for the magazine and that war correspondent followed the soldiers in the squad he led. He was in that location seven to twelve days and the journalist went with them. He also said that he never met the correspondent again after they parted ways. Nick further said that when Angelo told him that, never once did he mention the place where the picture was taken. He would leave it out and instead would just say "in the war".
Bringing Secrets to Light
As it turned out, that 1991 publication, done to mark WWII's 50th anniversary, was not the first time any photographs of famed photojournalist W. Eugene Smith with Angelo Klonis was printed. One picture had already graced the PM Picture News in 1946 and another appeared in the Time-Life book in 1951, as stated by a research assembled for the US Postal Service.
As a matter of fact, another photo of Angelo Klonis, this one snapped while he was drinking water from his canteen, taken by W Eugene Smith was chosen to honor the photojournalist's legacy in photography in 2002. It became part of the Masters of Photography stamp series.
Nick and his mother Angeliki asked help from WWII history buff Jere Corlett who had the ability to maneuver through the legalities connected with the use of the image of Aneglo Klonis after a postal service representative contacted them. Incidentally, Corlett was the nephew of Major General Charles Corlett whose command Angelo served during D-Day.
When 2002 rolled in, it became obvious that there were indeed discrepancies in the records of the soldier and in the photos taken by the war correspondent as well as the people who were with them, thus, leading to the conclusion that Angelo Klonis had a secret military life. W. Eugene Smith died in 1978 and his works went to the Center for Creative Photography. The evidences pointed out in the war correspondent's records clearly pointed out that Angelo Klonis really did participate in Saipan.
However, Angelo's military discharge papers only spoke of being stationed in North Africa and Europe between 1942 and 1945. It did not speak about the soldier being assigned in Saipan. Furthermore, his family knew he served during the D-Day in Normandy which occurred on June 6, 1944. The fight in Saipan, meanwhile, happened between the middle of June to early July that same year. Documents that could bring light to these differences had been stored in a US military facility in St. Louis which reportedly got burned in 1973.
At any angles, it seemed like a dead end.
Muddied

A photographer and expert on Smith's works, James Enyeart, discovered an information with evidence that muddied the story behind the service and photo of Angelo Klonis.
Enyeart showed Nick for the first time the uncropped photo of Angelo Klonis with the cigarette clamped in between his lips – it was a picture that had other soldiers in the background. The record in Smith's diary noted that the portrait was of a certain "TE Underwood from St. Petersburg, Florida, a man 19 years old" and not of Nick's father.
James Hughes, Smith's biographer, and Nick corresponded. He sent Hughes several photos of his father in civilian clothes. Later on, the family hired a facial recognition expert and used technology to investigate on Smith's photos and that of Angelo's. In the end, they all concurred that it was really Angelo Klonis in W Eugene Smith's photo of the "alert soldier".
The Clearing
Ultimately, Nick came in contact with a 73-year-old widow Theresa Underwood who resided in St. Petersburg and was the wife of John Ray Underwood who, like Angelo Klonis, served in Europe during WWII. She confirmed that Smith's cigarette and canteen photos were not of her late husband. She even went on to share photos of her husband in that time.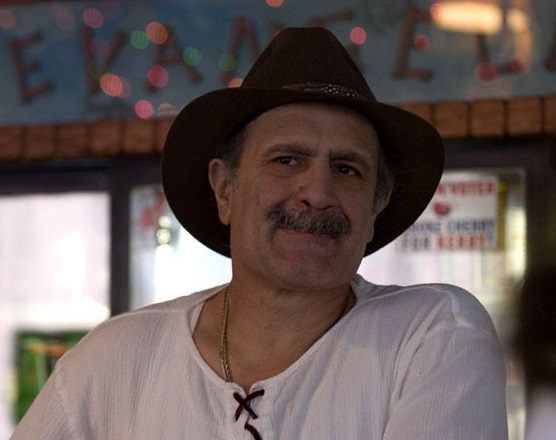 The widow also held several pieces of the puzzle Nick and his family had been trying hard to solve as she knew about the secret missions more than they did. Accroding to her, the unit was sent to Norway, North Africa, Europe and the South Pacific. In her stories, her husband had been a commando, too, and would often tell her about the Greek man who saved his life while on a special mission in Saipan. The Underwoods had even visited New Mexico way back in 1979 in the hopes of locating that man.
Nick, later on, found pictures of Underwood in his father's boxes and remembered how he used to relate stories about a special friend who resided in Alabama which turned out to be the Underwoods' home state.
Both men neither knew nor disclosed their last names but the two shared stories to their respective families about how they hated to be aboard a flying plane, hated thunder and lightning, hated to eat fish and how the war affected them in the same way.
Photo-licensing specialist Virginia Swanson, who wrote about Angelo Klonis in 2005 for Digital Journalist, wrote that Underwood loved Greek music and food. Soon after, Nick developed a theory on his own why the photo of his father was labeled by Smith as "TE Underwood".
According to him, men in the special forces often used special nicknames and initials to call each other. Angelo Klonis' strong Greek features, language and personality might have earned him the moniker "Crazy Greek" which when translated to Greek was Trelós Elliniká or TE.
As how Swanson put it in her article, TE in Smith's film records was a mixture of the friends' (Underwood and Klonis) names. Experts all agree, though, that Underwood isn't in any of the files left by the famous WWII correspondent.
Moreover, just as Nick thought he had seen all the pictures on his father Angelo Klonis during the war, the face of his father was once again featured earlier this year on the cover of the WWII History Magazine. The photo is seemingly taken the same moment as the Smith canteen photo though this one was from a wider and higher angle.
When Silence is Broken
Like most WWII veterans, Angelo Klonis was not enthusiastic in sharing about his war experiences choosing to keep mum about that part in his life.
He went home to Greece and stayed there for nearly ten years after the Mayflower Café where he worked was ousted by JC Penny from its location in 1958. When he came back to Santa Fe, he opened Evangelo's in 1969. Nick later opened The Mediterranean or The Med in Alameda.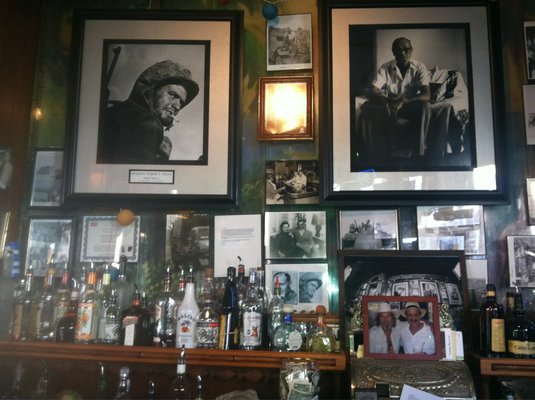 Nick saw glimpses of the past Angelo Klonis kept quiet about spending years behind the bar he put up. One time when he was 24, he was watching "Wide World of Sports" on the television set in the establishment and expressed amazement about how the alpine skiers went flying down the mountain when Angelo Klonis interjected that was nothing compared to the way Germans went down the mountains in Norway riding wooden skis with their contraptions on their backs.
He went on talking about "your old man" (meaning he) saved the world by taking pictures and getting out of the scene. Thinking it was just a drunken revelation, Nick thought nothing about it that time.
The next morning, however, his sober father came up to him that he might kick his butt for the revelations he said the day before.
The family eventually found other small clues about the secret military life of Angelo Klonis. One time, they were able to dig up a 10-peso note from their father's military box. The said money was issued in Manila, Philippines which is in the South Pacific during WWII.
The time he spent in this particular region might have also inspired some of the decors put up in his bar. Evangelo's had bamboo paneling, hanging lanterns and sea-themed wood carvings.
As for the photo, Nik did not realize its importance in the photography industry. For them, it was a reminder of the father they knew and they placed in the bar he once owned.
Nick further said that he is very proud that his father has become an icon for WWII, a generation called by many as "the greatest generation". His pride is not from the thought that his father did so much more as everybody in that era did their own parts and contributed in every other way.
He is proud that his father has been chosen to become one of the faces of the great and brave generation.
– The Santa Fe Reporter reports