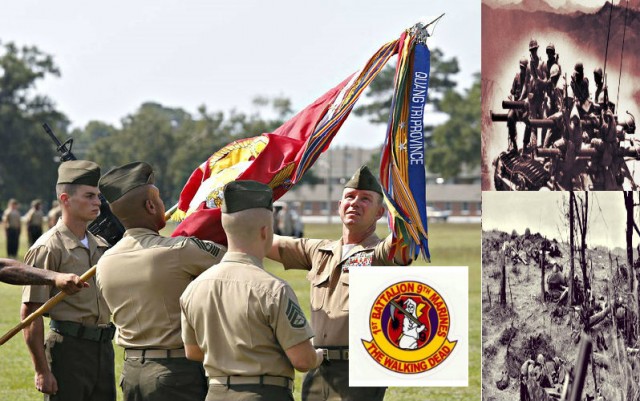 The decorated Marine Corps battalion nicknamed "Walking Dead" was deactivated last August 29, Friday in a ceremony at the Marine Corps Base Camp Lejeune, North Carolina. The move comes in lieu with the top US political and military officials' move to cut down the size of the US Army after over a decade of combat in Afghanistan and Iraq.
"Walking Dead", or the 1st Battalion, 9th Marine Regiment, is a highly decorated unit with distinctions for extensive combat that go back to as far as WWII and the Vietnam War. Unit members include Medal of Honor recipients at Iwo Jima and Guam during the Second World War as well as two awardees for heroism during the Vietnam War. On the other side, Marine Corps historians point out that the unit's nickname – "Walking Dead" – was due to its high rate of casualties during the war in Vietnam.
The "Walking Dead" Unit's History
The formation of the 1st battalion, 9th Marine Regiment go back to the First World War. Its insignia displayed a grim reaper with a scythe in his hands.
In 1984, the name of the unit was changed to "Walking Death" and its insignia to a dragon. The change was attributed to some unit members protesting that its old name and emblem were, in some way, derogatory. A decade later, after the change, the unit was disbanded.
When 2007 rolled in, the "Walking Dead" was resurrected, reactivated. Its old name was embraced along with its grim reaper insignia. In fact, a number of websites run by vets and a Facebook community page with over 1,700 members celebrate the name and the battalion history of "Walking Dead".
Reaction to Deactivation
In lieu to the deactivation of the "Walking Dead", over 300 members of the absolved unit were reassigned to other units.
These members paraded during the deactivation ceremony as the unit's veteran members and spectators watched on.
Nevertheless, not everyone is happy with the disbanding of the "Walking Dead" unit. One of them is retired Marine Colonel Wesley Fox, a Medal of Honor recipient and the unit's company leader while in Vietnam.
He stated that there was no other better battalion than the "Walking Dead" unit and he just couldn't understand why it was put off on a bench.