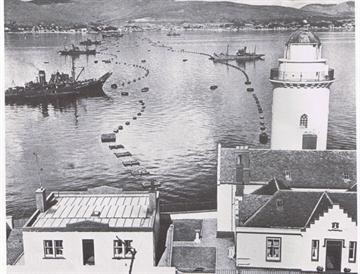 January 17, 2014, the Greenock Telegraph, reports the story of an art historian who has challenged the claim that German submarines were able to break through the River Clyde high security zone during WWII.
Alastair Alexander, a retired sports commentator in Scotland, wrote a book about U-Boat warfare on the Clyde. In his book, he insists that there was not a breach and there are official documents that can prove this.
Mr. Alexander has dismissed the new version of events that were reported in "The Mystery of U-33: Hitler's Secret Envoy" by Nigel Graddon. Graddon states that he had received new information and evidence that suggests the U-Boat was able to break through the Cloch boom defense netting between Gourock and Dunoon in February in 1940.
Mr. Graddon's reprinted book now includes evidence from family members of one of the survivors; however, Mr. Alexander dismisses this evidence as "hearsay" and stated the documents from the government's National Archive show conclusively that U-33 was sunk off Arran, and didn't make it anywhere near Cloch boom.
He said: "It is a recorded fact that U-33 was the first-ever submarine to be detected and sunk using 'Asdic' sonar detection.
"This was carried out by HMS Gleaner during its regular patrol off Arran on 12 February.
"Gleaner detected the conning tower at 3.53am and attacked the U-boat.
"Further attacks are recorded at 4.12am and 4.40am, and the submarine sank at 5.31am."
Mr. Alexander was born at Parklea Farm and was raised at Margaret Street in Greenock. He said there was a top secret "Asdic Ring" on the Clyde, which would have detected any U-Boats approaching the Cumbraes.
He said: "It's important that the historically accurate facts are known about this sinking."
Mr. Alexander stated that it was wrong of Mr. Graddon to say that survivor Hans-Joachim Ehrhardt was rescued from the water by a Leading Seaman P. Green, as claimed by Ehrhardt's family.
Mr Alexander said: "The archive documents clearly show that P. Green, was, in fact, the person who interrogated Ehrhardt after he was rescued."
Mr. Graddon stated that local people clearly recall how "all hell was let loose" on the night U-33 allegedly got through the barrier. Mr. Alexander rebutted that the activity could have been a result of unexploded bombs being detonated.
He added: "The Queen Mary and Queen Elizabeth were visiting the Clyde every fortnight during this period.
"The security was fantastic.
"No German submarine got through the defence boom."