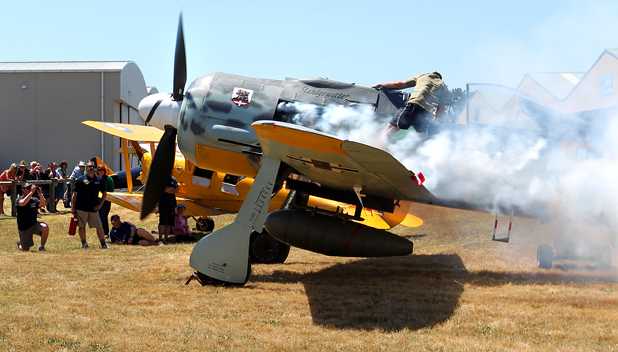 Easter weekend will see a new air show take place in Marlborough, New Zealand.
The Omaka Classic Fighters Air Show will take place from Friday, April 3 to Sunday April 5 and is expected to have more than 35,000 attendees.
The show is aimed at both aviation enthusiasts and families with children, so there will be a mix of everything for all tastes and ages.
The show has been planned for over a year and the organising committee has tried to be as creative as possible to make it not just a traditional air show. More like theatre in the air, there will be pyrotechnics, stunts and parachute drops.
The show will start early at 9:30am with a World War Two, Avro Anson bomber fly over. The war theme is dedicated to the Anzacs from World War One and the pioneers who developed modern aviation.
The organisers have scheduled for four World War One planes to be on show, as well as eight Fokker triplanes from 1918.
Part of the show will be a relay race where participants will ride a penny farthing bicycle, drive a classic racing car round a track and take off in a plane. Many participants will be dressed up in World War One clothing and the organisers are encouraging visitors to do the same.
Three Royal Air Force spitfires will fly over, and Russian Yak fighters and torpedo bombers will also feature.
One of the spitfires to be shown served in India and Burma, and has undergone a 20 year renovation project.  A World War Two German Focke-Wulf FW190 will be part of the show. The Focke is well-known for being noisy and billowing smoke clouds, the Stuff.co.nz reports.
There will also be a local DJ and historians commentating throughout the airshow, providing visitors with key information, facts, interviews, fun and games.
Visitors can even pay to fly in a spitfire or on a Steerman aircraft, however they will cost around NZ$3,000 and NZ$350 respectively.