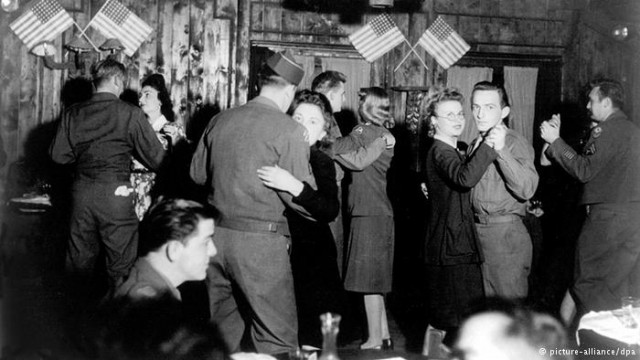 It is estimated that in Germany alone there were more than 250,000 children fathered by soldiers from Britain, United States, Russia and France. In Austria these numbers are comparatively low but significant, some 20,000 births in Austria were associated with Allied soldiers.
For most of the people the Second World War had ended with the fall of Berlin and surrender of Japan, but for some the scars of the war were for the lifetime. Despite the Authorities' strict orders not to 'frantise' with German and Austrian women, a large number of soldiers had relationships with women from the region. Most of the women were widowed, or left alone to survive in war torn countries after their husbands left for their homelands after the war. Many of the women gave births to children who lived alone throughout their lives with their mothers, facing humiliation, insults and isolation form their fellow countrymen.
Famously known as the 'Occupation children', these children are 'often heavily psychologically scarred', according to a study of 146 of such children. The universities of Greifswald and Leipzig conducted this study in 2013 to probe into the traumatic lives that Occupation children led after the war.
The writer of a book titled 'Wir Besatzungskinder' meaning 'We, the Occupation Children, Ute Baur-Timmerbrink has a very personal and emotional link with the whole issue. She lived all her life in fear, humiliation and a constant state of uncertainty. Now 70, Baur-Timmerbrink discovered in 1998 that her father was an American GI, and no one knew where he was. She then embarked on a journey to find her father going through all the records she could find. But when she finally found out the identity of her father, she discovered that he had died in 2001.
This has now become a lifetime mission for Baur-Timmerbrink to facilitate as many reunions as possible, through the organization she works for called GItrace. She said that it is not as easy and romantic as it may sound, because most of the fathers or the families do not want to be contacted regarding a child from the past, the Yahoo News reports.
The stories of the occupation children is normally overlooked and ignored, possibly because of the enormity of the death and chaos caused by the Second World War. Nevertheless, this issue is not going to disappear, and is certainly not a small issue. People like Braun-Timmerbrink are determined not to leave any stone unturned to bring peace and meaning to the lives of the children of occupation.