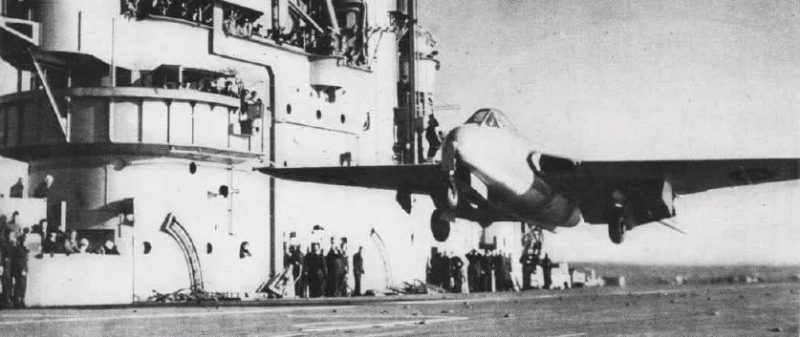 On 3 December 1945, Brown became the first pilot to land on and (pictured) take-off from an aircraft carrier (HMS Ocean) in a jet aircraft. The aircraft he flew – the de Havilland Sea Vampire LZ551/G – is now preserved at the Fleet Air Arm Museum in Yeovilton, Somerset. Wikipedia
Captain Eric Brown has cemented his place in history since he has flown more planes than anyone else can count. What's more is that his role in World War Two has more facets than just flying planes.
Eric was the first person to fly a jet off and onto an aircraft carrier and set records that still haven't been broken, and aren't likely to be broken.
Eric also took part in the interrogation of leading Nazi party members and war proponents, including Goering.
He has been honoured with the AFC, DSC, MBE and OBE by King George VI all before he was 30 years old. Then later he received the King's Commendation for Brave Conduct and a CBE from the current Queen Elizabeth II in 1970.

The captured He 177 A-5 in British markings flown by Brown at Farnborough in September 1944
Now 95, Eric remains sharp and energetic. He is often consulted by researchers, historians and for documentaries, TV and films.
Flying was in Eric's family since his father had served with the Royal Flying Corps during World War One. Eric and his father even attended the Olympics in Berlin in 1936 where they met with the German Luftwaffe's ace pilots and Eric was even taken for a spin in one of their aircraft.
Whilst studying German at Edinburgh University, Eric joined the university's air squadron and remained in contact with some of the Luftwaffe's star pilots who inspired him. When World War Two actually broke out Eric was in Germany on a teaching exchange trip. He was taken away for interrogation by the SS, but was taken to the border with Switzerland and made his way home where he immediately signed up to join the Royal Air Force.
The RAF had a lack of planes and positions for pilots, but the Royal Navy was looking for pilots since it had lost 500 men when the HMS Courageous was destroyed in the early days of the war.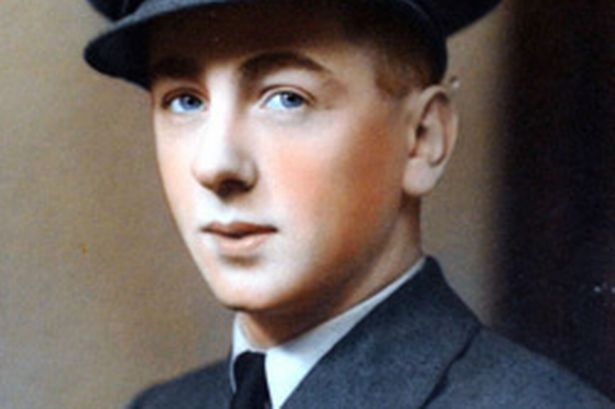 Eric joined the Fleet Air Arm, trained specifically as a naval pilot and begun to fly a Martlet fighter from aircraft carrier HMS Audacity. The ship was bombed and sank in 1941 off the west coast of Spain.
Eric luckily survived, he believes because he had a lifejacket that kept him afloat for hours before being rescued. Other crewmen that weren't pilots weren't so lucky.
Eric's talent for flying had been noticed and he was transferred to be a test pilot. He had to work out the best ways to fly aircraft such as Spitfires and Hurricanes off and onto aircraft carriers in order to improve the capabilities of the Royal Navy.
Eric also trained and led a squadron of Canadian Spitfire pilots who flew regular sorties over France.
Towards the end of the war in 1944, Eric was working at the top secret Aerodynamics Flight back in England. He was part of the team to provide a solution to thwarting the German V1 bomb, which was decimating Britain at the time and had even destroyed Eric's own home. They created a booster system that enabled British fighter planes to fly alongside the bombs and knock them off course.
Testing the solution was death-defying and on one test Eric's engine exploded so he had to eject out of the plane, luckily landing in a rural field.
Brown in front of a Blackburn Buccaneer, one of the record 487 different types of aircraft he has flown. Wikipedia
As the Allied advance towards Germany continued, Eric led a unit called the Enemy Aircraft Flight, which was tasked with the mission to find and seize as much German air force equipment as possible. On one of his many trips to the newly Allied-occupied areas of Germany, Eric was asked to act as an interpreter during a visit to a concentration camp near Belsen in northern Germany, the Mail Online reports.
Eric had to interrogate the female chief of the camp and says he will never forget that she showed no regret or shame for what she had done. She was hanged not long afterwards.
Eric went on to interrogate many of the Nazi leaders especially those responsible for the Luftwaffe. Many continued their support for Hitler and felt they could justify their actions during the war.
Once the aftermath of World War Two had settled, Eric continued to test aircraft and aviation technology, working with the inventor of the jet engine, Sir Frank Whittle. By the end of his career he had made just over 2400 aircraft carrier landings and flew almost 500 different types of aircraft, more than any other person in history.