Camp Bastion: In September 2012, I was serving with the British Army as a Combat Medic, my parent unit was 4 Armoured Medical Regiment, but I was attached to C Company of the Kings Royal Hussars, a British Tank Unit that had re- rolled as infantry for this tour of Afghanistan.
This was my fifth operational deployment. I had already served in Bosnia with the United Nations, Kosovo and Iraq. Normally I was based forward at Patrol Base Nahidulla in the Lashkar Gar District of Helmand but had returned to Camp Bastion for few days respite, however this was not to be the case.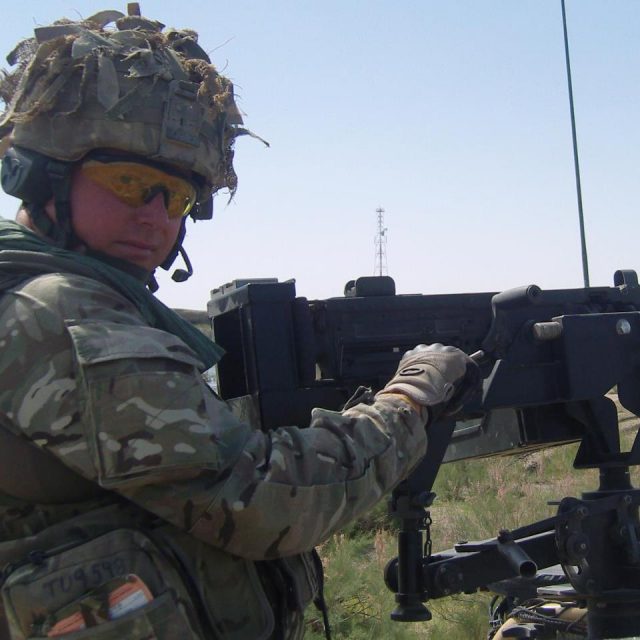 On the night of the 14th September 2012, Camp Bastion, the impenetrable fortress in the desert, came under attack from a highly trained and disciplined group of about 16 Taliban Fighters dressed in American Uniforms. This is my witness account to that night.
The Taliban had gotten onto the airfield after cutting a hole in the fence in an area where only every other watch tower was manned. As a result of this short-sightedness, they were now in what was supposed to be the safest place in Helmand Provence.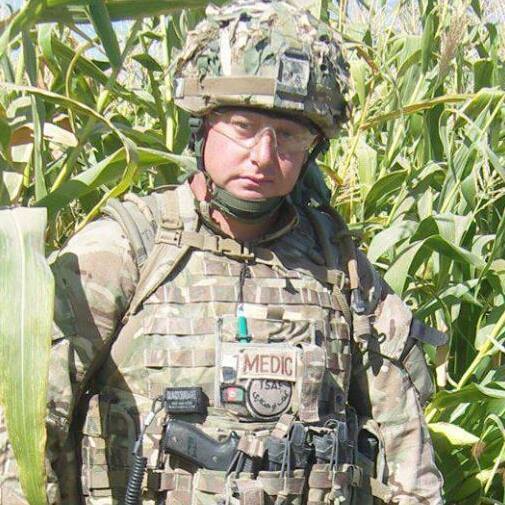 That evening I was relaxing on my bed, in the tented accommodation trying to find the energy to take a shower. Hearing a commotion outside, I went to take a look. Colleagues were looking and pointing to flames rising into the night sky over toward the airfield, at that point we all assumed if was a rubbish dump or a tent on fire.
There was no reason to suspect anything else as no attack alarm had sounded, nor did it for the entire evening. After a while a broadcast informed everyone to report to their workplace. On arriving at my Units HQ, we learnt the full scale of what was happening, but nobody seemed overly concerned.
My self and a few others watched from a carpark as events started to unfold. Information was sporadic and unclear. The enemy had bought the fight to ISAFs front door and were creating havoc. I watched gunships doing strafing runs along the airfield, and the clatter of gunfire was incessant.
The initial medical response, The Med Quick Reaction Force, had been beaten back from the airfield by gunfire and RPGs. However, reports of casualties were coming in and a forward medical asset was needed.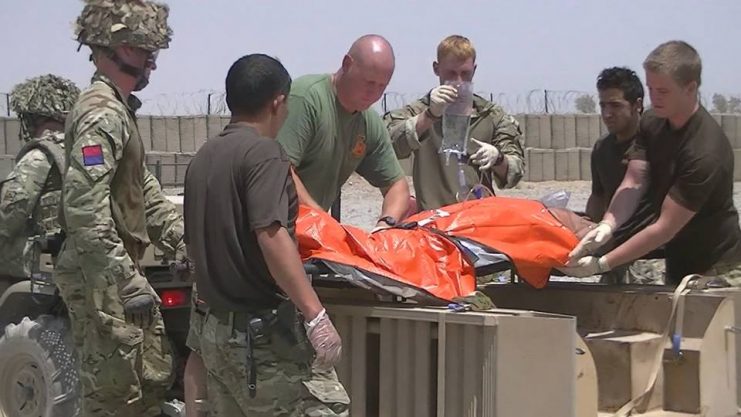 As most people were in night clothes and i was in uniform I volunteered to man the armoured MASTIFF ambulance with a few others. I distinctly recall the machine gunner was dressed in Bermuda shorts and flip flops along with helmet and body armour.
It had taken some time to fetch the ambulance from the REME compound about 500 metres away as rounds had been coming through the service bay and it was too dangerous to move.
Once loaded we headed to the central gate of the airfield and waited. We had reports of 5 casualties. This gate was held by 2 US Marines, 2 Royal Air Force Police, some civilian security contractors from 5 canopies and a Royal Army Medical Corps Staff Sergeant.
I was armed with only a 9mm pistol. There were many civilian contactors huddled in the drainage ditches on the sides of the road, fear etched on their faces.
Now on the edge of the airfield I watched the battle only a few hundred metres away. Fuel dumps were ablaze, and the gunfire echoed through the still night. I watched RPG's thump into targets. Reports came in that the runway was littered with dead bodies. I stayed all night helping where i could with water and ammo resupply for the troops up the line. The RAF Regt and USMC fought gallantly suffering numerous casualties.
In the early hours of morning I received reports of 18 enemy dead and 2 ISAF.
Six ambulances had arrived to collect the dead and wounded. I had also established a temporary morgue on the roadside. Periodically another UK casualty would come in. All shrapnel wounds. These guys had fought all night despite being wounded. One, an RAF Regt Sergeant, would later be awarded the Military Cross for his actions that night.
As dawn broke the first of the ISAF dead arrived from the field. I helped to carry Lt Col Chris Raible USMC from the back of a truck. He was wrapped in a poncho, his boots protruded and were soaked in blood. A marine came forward and opened a pouch to produce a flag.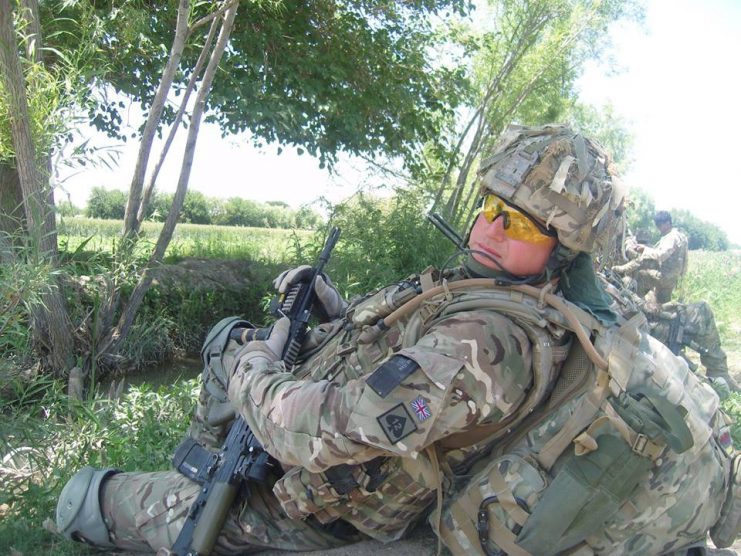 Chris was draped in the Stars and Stripes, we lifted him onto a stretcher and loaded him onto a soft skinned ambulance for the drive to the hospital. I was handed a scrap of paper with his details on and gave it to his escort. My first thoughts were for his family who would soon be getting the worst news ever.
A while later another ISAF KIA arrived. Sgt Bradley Atwell USMC. We loaded him onto an ambulance and along with his best friend I accompanied him to the mortuary. That was one of the most unpleasant rides I had ever taken. His friend had his hands placed on him and spoke gently to him the whole journey.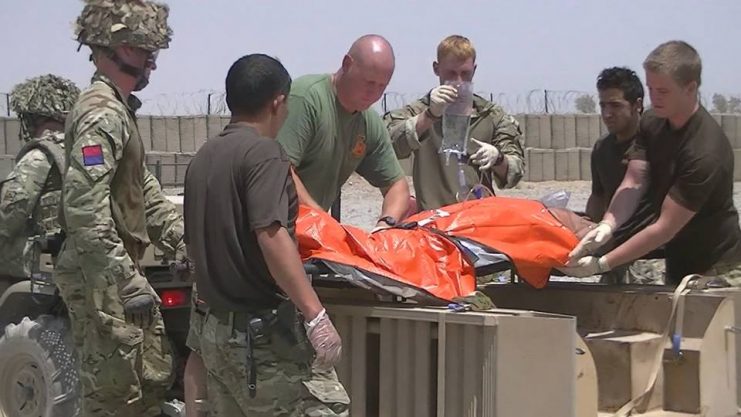 We were relieved later that morning. The Taliban dead had to wait as they were in most cases badly burned and covered in ammunition and grenades.
They had to be cleared by EOD before removal. This took nearly 36 hours. The whole of Camp Bastion was numb with what had happened. Everyone was still on lock down, and gun emplacements had been set up everywhere. Especially around the accommodation of a certain prince.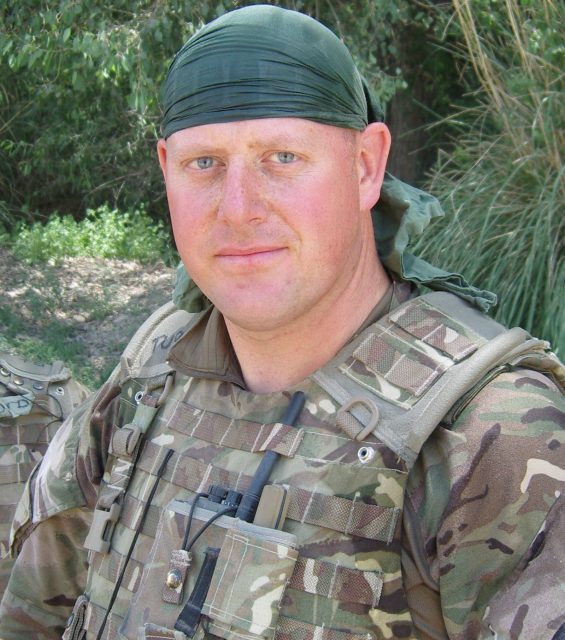 It was now Sept 15th, my wife's birthday. I didn't even remember. Op minimise came off for about 20 mins later that day. Then back on. 2 British soldiers had been shot dead in a green on blue attack at a checkpoint. One was only 18 years old. An RAMC medic had also been shot and wounded in the same incident.
That night in the cookhouse, Camp Bastion came under mortar fire. The first time ever I believe. As the attack alarm wailed, I lay on the floor and laughed.
People, who had most likely spent their entire deployment in the safety of Bastion looked terrified, some of the KBR guys were crying with fear. I laughed to myself, grabbed my fried chicken, sat under a table and carried on eating.
It wasn't until the morning of the 16th September that I realised I had totally missed my wife's birthday. I felt awful. Did all that really happen? Well yes, it did.
Another Article From Us: The Pilot Who Survived A Taliban Hit & Still Got His Casualties To Safety
Damage was estimated at £200 million. 3 fuel dumps, 6 harrier jets, buildings and vehicles all destroyed.
15 enemy dead, 1 captured, 2 ISAF dead, many wounded. A victory for who?
I flew back to my Patrol Base on the 17th September. The war continued.