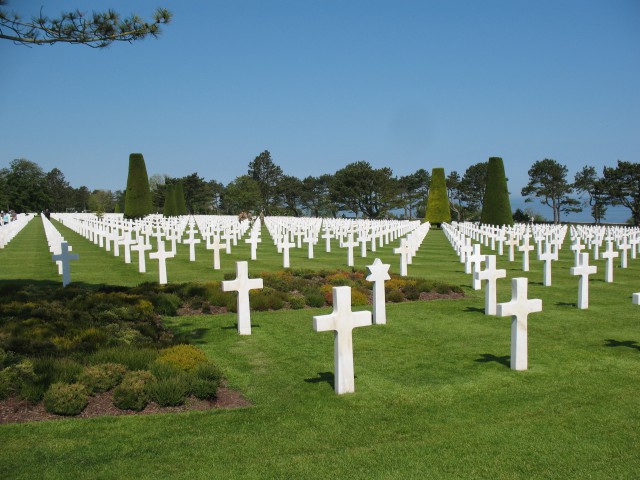 A Burlington war veteran has paid tribute to fellow soldiers who died in World War Two. Ken Sellars is a Vietnam War veteran from Burlington, who fought in Vietnam, survived and returned home. Meanwhile Major Willard Holt Barnwell, also from Burlington, fought in World War Two but at the age of 24 was killed in action during the D-Day landings at Normandy in France.
Now, Ken has travelled back to Normandy to pay his respects to Willard, a fellow Burlington veteran, as well as other veterans from the same area.
It was in June of 1944, more than 71 years ago, that thousands of Allied soldiers landed on the beaches of Normandy in a surprise attack on German-occupied France. Of the thousands that landed on the beaches, even more died during the days, weeks and months that would follow until the end of the war the following spring.
Major Willard was killed in action in the month following the D-Day landings and was buried in the American War Cemetery at Normandy. A memorial to all those soldiers who fought during those months was built nearby at Collevile-sur-Mer and still stands today as a reminder for all of those men who gave their lives.
During anniversary commemorations, Ken Sellars who served during Vietnam, travelled to France and managed to find Willard's grave. Ken was able to kneel at his headstone and lay a wreath in Willard's memory.
Ken felt that it was an important gesture he wanted to make, since both men were from Burlington and served in some of the most ferocious fighting Allied forces had seen in the 20th century.
Ken says that he'll never forget the experience he had at Normandy. He says that he was honoured to pay tribute to a fellow soldier from Burlington. Ken also commented that he was able to give thanks to someone who gave his life for the freedom of others, The Times News reports.
Ken's trip to Normandy was part of a longer trip which would take him, his wife Dianne and other family members from the centre of Paris all the way up to the beaches of Normandy where they could commemorate the anniversary of the D-Day landings.
Prior to leaving on the trip, Ken did a lot of research to find fellow servicemen from Burlington of whom he could visit and pay his respects to in France. Ken got help from a US Senator who provided him with the names of soldiers who had been buried at Normandy and who were all from the same area as Ken.
The commemoration included a service for all veterans and attendees were each given a red rose to lie at the foot of each headstone in the cemetery, where the remains of over 9000 American soldiers are buried.