By Jeremy P. Amick
The late Buck O'Neil has ascended to icon status in the annals of professional baseball following his days as a player, scout and coach. He further distinguished himself by helping preserve the history of the days of segregated professional baseball through his instrumental role in the establishment of the Negro Leagues Baseball Museum in Kansas City, Missouri.
A lesser known fact is his overseas service in the U.S. Navy, which unfolded during the height of his professional baseball career in World War II and continued his experiences of segregation on an entirely different level.
John Jordan O'Neil inauspiciously entered the world on November 13, 1911. An article on the website of the Jackie Robinson Foundation explained, "The grandson of a slave, O'Neil was raised in Florida and spent his youth toiling in celery fields."
The article further noted, "His baseball prowess proved to be his escape from farm work. Barred from attending local Sarasota High School and the University of Florida due to his skin color, O'Neil went on to become an electrifying first baseman who won a pair of Negro League batting titles with the Kansas City Monarchs …."
The 28-year-old left Kansas City and traveled to his native Florida on October 16, 1940, to comply with the mandate of the Selective Service and Training Act of 1940, by registering with his local draft board in Sarasota County.
Although O'Neil returned to the Kansas City Monarchs and, in 1942, enjoyed the first of three appearances in an All-Star game, the war raging overseas soon halted many major league careers. For O'Neil, his call came in August of 1943, when he was inducted into the U.S. Navy and completed his initial training at Norfolk, Virginia.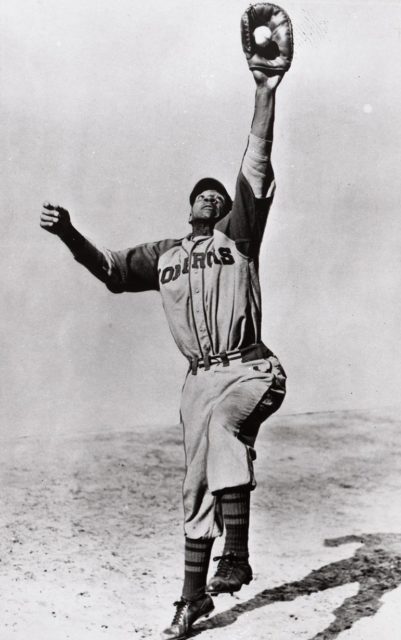 "The US Navy had traditionally employed blacks only in servile roles, and did not accept black volunteers or conscripts until Roosevelt's Executive Order No. 9279, issued in December 1942, forced all services to end such restrictions," explained Stanford University in an article titled "African Americans at War."
The educational institution went on to note, "Even after this presidential order, more than 95% of the blacks in the navy served as messmen …."
"(O'Neil) was assigned to a Stevedore battalion" and had the responsibility of unloading ships, explained Bob LeMoine in an article written for Society of American Baseball Research, a non-profit organization. LeMoine further noted that O'Neil's service carried him to the Mariana
Islands and later Subic Bay in the Philippines.
The article goes on to detail some of the racial injustices he encountered in the segregated Navy. As a boatswain first class, the professional baseballer turned sailor demonstrated his ability to plan and guide the work of the twelve men under his charge; however, was advised, "If you were white, you'd be an officer by now."
The Philippines was abuzz with military activity in the latter months of 1944, in an effort to free the Filipino people from the occupying Japanese forces and "provide the best possible base for a final invasion of Japan," wrote Trevor Nevitt Dupuy in "The Naval War in the Pacific: On to Tokyo."
In his duties as a stevedore with a U.S. Navy Seabees battalion, O'Neil and his fellow sailors not only assisted with various construction duties, but helped deliver food, ammunition and other integral supplies as the war progressed closer to Japan.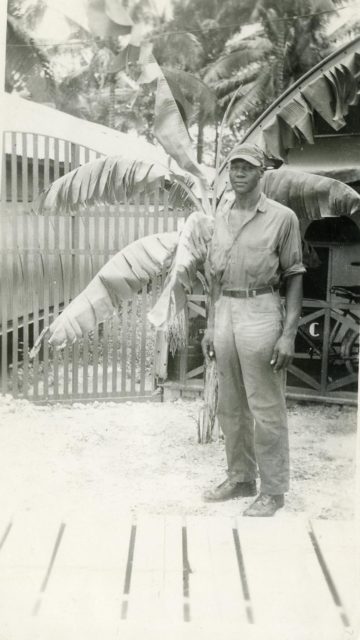 While O'Neil was overseas, budding baseball superstar Jackie Robinson played five months for the Kansas City Monarchs in 1945. Later the same year, he broke baseball's color barrier when becoming the first African-American player to enter the major leagues after signing with the Brooklyn Dodgers. Robinson's achievements were closely followed by O'Neil and his fellow sailors.
"The commanding officer came over the speaker at 10 one night and told me to come to his office at once," remarked O'Neil in an interview that appeared in the Atlanta Constitution on September 21, 1944.
The article continued, "I thought, 'Hell, what did I do now?' He told me (the Brooklyn Dodgers) had signed Jackie (Robinson) and I said, 'Thank God, give me that horn.' And I got on the speakers: 'Now hear this! Now hear this!' And they whooped and hollered and shot guns in the air."
A few months following the official end of World War II with the instrument of surrender signed aboard the USS Missouri in Tokyo Bay on September 2, 1945, O'Neil received his discharge and traveled to Kansas City to marry his fiancée.
The former sailor returned to baseball with the Kansas City Monarchs and in later years became a scout and the first African American coach in the major leagues. However, his greatest passion was sharing the stories and preserving the legacies of Negro League icons such as Cool Papa Bell and Satchel Paige.
The spirit of his positive outlook and foresight has inspired others to share in the effort to enshrine his legacy for future generations. He has since been inducted into the Hall of Famous Missourians at the Missouri State Capitol and had the Buck O'Neil Research and Education Center in Kansas City named in his honor.
Many years of his life were that of division—not being allowed to attend schools for whites in Florida as a child, playing ball in a segregated league followed by service in a segregated U.S Navy. Yet O'Neil lived to witness integration on all of these levels, recognizing the strengths of a united community.
"I've done a lot of things I liked doing," O'Neil remarked during a speech at the National Baseball Hall of Fame in June 2006. "But I'd rather be right here, right now, representing these people that helped build a bridge across the chasm of prejudice—not just the ones like Charlie Pride and me that later crossed it…"
He added, "And I tell you what, they always said to me, 'Buck, I know you hate people for what they did to you or what they did to your folks.' I said, 'No, man, I … I never learned to hate.'"
O'Neil passed away on October 6, 2006, approximately a month prior to his 95th birthday. The baseball legend was laid to rest in Forest Hill Cemetery in Kansas City.
---
Jeremy P. Ämick writes on behalf of the Silver Star Families of America