The Royal Mint featured the first British Army's first black officer, one of the first black footballers and a WWI hero – Walter Tull – on a £5 coin in connection with the celebration of the Great War's centenary. Kent native Walter Tull was promoted to an officer rank in spite of a ban imposed on blacks being officers during the First World War. He died in combat in 1918. Walter Tull was also one of the first black footballers, playing impressively in the pitch despite the amidst racial discrimination and abuse.
When WWI broke out, Walter Tull immediately signed up to fight for UK. He went on and battled in the Somme in 1916 and by 1917, was commissioned as a 2nd Lieutenant even though there was an existing rule that forbade any individual of color to hold officer rank. Walter Tull was also singled out for his bravery and boldness in the face of combat when he was able to lead his company, composed of 26 men, out of danger and into safety in Italy. However, Walter Tull met his end in the Battle of Bapaume in March 1918 while leading his men for combat. His body was never discovered.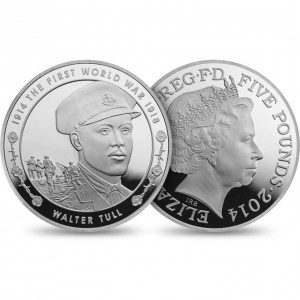 It was only last year that campaigners, including a former player of Tottenham, Garth Crooks, pleaded to the government to posthumously give Walter Tull a Military Cross for the heroism he displayed during the Great War.
Royal Mint's WWI Celebratory Coins
The £5 coin in honor of Walter Tull is part of the silver-proofed six £5 coins set The Royal Mint is going to release annually starting this year until 2018 in commemoration of the Great War's 100th-year anniversary — from its outbreak to the Armistice. The other coins – other than the Walter Tull coin – in the set celebrates the Royal Navy, the first British troops leaving for France, Home Front workers, WWI propaganda and the Great War's technological developments. According to The Royal Mint's director of commemorative coins, medals and bullion, Shane Bissett, the mintage would capture the stirring journey of the First World War from its start down to its end.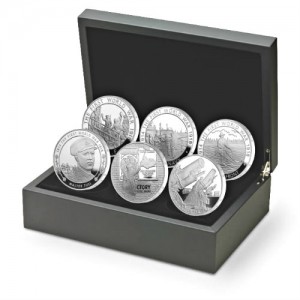 The Royal Mint Museum's director, Kevin Clancy further adds that the years of the Great War revealed the best and the worst of human nature and the organization's aim is to expose that duality in the coins they have minted and are going to mint in connection with the celebration. Moreover, the coins will also explore a diverse ground of topics including the dawn of technological warfare, propaganda, weaponry and even the extraordinary individuals who showed exemplary acts throughout the war — the likes of Walter Tull.
Each set of the commemorative £5 coins come with informative booklets explaining the designs, the artists behind the coins and of course, the set's theme.