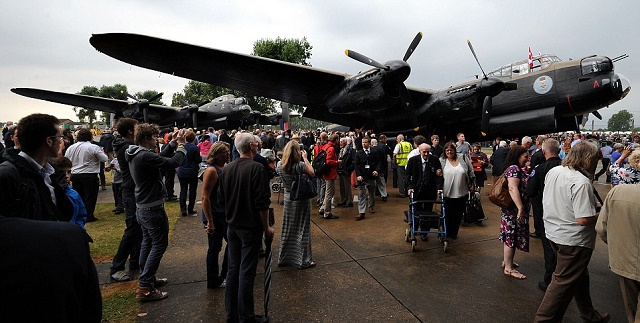 During the Second World War, members of the RAFBomber Command risked their lives to complete important missions for the Allies. They helped the Allies to attack key sites that were important to the war effort, thereby weakening enemy forces and morale. Today, there remain many veterans from these missions. Today's survivors of the Bomber Command have now embarked on what many are calling their "final mission," though this time there is luckily no enemy to be fought.
This mission was not one of combat, nor even of reconnaissance. Rather, it was one of mere spectatorship. Vera, a Canadian Lancaster, was to make an epic flight in memorial of its service. Originally, it was supposed to be accompanied by other aircraft. This was why veterans of the Bomber Command were gathered, to witness the Battle of Britain Memorial Flight. Unfortunately, at least two-thirds of the event were cancelled. Due to inclement weather, the Hurricane and Spitfire that were supposed to accompany Vera were unable to take flight. The airshow's finale, which was supposed to be performed by the Red Arrows, was also made difficult.
Even though only one plane was able to fly as planned, the veterans in attendance were still incredibly moved by the sight. For the great majority of them, it brought the mind their former experiences as members of Bomber Command, and they were reminded of the hardships they suffered as well as the many friends and comrades they lost to the fray. Some of these men were the last surviving members of their crews, and their remorse and survivor guilt at the sight of the aircraft reduced them to tears.
While the flight of the Lancaster was certainly an emotional experience for many, it was also a very exciting one. Many applauded as the plane swooped in for a landing. The former Bomber Command members in attendance were there not just to applaud the landing, but to pay tribute to the fallen airmen who were not among them. They have previously taken it upon themselves to ensure their comrades were remembered, such as in 2008 when they helped to have a memorial built for approximately one million British pounds, the Express reports.
Veterans of Bomber Command are understandably intent on having their missions remembered. Many were lost on these missions, and their odds were against them as many RAF airmen did tours of at least thirty missions in total. Now, the flight of the Lancaster has given the Bomber Command members something to remember, both for the good times and for the bad.