Special Forces in the military have always held a mysterious intrigue due to their top secret missions and specialised training.
Comparing different countries' elite forces is a difficult task, since they are so top secret how can you tell who is the best? What can be assessed is how easy or hard it is to qualify for the force, past missions and their reputation – all point to the best elite forces in the world. Here are ten of the best.
Austria – EKO-Cobra: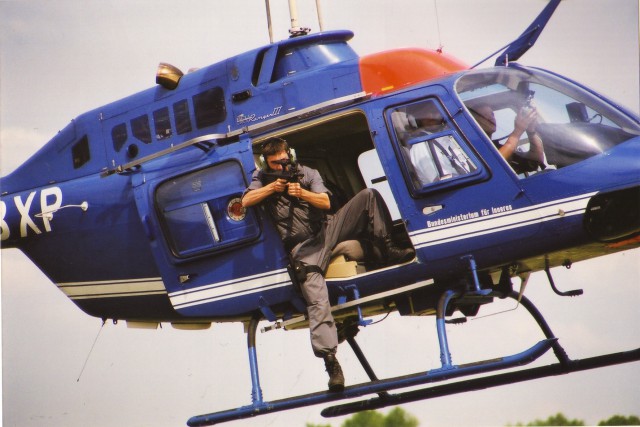 An officer of the Austrian counter-terrorism unit EKO Cobra handling a Steyr AUG rifle during an airborne operation [Via]
In response to the Munich Olympics hostage incident, Austria's Einsatzkommando Cobra was created to counter terrorism. Today the force has around 450 members, all of whom have worked their way up in the Austrian National Police Force. Candidates must undergo psychological and physical testing in order to get a place. Many go on to specialize in certain areas such as bomb devices, underwater operations and as snipers.
They are the only elite force to have successfully ended a mid-air hijacking attempt on a commercial airliner.
Britain- SAS: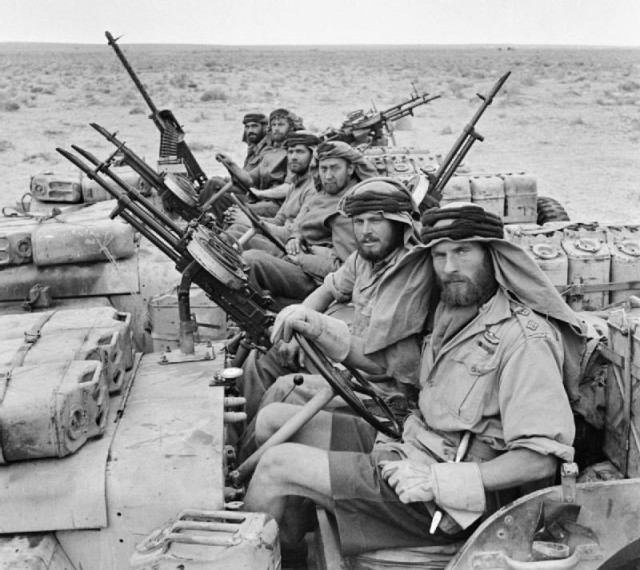 SAS patrol in North Africa during WW2. [Via]
The British Special Air Service was established in the early years of World War Two, so that British forces could operate behind enemy lines. All SAS members are military personnel. Training is grueling and includes a 40 mile hike with full equipment and a time limit of 20 hours. Survival and direction-finding skills are crucial and candidates must also pass a role-playing enemy interrogation to see if they can withstand the questioning and torture techniques.
The corps presently comprises 22 Special Air Service Regiment, the regular component, under the operational command of United Kingdom Special Forces, and 21 (Artists) Special Air Service Regiment and 23 Special Air Service Regiment, which are reserve units.
SAS members also receive training from Britain's secret service, MI5 and MI6, so that they are able to undertake counter-intelligence missions.
Canada – JTF2: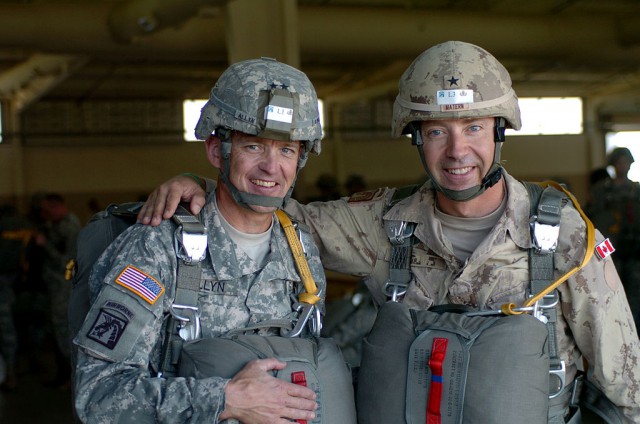 Major-General Nicolas Matern, right, former commander of Joint Task Force 2 and deputy commander
of the Canadian Special Operations Forces Command [Via]
Created in the 1990s and expanded after September 11, 2001, the Joint Task Force 2 looks after anti-terrorism and special operations. All of its members are from the Canadian military and have undertaken operations all over the world, including Iraq, Afghanistan and Eastern Europe.
It is said that even the Canadian Prime Minister was unaware of the force's involvement in the early stages of the Allied campaign in Afghanistan.
France– GIGN:
A Gendarme in armor protecting his limbs & body and carrying an Anti-Riot
SPECTRA helmet with visor.[Via]
GIGN stands for the National Gendarmerie Intervention Group in France. The group was initiated by French authorities when the 1972 Munich Olympics hostage situation took place. After that incident many European countries recognized the need to have an elite, secret force that could tackle terrorism, hostage-taking and underground threats to the state. Today there are around 400 members of GIGN. They specialize in tackling terrorism and hostage situations.
It is known as one of the best counter-terrorism units in the world, especially for hostage rescue missions in aircraft. It is well known for its negotiation techniques and for its high-level and very realistic training.They train some members of other intervention units, such as the German GSG 9, in specific skills.
GIGN operatives have worked in Africa to rescue hostages, in Eastern Europe to trap and imprison war criminals, as well as commercial airline hostage situations.
Israel – Sayeret Matkal:
[Via]
This group was created in the late 1950s to focus on investigations, countering terrorism and hostage situations. Trainees are picked for their physical attributes as well as their intellectual capabilities and have to go through around 18 months of training. First and foremost a field intelligence-gathering unit, conducting deep reconnaissance behind enemy lines to obtain strategic intelligence, Sayeret Matkal is also tasked with counter-terrorism and hostage rescue beyond Israel's borders.
One incident saw hundreds of Israeli citizens taken hostage on an airliner and flown to Uganda. Around 100 Sayeret Matkal operatives stormed the airport's terminal building where they were being held. They killed the terrorists and freed the hostages.
Israel – Shayetet 13: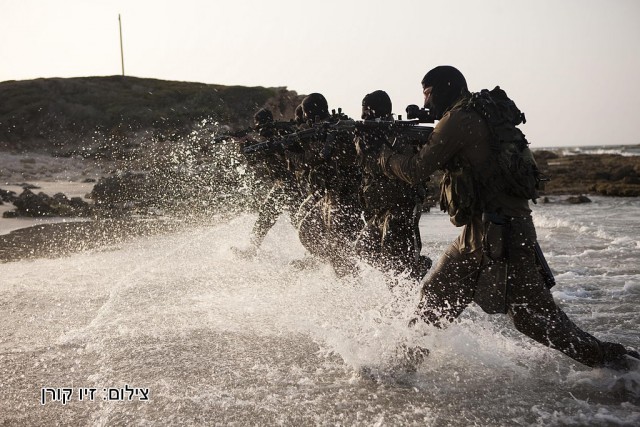 Shayetet 13 Operatives during training [Via]
This group is part of the Israeli Navy and were formed at the end of World War Two. Since then they have been a part of all major Israeli military operations including hostage situations, anti-terrorism and intelligence. Training for this group takes almost two years, most go on to specialize in a particular area such as paratroopers, explosives, night warfare, and deep sea operations. They often take part in missions to intercept imports and exports to and from Gaza, including munitions deliveries. However the details of many missions and identities of active operatives are kept highly classified.
It was Shayetet 13 that led the mission to track down the Munich Olympics' hostage takers.
Pakistan – SSG: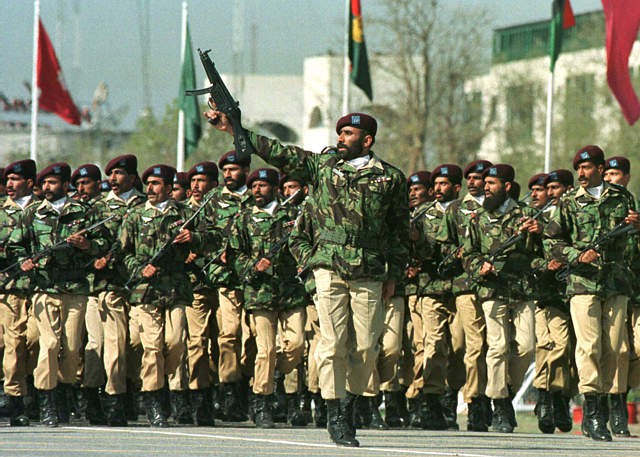 [Via]
SSG stands for Special Services Group which is the Pakistani Army's own elite division. They have taken direction from British and US Special Forces, and the size and scale of the division is not known. Pakistan has been at the center of the fight against terrorism and its SSG selection process is arduous with only around a quarter of all applicants making it through. Once selected, trainees are put through training exercises in all environments including the city, desert, jungle, water and mountain regions.
During the Cold War, Pakistan's SSG fought alongside western Special Forces and some took part in the Russian-Afghanistan war during the 1980s when they fought alongside Afghan troops.
Russia – Alpha Group:
Alpha Group members during a training exercise in 2009 [Via]
Spetsgruppa "A", also known as Alpha Group, whose official name is Directorate "A" of the FSB Special Purpose Center, is an elite, stand-alone sub-unit of Russia's special forces. It is a dedicated counter-terrorism task force of the Russian Federal Security Service (FSB), which primarily prevents and responds to violent acts in public transportation and buildings.
It was created by the Soviet KGB in 1974. Although little is known about the exact nature of its primary directives, it is speculated that the unit is authorised to act under the direct control and sanction of Russia's top political leadership, similar to its sister unit, the Directorate "B" (Vympel), which is officially tasked with protecting Russia's strategic installations. It is also available for extended police duties, for paramilitary operations, and for covert operations, both domestically and internationally.
Alpha Group took a special role in the country's invasion of Afghanistan when they stormed Kabul's Presidential Palace killing everyone inside. The story goes that when Alpha Group failed to save a group of Soviet diplomats from a hostage situation in Beirut in the 1980s, they hunted the hostage-takers down, killed them and sent their remains back to their families.
Today the group continues to play a major role in anti-terrorism operations.
US – Delta Force: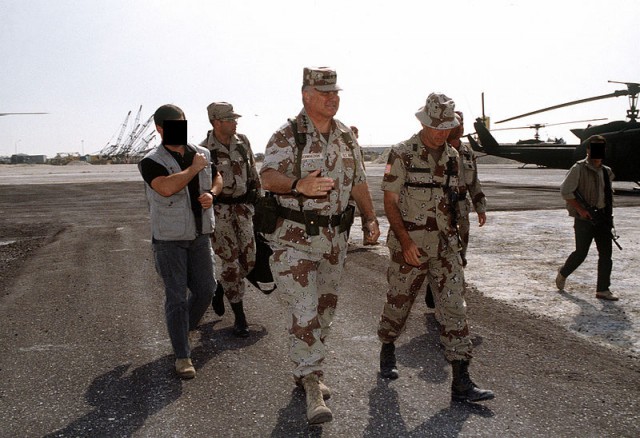 Delta Force bodyguards flank General Norman Schwarzkopf as he visits US forces that took part in Operation Desert Storm, 1991 [Via]
The 1st Special Forces Operational Detachment-Delta (1st SFOD-D), popularly known as Delta Force, is a U.S. Army component of Joint Special Operations Command. It was formerly listed as the Combat Applications Group (CAG) by the Department of Defense. Delta Force and its Navy counterpart, the Naval Special Warfare Development Group, are the United States military's primary counter-terrorism units. It is often referred to in the U.S. media as a Special Mission Unit.
Created in the late 1970s, Delta Force was formed to fight the increasing number of terrorist incidents. Most of its members have served in the US military, are male and over 21 years of age. Like their counterparts in other countries, they have to undergo exhausting physical and mental assessments, with only around one tenth of candidates making it into Delta Force, The Richest reports.
US- Navy SEALs: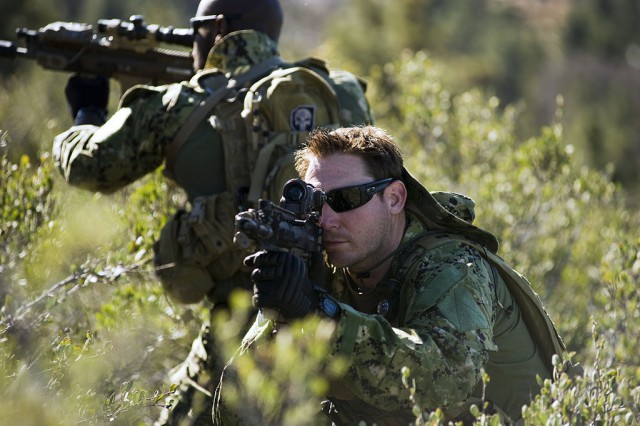 U.S. Navy SEALs conducting training with SCAR rifles. [Via]
The United States Navy's Sea, Air, Land Teams, commonly known as the Navy SEALs, are the U.S. Navy's principal special operations force and a part of the Naval Special Warfare Command and United States Special Operations Command. The SEALs' duty is to conduct small-unit maritime military operations which originate from, and return to a river, ocean, swamp, delta, or coastline. SEALs can negotiate shallow water areas such as the Persian Gulf coastline, where large ships and submarines are limited due to depth.
Formed in the 1960s, the US Navy Seals are notorious for their elitism and special operations within the US Navy. It was the US Navy Seals who led and executed the mission to go in to Abbottabad in Pakistan, find and kill Osama bin Laden. The requirements and training to become a Navy Seal are extreme.
All Seals are highly trained, physically and mentally.
Indian Army: Para SF
The Para SF is a special force unit of the Indian Army. It was derived from the Meghdoot Force, which saw action during the Indo-Pakistani War of 1965. The Para Commandos were first deployed in the Indo-Pakistani War of 1971. They took part in the 1984 Operation Blue Star.
They were deployed in Sri Lanka in 1980s during India's involvement in the civil war, codenamed Operation Pawan. They also saw action in the Operation Cactus in 1988 in Maldives and in the 1999 Kargil War.