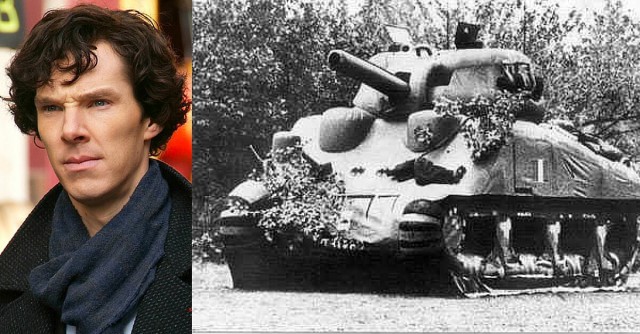 Actor Benedict Cumberbatch has been made famous by his role in Sherlock, the BBC's modern-day dramatization of Sherlock Holmes. He's now starring in a new World War Two movie drama called The War Magician.
Cumberbatch is expected to take the lead role and star as a stage magician who, during the war, helped to make things vanish in support of the Allied war effort. The first time the idea for the drama came about was back in 2003. Tom Cruise and producer Paul Wagner got rights to the book by David Fisher and had backed Peter Weir to direct the film.
Plans and progress stalled over many years, but in 2012 the producers engaged a different director, Marc Foster, to direct the movie. Unfortunately, he dropped out, and a new director has not yet been connected to the project.
The book is based on fact; Cumberbatch is set to play the role of the real stage magician who engaged his skills in illusion to help the British Army defeat the Nazis. His name was Jasper Maskelyne, and he got a group of stage magicians together during the war that became known as "The Magic Gang".
Maskelyne joined the Royal Engineers when the Second World War broke out, thinking that his skills could be used in camouflage. A story runs that he convinced sceptical officers by creating the illusion of a German warship on the Thames using mirrors and a model.
Maskelyne was trained at the Camouflage Development and Training Centre at Farnham Castle in 1940. He found the training boring, asserting in his book that "a lifetime of hiding things on the stage" had taught him more about camouflage "than rabbits and tigers will ever know". The camoufleur Julian Trevelyan commented that he "entertained us with his tricks in the evenings" at Farnham, but that Maskelyne was "rather unsuccessful" at actually camouflaging "concrete pill-boxes".
Brigadier Dudley Clarke, the head of the 'A' Force deception department, recruited Maskelyne to work for MI9 in Cairo. He created small devices intended to assist soldiers to escape if captured and lectured on escape techniques. These included tools hidden in cricket bats, saw blades inside combs, and small maps on objects such as playing cards.
Maskelyne was then briefly a member of Geoffrey Barkas's camouflage unit at Helwan, near Cairo, which was set up in November 1941. He was made the head of the subsidiary "Camouflage Experimental Section" at Abbassia. By February 1942, it became clear that this command was not successful, and so he was "transferred to welfare"—in other words, to entertaining soldiers with magic tricks.
Cumberbatch had already played a leading war hero in his role as Alan Turing in The Imitation Game, and he received a Hollywood Oscar nomination for it. And he is about to step into another magic role as the Sorcerer Supreme in Marvel's new Doctor Strange movie.
One industry insider said that although the roles of Alan Turing and Jasper Maskelyne are set in the same era, they are very different roles since Jasper was far more confident and outgoing as a performer.
"Benedict Cumberbatch filming Sherlock cropped" by Benedict_Cumberbatch_filming_Sherlock.jpg: Fat Les from London, UKderivative work: RanZag (talk) – Benedict_Cumberbatch_filming_Sherlock.jpg. Licensed under CC BY 2.0 via Commons.