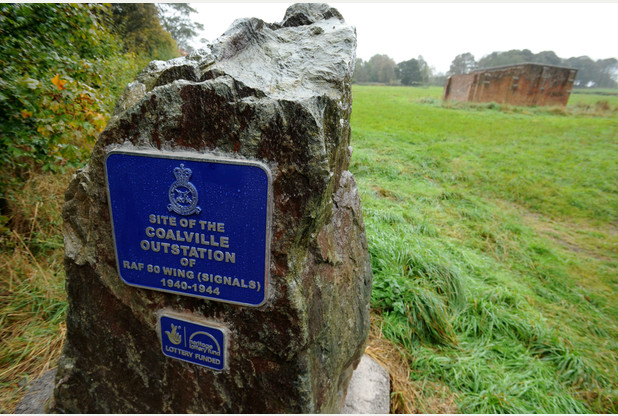 A secret base near Coalville has recently been converted to an information point by one of the men who helped the Royal Air Force deter German bombings during the Second World War. Equipped with a radio transmitter in Leicestershire, Ken Nicholls was one of the RAF's "beambenders," men who used radio signals to throw German pilots off course so that they would drop their bombs in the wrong locations. The information point is located at the same secret base where Nicholls worked during the war.
Nicholls, who is not the last remaining beambender, wanted to create a way for the work of his RAF unit to be publicly remembered. The information point he helped to establish is located near his hometown of Coalville, in a brick structure that was one home to the radio transmitters used by the beambenders. This secret base, located not far from Mount St Bernard Abbey, is believed to be the last of its kind in the whole of the United Kingdom. The RAF 80 Wing for which Nicholls performed his duties as a wireless operator was set up in 1940 in Charley parish, and operated from 1941 to 1943.
It was the Charley Heritage Group that received funding in 2013 to document their covert WWII defense operations. Their headquarters was relatively unassuming, with the radio transmitters being kept in a secret base made of sheds and a larger cabin building. From this inconspicuous 80 Wing outstation, Nicholls and other beambenders countered German navigational signals to help protect the areas of Derby, Leicester and Nottingham, the Leicester Mercury reports.
Technically, RAF 80 Wing was not made up of actual RAF personnel, but rather by civilians who simply donned the uniform. According to Nicholls, the men of 80 Wing could not always be certain that their diversions would be successful. From their secret base at Radlett, they would receive signals and then run over to a transmitter, which would sometimes lose a valve during transmissions. They had to judge their success simply by waiting to see if the Germans' target was bombed. By his estimation, the beambenders might have actually caused the bombing of Dublin by diverting signals from a squad meant to attack Liverpool.
Whether or not the men at Radlett caused the Dublin bombing, their secret base was responsible for many failed German bombings. There is little doubt that they did far less harm than good, managing to cause Germans to drop bombs over many unoccupied fields rather than residential areas. The new information point at the secret base will help to increase public awareness of these efforts.