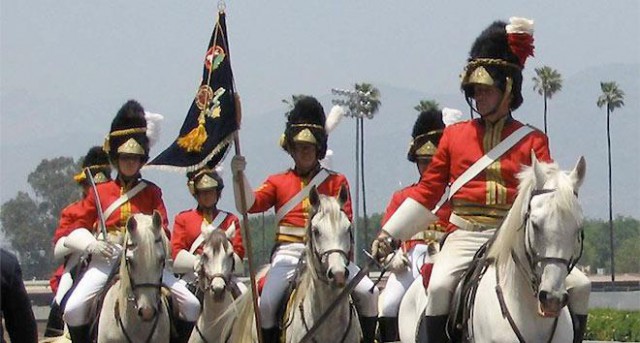 A Battle of Waterloo bicentenary commemoration event will take place this summer in Belgium. The commemoration will be a re-enactment of the battle, with more than 5000 re-enactors and a quarter of a million spectators expected.
One of the most famous regiments that took part in the Battle of Waterloo was the Royal Scots Greys. They were immortalised in Lady Elizabeth Butler's painting called Scotland Forever, which she painted in 1881. The regiment's name comes from the fact that the soldiers would ride only grey horses.  The plan is to regroup this regiment, which had been assimilated into the Royal Scots Dragoon Guards in 1971.
The re-enactors at the event will include 4,500 infantry-men and 300 cavalry, using 100 cannons. They are coming from all over the world including Europe, the US and Australia. The event will also be broadcast on television so that millions more can watch at home, The Independent reports.
Unfortunately there is still not enough money to gather the regiment, their costumes and horses together and to send them to Belgium. It is estimated the cost is around £7000 per each fully-equipped soldier. Therefore a fundraising campaign has been set up called the Greys & Glory campaign, which needs to raise around £140,000 in total.  Fundraisers and project managers believe they will be able to send around 20-30 Scots Greys soldiers. They will also continue to raise funds for other army-related and veterans charities.
Jonathan Findlay was a captain in the Royal Scots Dragoon Guards, and is leading the fundraising effort. Findlay also has a direct connection with the Battle of Waterloo since a distant relative on his mother's side of the family was actually a Scots Greys officer during the battle. If the Royal Scots Greys do get to Belgium they will be able to re-enact the battle where they stopped 20,000 French troops and captured an Imperial Eagle standard.  Napoleon will be played by French lawyer, Frank Sampson.
Findlay says that the Scots Greys had heavy losses in the battle, but were the victors at the end of the day. They made around five different charges and only about one soldier in every sixteen was left standing.  Findlay's relative wrote a letter home during the battle to inform his family that they had won the battle. He was unhurt and says that he was one of only six officers remaining in the field. He also had two horses shot from underneath him; he got shot several times but the bullets had been caught up in his armoury.