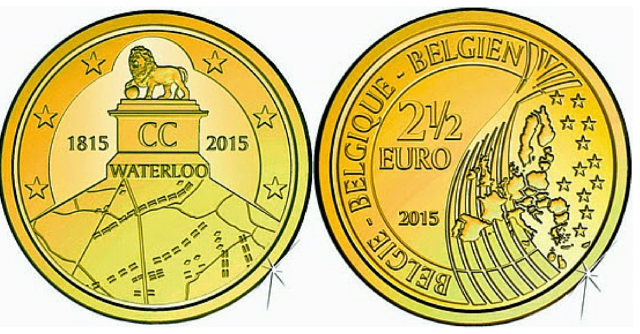 The Battle of Waterloo took place 200 years ago and with an array of commemoration events and activities this year Belgium has decided to launch a new €2.50 coin.
Even though most countries which took part in the Battle of Waterloo are eager to commemorate the anniversary, France is not pleased with Belgium's new coin.
France opposed a decision by Belgium to create a €2 coin earlier this year, which had commemorative imagery of the defeat of Napoleon engraved on it. Even though Belgium had already minted almost 200,000 of the coins.
While Napoleon was one of many dictators who have tried to conquer the European continent, France is taking umbrage to the fact that some countries want to commemorate his defeat.
Belgium withdrew the €2 coin, but discovered a rule in the European Union that allows countries to mint their own coins as long as they are not in a denomination that is regularly used, and thus the €2.50 coin was created. Around 70,000 have been minted and are in circulation.
Other activities taking place include a new visitors' centre at the site of the Battle of Waterloo.
The coins are only in circulation in Belgium and can't be spent in other European countries. The image on the coin is of a lion on top of the hill where the battle took place, and which is now known as Lion's Mound. Lines show where the soldiers were located at the site.
Belgian's finance minister, Johan Van Overtveldt, said that the coin isn't meant to antagonise or humiliate France, particularly when there are more pressing issues for the region such as the economic crisis and the threat of terrorism. However, he does say that the Battle of Waterloo had a major impact on the future of Europe and how the region has been shaped ever since. He also said that it is a battle that still continues to capture the imagination of people around the world, The New York Times reports.
Even though the disagreement between France and Belgium stems from the past, it does still indicate the tensions that still exist between countries in Europe. Further it is a sign of the many difficulties that countries are facing as the EU tries to integrate more and more. There is no doubt that nationalism is still alive and well throughout Europe.
In France's protest to the coin, it stated that it undermined Europe efforts to become a union. Officials also thought that the coin might cause negative reactions in France, since the people still find Napoleon's defeat as difficult to come to terms with.
Image via World Coin News