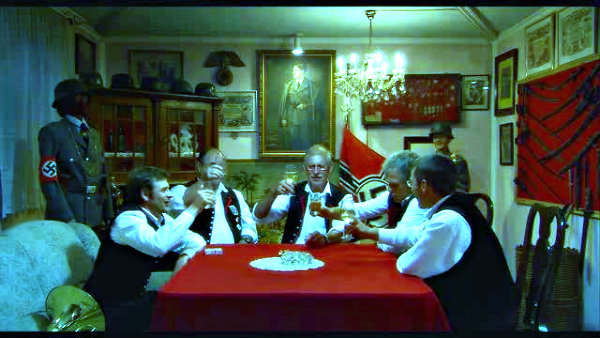 Austria – Two conservative town council members in eastern Austria left the People's Party and resigned from their town posts after a documentary Nazi basement footage showed them toasting and singing in a Nazi memorabilia-filled storage room.
The Nazi basement footage case drew a wide media coverage in Austria, a country which is still coming to terms with its connection to the Nazis during the Second World War-era. It can be remembered that the notorious German dictator, Adolf Hitler, was born in Austria and had annexed the country way back in 1938.
The said Nazi basement footage is actually part of the Im Keller (In the Basement), a documentary film by cult filmmaker, Ulrich Seidl. A snippet of the film shows five men wearing the traditional Austrian garb, singing, toasting and drinking in a room filled with Nazi memorabilia — a painting of Hitler adorns the center of the room with Nazi symbols strewn about and a mannequin wearing a Nazi uniform.
Two of the men seen the Nazi basement footage were from the People's Party and had been elected as members of the council of the Austrian town Marz which is the province of Burgenland. These two men have now resigned from their posts.
In a statement released Friday, September 19, the two men stated that they are distancing themselves from any 'Nazi ideologies and atrocities' with deep convictions and that their resignation is, in part, because they did not want to inflict damage to the party and the community they were serving in.
They further added that taking part in the filming was a great mistake on their part.
Just within the week that the two council members resigned from their posts, the Freedom Party, Austria's far-right political organization, expelled the mayor of Gurk, in the province of Carinthia, as the said 78-year-old official expressed sympathy over Nazism.
Re-engagement with National Socialism is considered a crime in Austria and this law has been instituted since 1947, shortly after the war. Austria has even maintained, for years, that it was the first victim of the German Fuehrer. As a matter of fact, it has tried to conceal the truth about the enthusiastic welcome the Nazi leader had received from many of the country's citizens decades ago.
(The Nazi basement footage can be seen at 1:18)