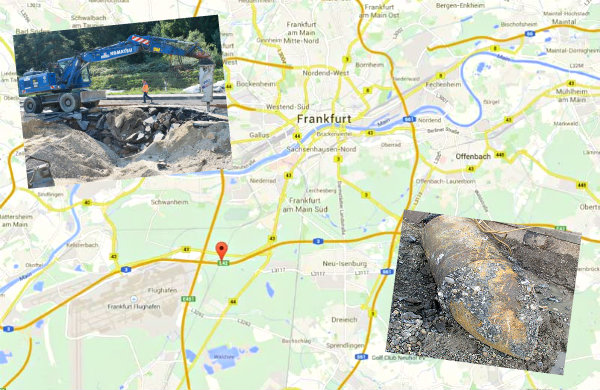 Frankfurt, Germany – Another vintage WWII bomb was uncovered and this time, it was found near Germany's busiest, the Frankfurt Airport.
The vintage WWII bomb was discovered next to the A3 Highway, which was located near Offenbach and just outside Frankfurt, last August 19, Tuesday. The 500-kilogram vintage WWII bomb, a British explosive, was disposed via a controlled explosion. Its disposal, ultimately, caused a few disruptions of the airport's flight operations.
In connection to the disposal of the vintage WWII bomb, German authorities shut off approximately a 1,000 meters of the area where it was dug up. Then, the vintage WWII bomb was destroyed through a controlled explosion when, according to reports, police found out that defusing the device wasn't possible.
Because of this, an airport runway was closed down for landings. Moreover, planes were prohibited from passing directly over the the site. Ultimately, plans called for the landings to be suspended for some time until the vintage WWII bomb was properly dissipated.
The immediate effects of the vintage WWII bomb disposal weren't clear but the airport arrival board did show a number of delayed flights.

It can be remembered that war planes of the Allied forces dropped thousands of WWII bombs on Germany during the Second World War. And while countless have been discovered over the years, there are still vintage WWII bombs dug up and found time and again.