Albert Speer, Jr. was famous throughout the world for his architecture. He was also infamous for being the son of one of Adolf Hitler's close confidants, a fact he tried to escape for his entire life. He passed away on September 15 in his Frankfurt home at the age of 83.
Speer had surgery after falling in his home. Complications from that surgery were determined to be the cause of death, according to an announcement from his architectural firm, AS&P.
Speer was the eldest of six children. His father was the main architect for Nazi Germany. Later, he served as the armaments minister. After the war, he was tried and convicted of war crimes for using slave labor.
While the elder Speer's plans for the cities of Germany never came to pass, the younger Speer went on to create many well-known urban settings. Included in his portfolio are the master plans for the Expo 2000 in Hanover, Germany; the plans for the Nigerian capital of Abuja; and "Automobile City," near a Volkswagen factory outside of Shanghai.
His biggest influence was on his hometown of Frankfurt. He advised the city government for a long time. He worked on the plans for the European Central Bank and for the Europaviertel neighborhood that was developed on land that had once been railroad freight yards. In 1977 he became professor of urban planning at the University of Kaiserslautern.
Speer was born in Berlin on July 29, 1934. Days later, Hitler would declare himself the Führer of Germany. Speer was raised in Berchtesgaden – the Alpine village that Hitler used as a retreat. There is archival footage showing a young Speer playing on the veranda of Hitler's villa while Hitler watches. Speer himself claimed that his memories of that time were faint.
Speer's father designed the Reichskanzlei in Berlin which served as the center of power for the Nazi party. He had elaborate plans to remake Berlin as a showcase of Nazi power and ingenuity, including the People's Hall that would have held 180,000 people if it had been built.
As armaments minister, Speer, Sr. was in charge of the production of weapons. He used slave labor in order to meet the demands of the military and keep Germany in the war. During the Nuremberg trials he was sentenced to 20 years in jail for his crime of using slave labor. He was one of the few Nazi members to publicly regret the actions of the regime.
After Speer, Sr. went to prison, the rest of the family moved to Heidelberg to live with Speer, Jr.'s grandparents. During this time, Speer, Jr. developed a severe stutter which he would eventually overcome. He trained to be a carpenter and then took classes in architecture at the Technical University of Munich. He opened his firm in Frankfurt in 1964.
In an interview, he stated that his father's occupation did not influence his decision to become an architect. He claimed that he had drawing abilities and he had ideas for architecture, in short, it was his own decision which was almost completely separate from his father's legacy.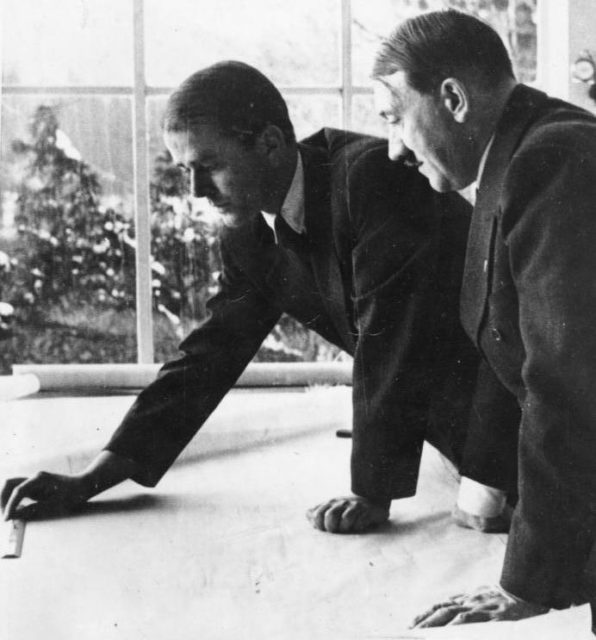 Speer became known for his international projects which were frequently on a large scale. He designed a criminal court complex in Riyadh, a complex of government buildings in China and the campus of Shanghai's Fudan University.
His wife of 45 years, the actress known as Ingmar Zeisberg, survives him. They had no children.
Speer once said that he strove to build projects with a human scale that showed respect for the environment and for local culture.
In 2010, he told a newspaper that he avoided talking about his father and spent his whole life separating himself from him.